Creating the perfect blend of functionality and style in your house is the best way to spice things up and give your home a new look. With the seemingly endless world of interior design and all the bells and whistles of the industry, picking the right looks and pieces for your space can be tricky.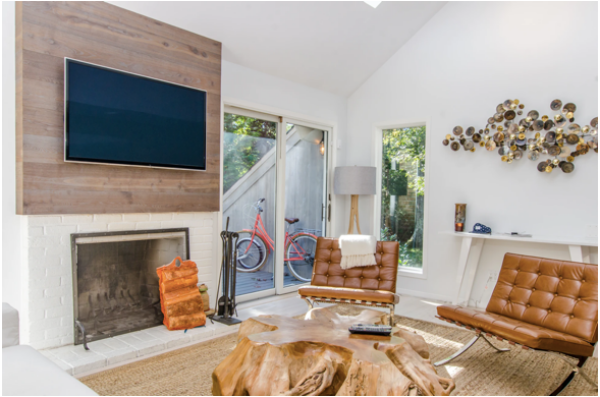 Whether you just want a fresh coat of paint, a few upgrades for the modern world or a completely new look, finding the perfect balance of functionality can seem impossible.
Luckily, there are some simple and effective ways to change things up and give your home a fresh new look!
Simple Ways to Give Your Home a New Look
Set the mood
One of the most important aspects of interior design is finding the right style for your space. Deciding on and sticking to the right style for your home is a great way to freshen things up and create a stylish and consistent look throughout the house.
There are a wide variety of unique and beautiful interior design styles to freshen up your space! Picking the right one to fit your taste might be a little tricky but there are a few easy ways to find the right style for your home!
Check out several styles and setups from magazines and online sources to see what you like. From modern and minimalistic to more decorative styles like contemporary and boho to see what looks best for your home.
After finding the style you want, take note of what you already have, furniture, decor, and other pieces that will fit in the space. When redecorating, stick to the style you choose throughout the room and make sure all the different pieces fit together and complement one another.
Choosing a fresh new style and maintaining a consistent mood through your project is a perfect way to give your home a new look!
Pops of color
Color is a very useful part of interior design, both because it is one of the first things you take note of entering a room, and because it can be used to portray a variety of feelings and moods in your space. Picking the right color pallet for your home is important and changing the current scheme up to fit the redesigned look is a perfect way to revamp the space!
After choosing the right style for space, look for a matching color palette to complement. Everything in the room shouldn't be the same color, but a healthy mix of several colors that pair well together will create a fresh and stylish look for the room.
Creating a beautiful color scheme to complement and complete your interior design is another perfect way to spice up your home!
Light it up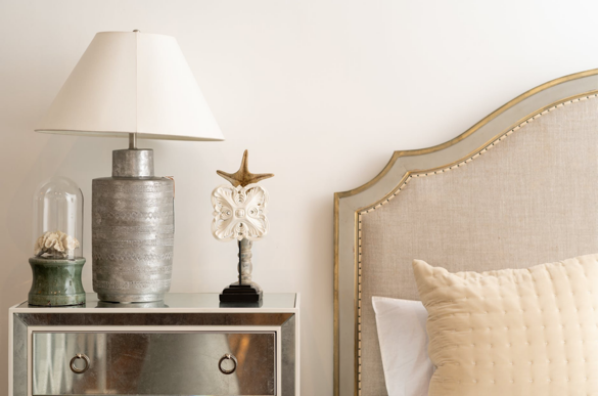 Another crucial aspect of interior design and creating a new look for your space is lighting. Without the right lighting in a room, all your hard work on style and decor is all for not! Finding a good balance of light during the day and after dark is paramount to keeping things bright and vibrant when you need it, and low key when it's time to settle down and set the mood.
There are a wide variety of ways to tie lighting into your interior design without blaring overhead lights and various lamps.
Take advantage of the natural light in your space, it will save you money on buying artificial lighting, save electricity on the bill, and give you a good balance of natural illumination. If you have good lighting from windows, just install high-quality blinds or some nice curtains that match the style of the space, this way you can take advantage of the sunlight but still dim the room when you want some shade.
Overhead lighting can be a great way to light the room, but you want to make it universal. Sometimes you want bright lights for more activity, but when you start to settle down and relax a dimmer and more calming light is better. Install overhead lighting with a switch for brightening and dimming the lights, and maybe even changing the hue overhead for some extra fun!
If you choose tabletop or floor lamps, try to find the best fit for the style of your space. Tying the lighting into the rest of the decor helps create a nice blend of functionality and fashion in any room!
Keeping your spaces well-lit and matching the lighting to the style and design of your room is a great way to give your home a new look!
Spice up the decor
When making some new additions to the home or spicing up old decor, creating the right blend of style and function is crucial to getting the bang for your buck! You want your new space to be inviting, engaging, and stylish, while also maintaining the useful functions of the decor in the space.
For common living areas, look for ways to add a fresh spin on the classic decor. Getting a comfy new couch to match the color and style along with complimenting chairs adds an inviting feel to space. Spicing up your fireplace with some new colors or maybe a new reclaimed wood mantel is a great way to perfect a roaring fireplace.
Handpicking wall decor like paintings or family photos is a perfect way to take up empty space on walls and tie into the rest of the design with some homely class.
Don't neglect the flooring and make sure the floors are clean and free of dents and scratches or throw a nice rug to fit the color scheme.
Adding a few smaller pieces of decor like decorative plants or other eye-catching pieces helps tie the space together and fill empty space on tabletops and other random surfaces.
Making use of what you already have and adding some new furniture and decor pieces to spice things up in your space is another great way to give your home a fresh new look!
Keep it clean
It might seem like a no-brainer, but keeping your home clean and tidy is a perfect way to give the whole house a new look. It's never a bad time for a good spring cleaning or having a rummage through the junk drawers and forgotten closets.
Cleaning out unnecessary clutter throughout the whole house keeps things clean, organized, and gives the entire house a fresh and finished look!
Keeping everything clean and free from dust and dirt makes the new additions to space really shine and stand out for the best results!
Taking the time to declutter and clean things up in all of your spaces is another simple and perfect way to give your home a new look!
Tie it together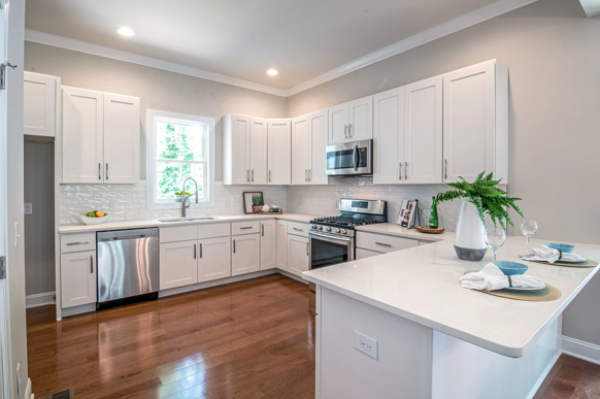 Source
With all the different aspects of interior design, it can be tricky to pick the right tips and tricks to create a brand new style and aesthetic for your home. Between choosing color pallets and styles to find the right furniture and decor to fit the new look it can seem impossible to find the right blend of function and fashion for your space.
Thankfully there are a few simple and effective ways to spice things up in every room in the house and give your home a new look!