Lotus is a mesmerizing aquatic plant that fascinates its users with splendid folds of petals and eye-soothing colors. You can identify this flower in various colors like Purple, Pink, white, red, or even yellow. The fruit of the sacred Oriental plant, the lotus, is becoming an ultra-trendy component for original compositions in among international florists. Are you also looking for some SIMPLE AND easy lotus flower drawing ideas? The peculiarity of this flower is it blooms up in the morning and sleeps with the sunset. Here is a small and easy step-by-step flower drawing tutorial to help you draw it quickly.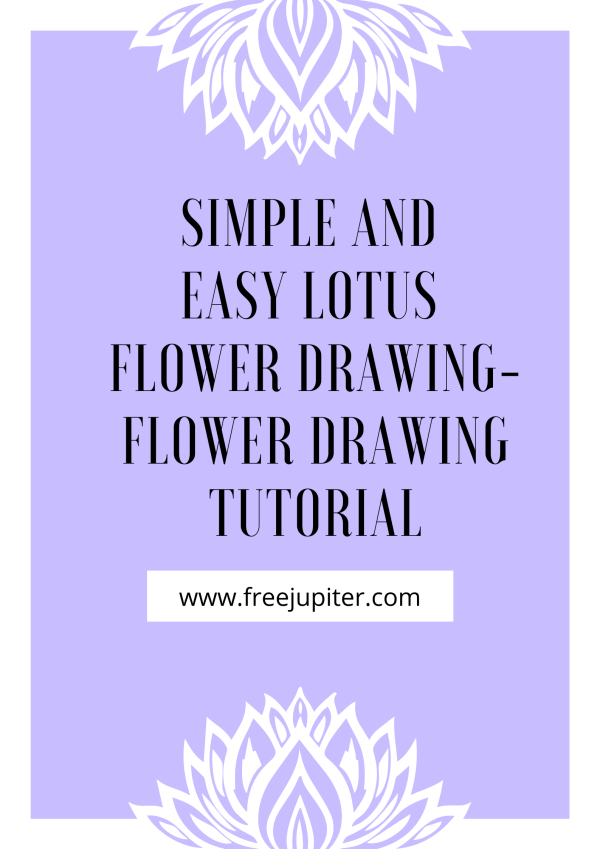 How to draw a lotus flower?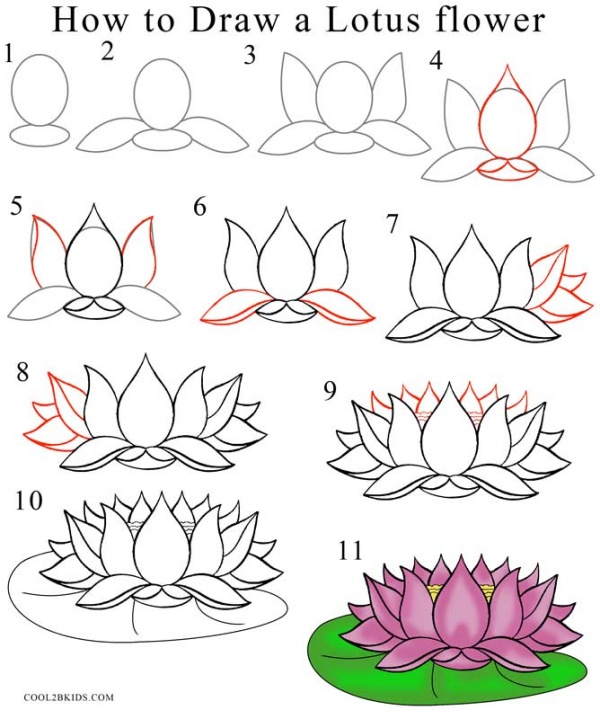 To start up with this flower drawing tutorial, here are the things you need:
Pencil

Drawing paper

Sharpener

Erasers

Watercolors or colored pencils

Drawing board
Simple and Easy Lotus Flower Drawing
Easy Lotus flower drawing steps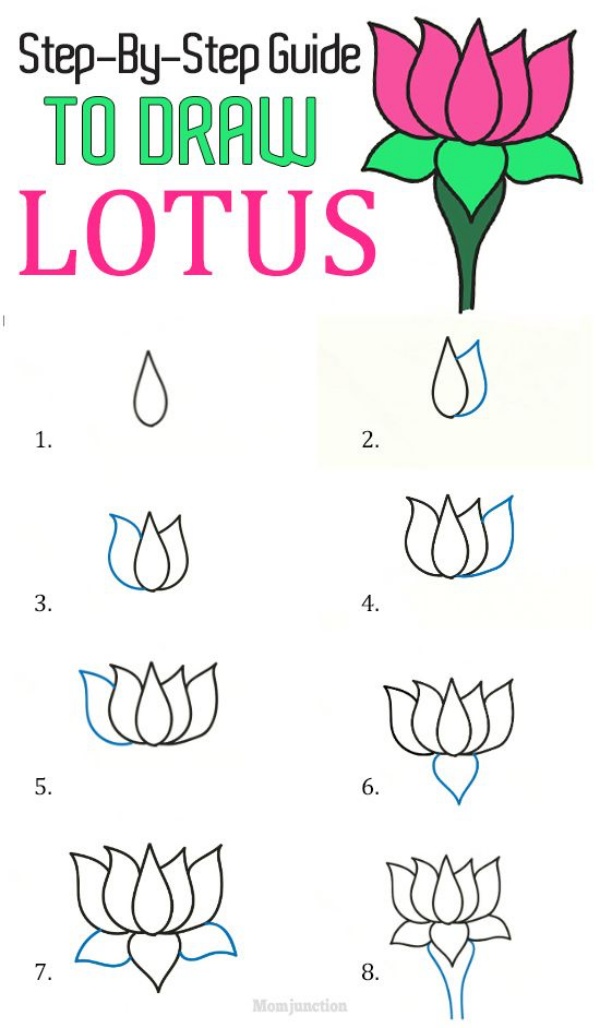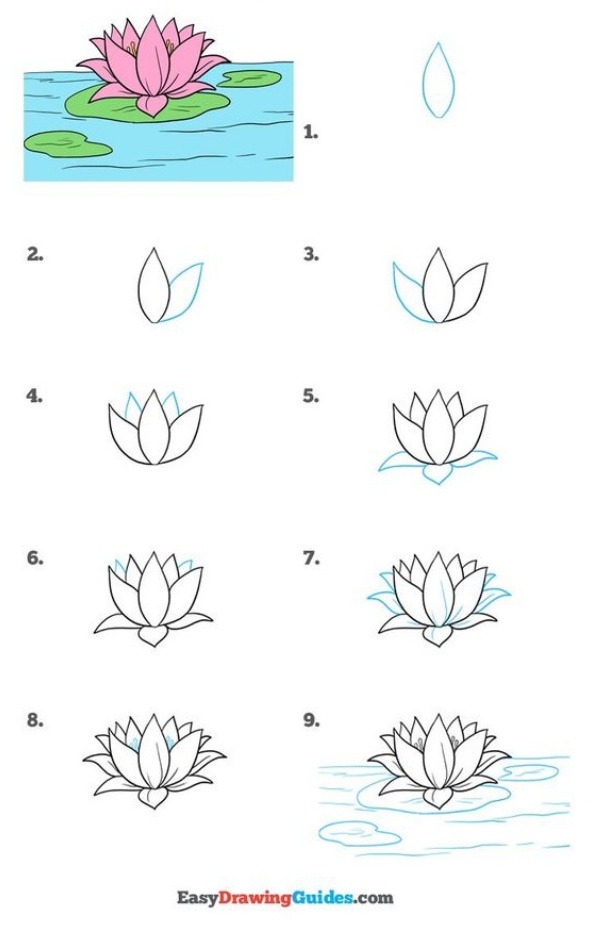 Lotus is amongst the most resistant aquatic plants as its seeds stay and bloom for a more extended period than other plants. It is surprising that even in some dry lakes, its seeds or flower remains are available. For even more than 1,300 years, the lotus flower seeds can stay alive and grow into the plant when fed with water and sunlight!
The majestic lotus has significance even in the native lands. Right from conventional medicines to teas and foods, everywhere you can identify the lotus remains. Especially the Hindu and Buddhist religions consider the lotus sacred and use it for multiple purposes.
So, let's start with the easy lotus flower drawing ideas.
How to draw lotus flowers in simple steps?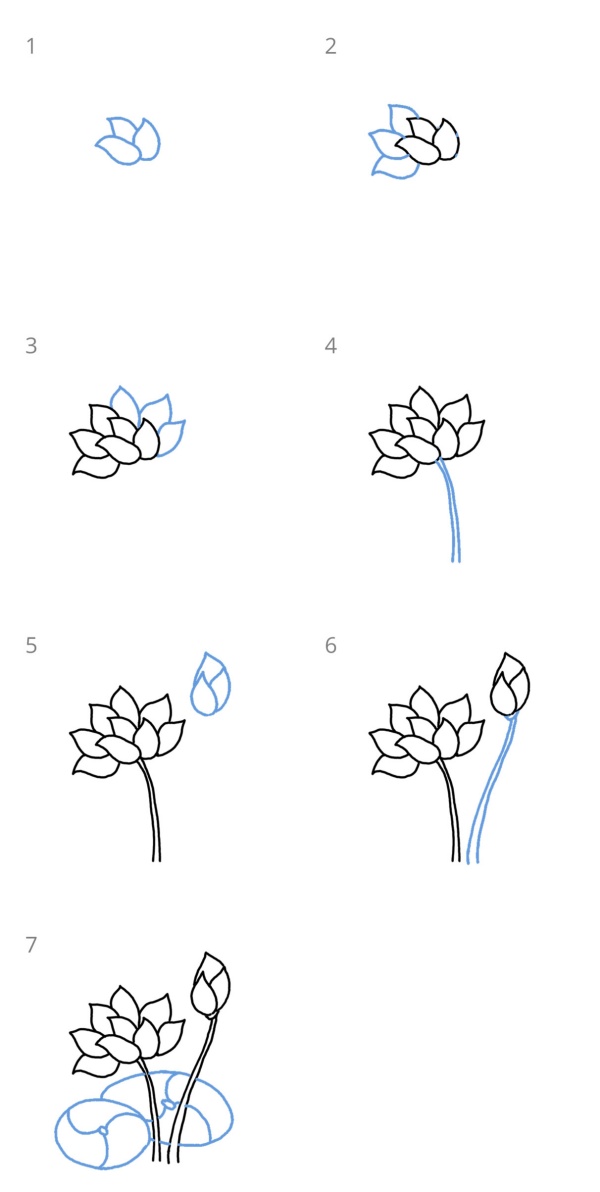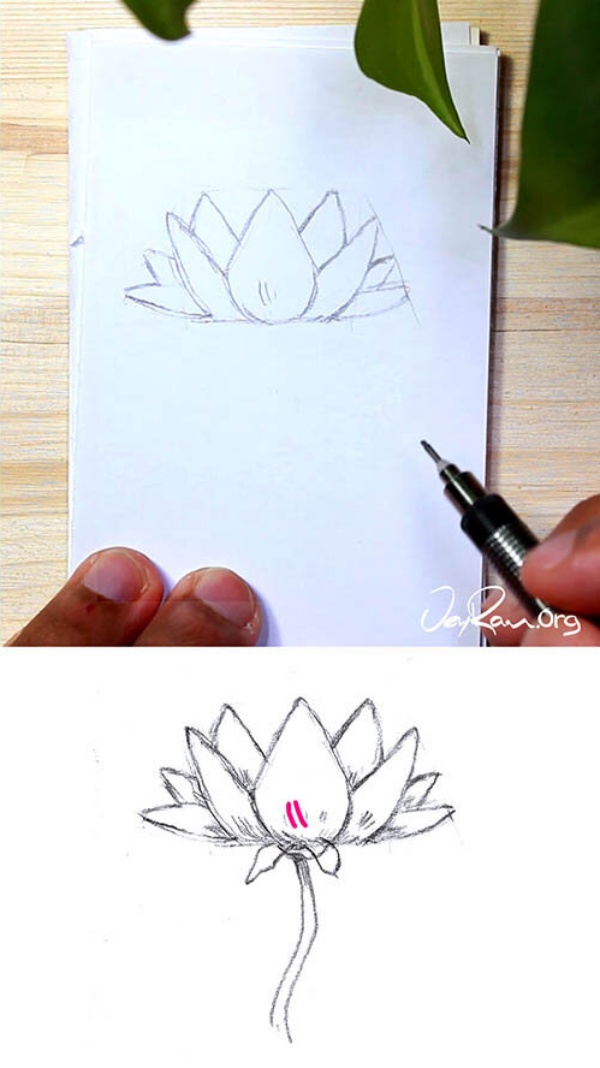 Step 1
Make two curved lines to create the image of the enclosed inner portion of the lotus flower. Let them join each other at a sharp point right at the center top. And ensure that the whole shape appears like that of a teardrop. Once the basic shape is ready, you can step ahead towards the next step.
Step 2
Create a second petal of the lotus flower that extends at one side and then another. Now, add two more curved lines that again join each other on the top position. Try creating an illustration so that you can view the layers of this flower.
Step 3
Start creating the third petal by adding two curved lines right from the base center. Now, try to meet those lines at the sharp center point. Try to broaden the petals so that they slowly give the appearance of the blooming flower. Proceed ahead to the next step of the flower drawing tutorial.
Step 4
Moving ahead, drawdown additional petals to the backside of the lotus flower image that emerges out beautifully above the previous petals. Keep extending lines on both the ends and connect them at the points. You can identify how well the rough lines of your pencil create the drawing of a lotus flower.
Step 5
Move to the drawing of flower petals in the lotus flower. For this, you have to make an extension of multiple curved lines in several sets. This will accentuate the numerous layers of this flower. Let all the lines come together and meet them at the topmost points.
Step 6
Again start by using two more curved lines and draw additional petals to the image. Try to use freehand so that you can add a flow to the drawing.
Step 7
Add a few lower petals that would emerge from the backside of the beautiful lotus flower. This flower drawing tutorial has focused on adding small and intricate details to a simple lotus image. Extend the multiple lengths starting from a base and draw petals that give an impression of a blooming lovely lotus! With this, you can add better detailing to the flower.
Step 8
By now, your basic flower design is complete. Proceed by creating pollen structures, anthers, and small dots inside the flower at the center. Draw an anther by creating two short and parallel lines that start right from the center of this flower. Make a circular shape starting from the tip and draw lines as well.
Step 9
This easy lotus flower drawing tutorial can help you to learn drawing in easy steps. Add final details by creating an environment on the backside of the portrait. Create an irregular circle shape and add a few more lily pads that look like a slice cut of the pie. Make some small curved lines short and a few horizontal or wavy lines that display the pads that ripple down the water.
Step 10
Your lotus flower image is ready to color. Add life to this magnificent drawing by coloring it with some pretty shade. Give it a realistic touch with exquisite shades of purple, pink, white, yellow, and red. Also, try using some mixed combinations for a unique look and texture. You are ready with a perfect lotus flower drawing to flaunt!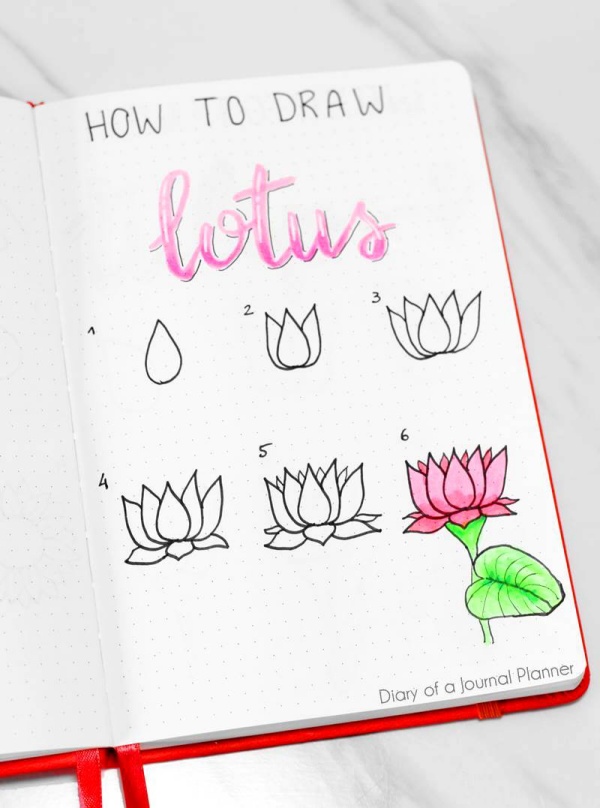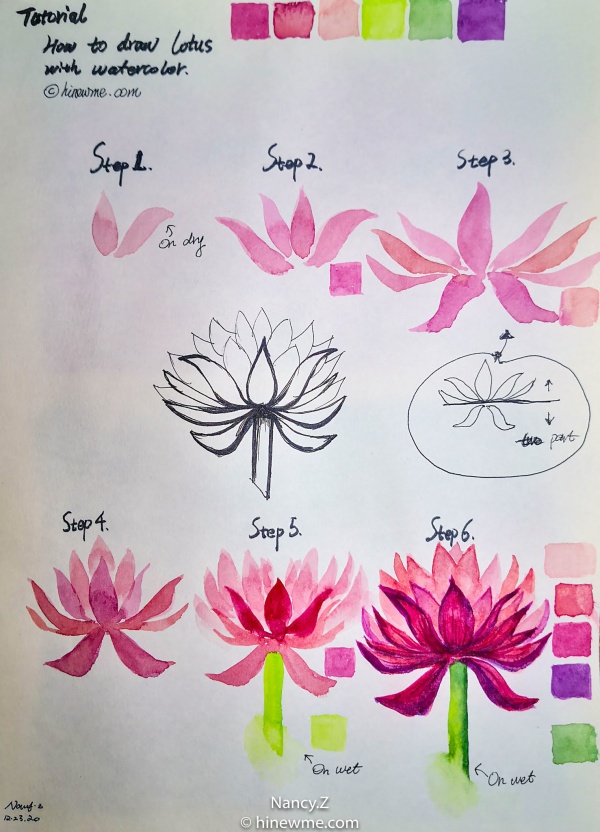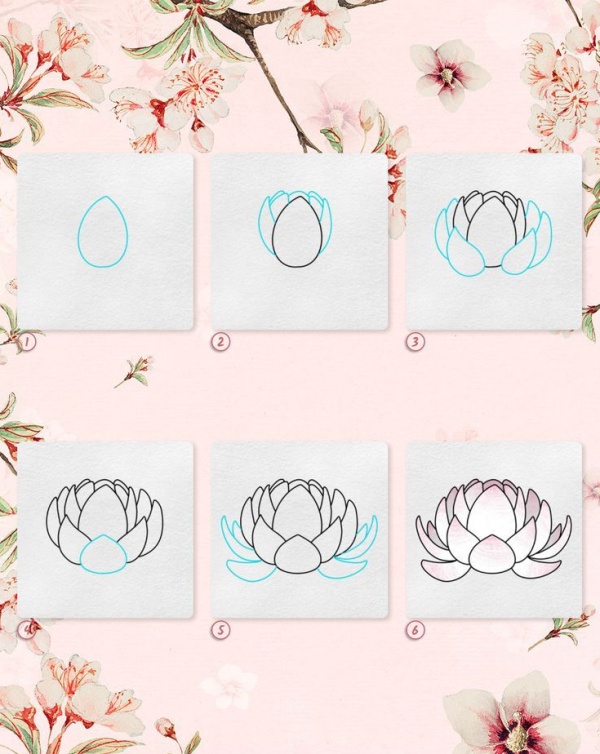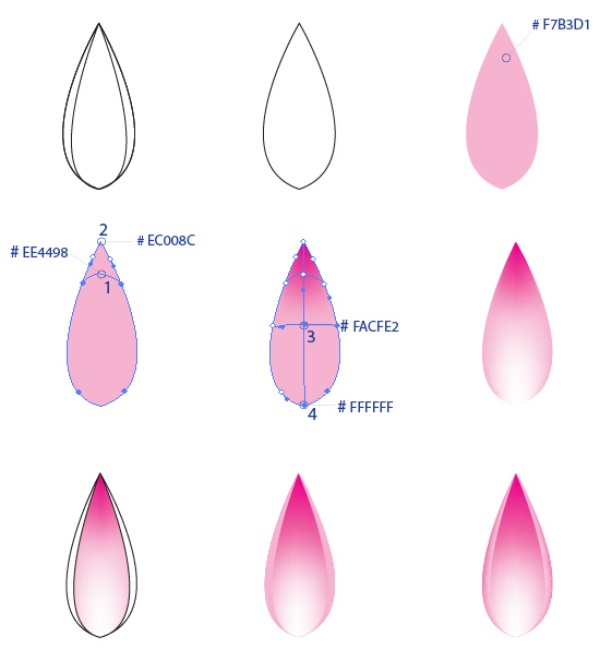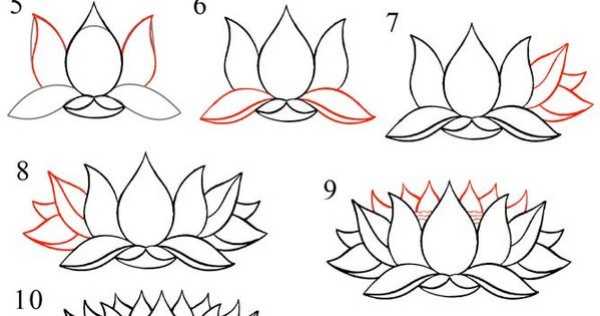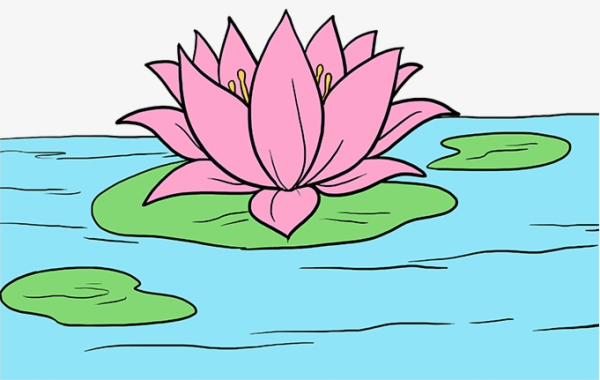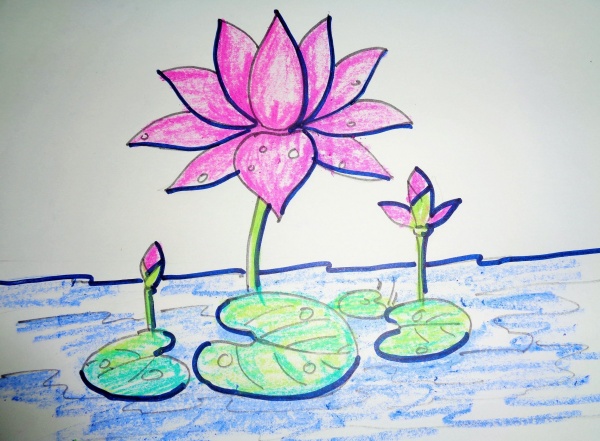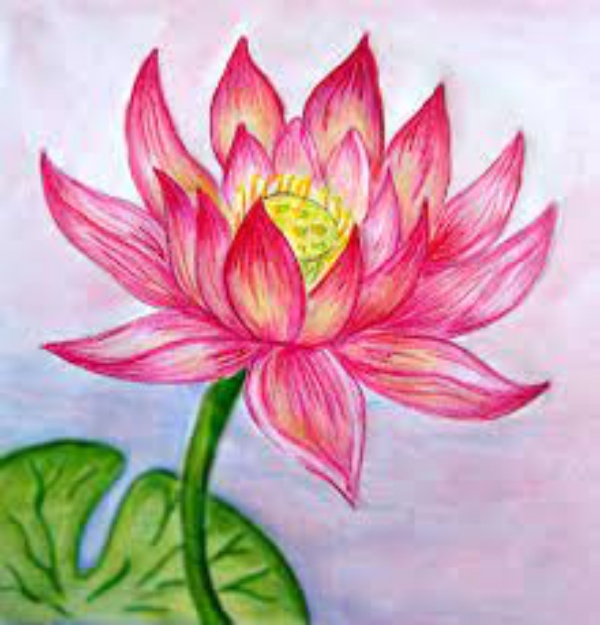 Source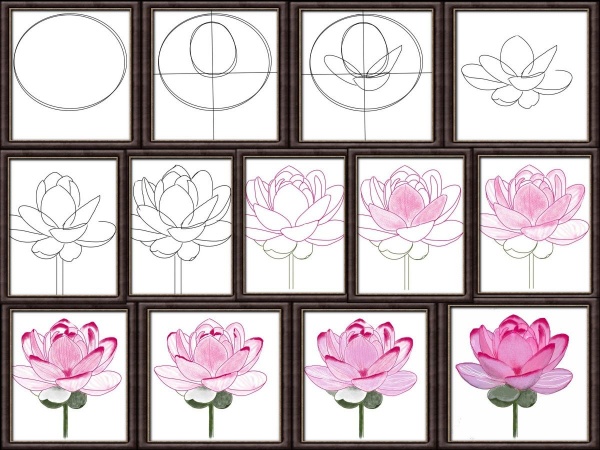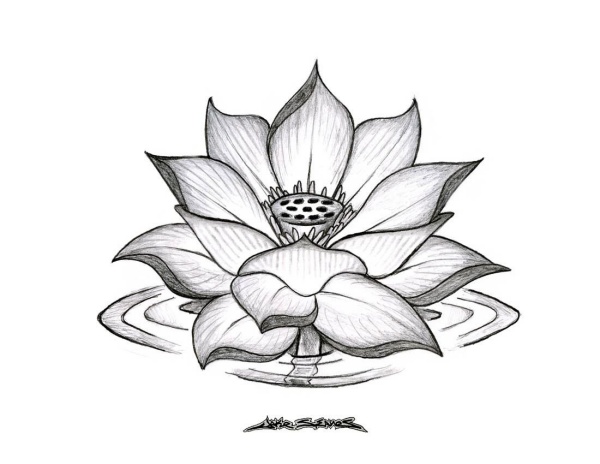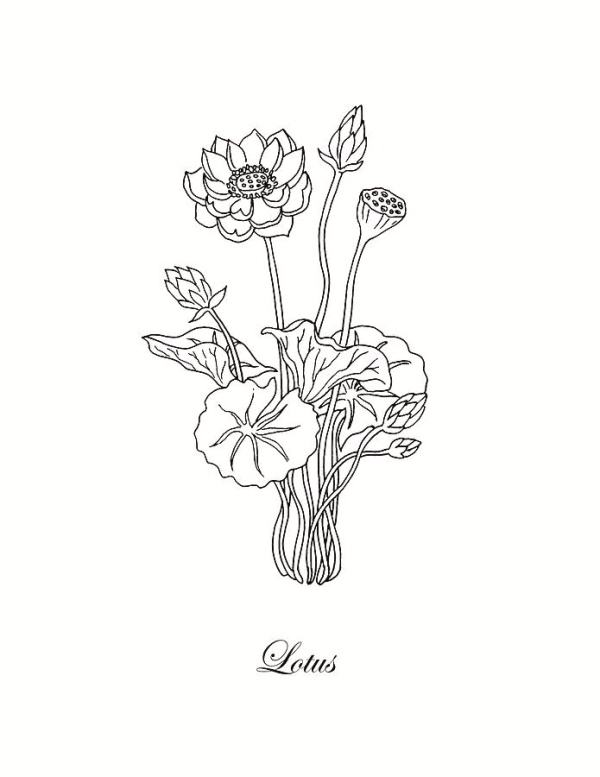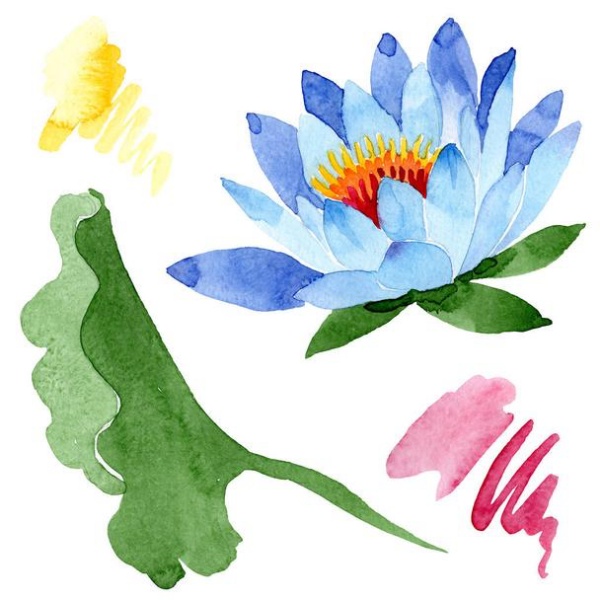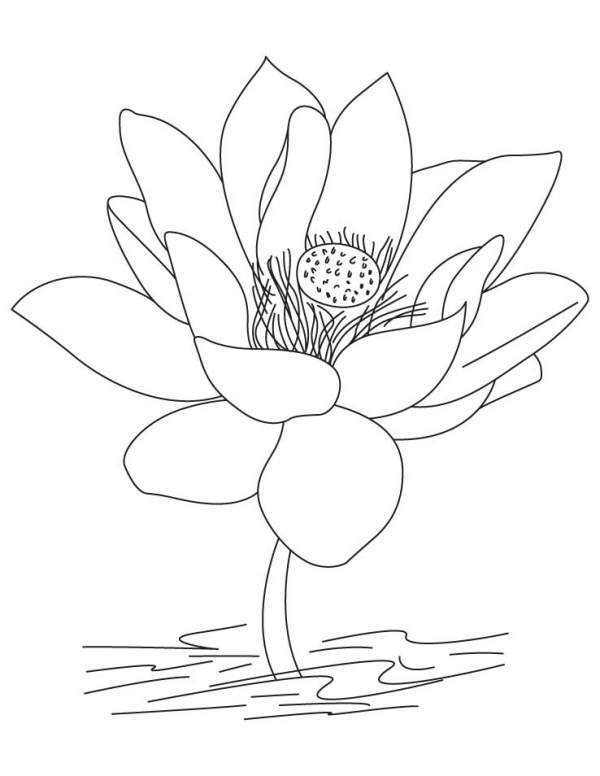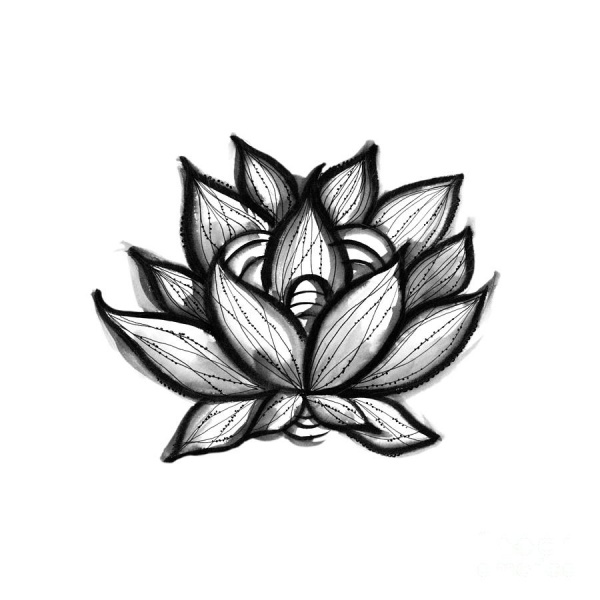 Wrapping up
Follow this definitive guide to draw the holy flower that is also a symbol of auspiciousness and serenity. If you are a beginner at drawing or looking out for some easy lotus flower drawing ideas for your kids, this can be a helpful tutorial. Starting with the essential checklist you need for drawing this pretty flower, we will proceed with the drawing part. You need to check out each of the images and observe the small detailing in the figures. Learn every bit of how to draw lotus flowers using the simple tips and tactics stated in this blog!