We all have fond memories of childhood art projects, back when doing art was as simple as gluing some macaroni to paper or coloring a tracing of your hand and calling it a turkey. But as we get older, the art that we are expected to do becomes more complex. And in college, art projects can be quite sophisticated—and quite challenging. If you have an art project coming due but don't have a lot of ideas for what to create, this article might be helpful in aiding you with some suggestions for art projects to help inspire you to create your next masterpiece. Or, if you are looking for ways to engage in the creative expression on a budget during your college years, you might find some inspiration for decorating your dorm room or apartment.
Top 10 art project ideas for students
So, without further ado, let's take a look at some of the top art project ideas for college students.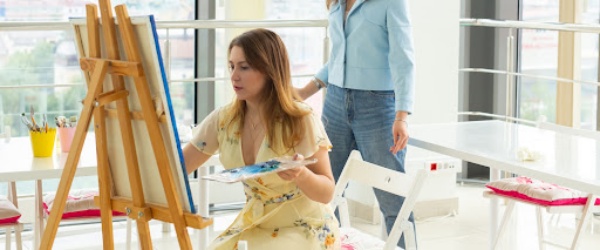 Embroidery hoop wall art.

Cover hoops in fabric and use embroidery to add patterns, pictures, or other types of art to help make them colorful and interesting. Use contrasting colors or similar tones in a single color palette to create a powerful art statement that you can use in a range of applications, such as hanging them on a wall, on a door, or elsewhere.
Emboss paper.

Make your stationery special by embossing paper with your own personalized art or custom pattern. This is especially attractive for invitations or other special events where the extra attention to artistic detail will be appreciated. 
Create a customized coffee station.

Everyone likes a great cup of coffee in the morning. Another great art project is to create your own customized coffee station. To make your own coffee station, you will need six pieces of attractive wood such as maple; their size will depend on your coffee machine and the size of the counter or table where it will sit. Take two pieces of wood cut 18 X 9 and 1 inch thick and another four pieces with the same width and same height but with a matching 9-inch length and width. You will also need a wood board, wood glue, a finish (stain, paint, paper, etc.), and the items you want to sit in your decorated coffee station, such as your coffee machine, colorful coffee mugs, cream pitcher, spoons, and other coffee accessories.
Build and decorate a bookshelf.

Students always need places to store books, so creating your own custom bookshelf can help you to develop a colorful and interesting focal point for your dorm room. After you build a shelf out of wood, you can paint it with a favorite color and use contact paper or wallpaper to create an interesting back wall for your shelf to give it a spark of personality that will make it look less utilitarian. 
Make your own scratch-off lottery tickets.

If you're planning an event where you want to have a giveaway or a surprise reveal, you can't do better than making your own lottery tickets. Write or print out what you want the tickets to say on a slick poster board and then use special silver paint and a stencil to create your own fun scratch-off.
Upcycle an old cathode ray tube as a pet bed.

If you have an old cathode ray tube sitting around your parents' house—and old TV or computer monitor—you can hollow it out by removing the electronics and using the case as a pet bed. Try painting it a funky color and lining it with soft and warm blankets for your pet.
String art.

You can make permanent string art by using nails on wood to create pegs to wrap the string around in order to create pictures and patterns. You can also create temporary string art on a corkboard or bulletin board with tacks. You can simplify things still further by simply running string between nails and using it to frame photos or other art or to hand pictures with clothespins from the string.
Graffiti wall murals.

Make sure you have permission before painting on walls you don't own! Using graffiti to decorate a wall can make a dramatic statement for your living space and a great way to express your personality. Bright colors and bold imagery can make this a particularly exciting way to create a powerful accent wall.
Digital art projects.

Currently, NFTs are all the rage. If you want to make some extra money while attending college, using your digital art skills to create attractive non-fungible tokens that you can sell on the NFT market can be a great way to express yourself while earning some extra cash.
Body art.

Make your next party extra special with some intriguing body art. Whether you paint yourself like an animal or cover yourself in painted-on "clothes," body art can give you a unique look that will make people take notice.
Wrapping up
If you need more time for making art and are having trouble finding it due to a difficult essay, you can save time by turning to professional writing service online such as SmartWritingService.com with its experienced team of academic writers. These types of services will produce fully developed academic essays and papers for college students like you. A custom essay can provide you with the extra boost you need to finish your paper and get back to your art.