There are over 7.3 million hot tubs in operation in the U.S., according to a study by Pool and Spa Marketing. This indicates the extent to which American homes are increasingly embracing the healthful art of whirlpooling and reveals how hot tubs can add the 'wow factor' to a home. The popularity of hot tubs means has lead top companies to consistently aim to outdo each other in terms of design and functionality. If you are interested in turning free space into a hot tub haven, take note of these top trends and make sure the option you for has all the features you need to make the whirlpool experience one you look forward to every day!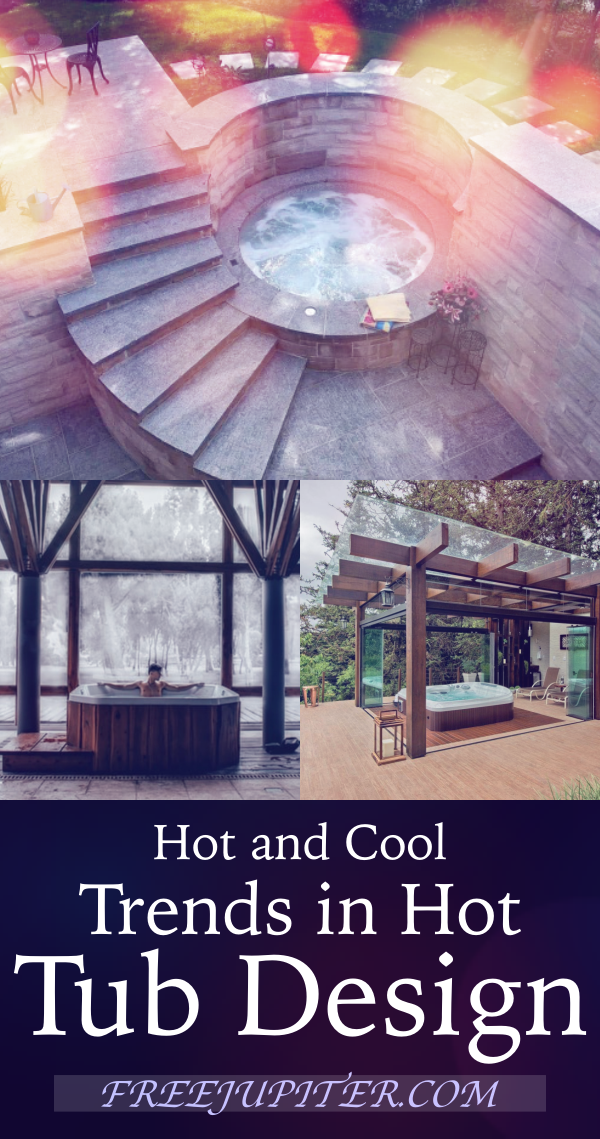 Hot and Cool Trends in Hot Tub Design
Ski Resort Inspirations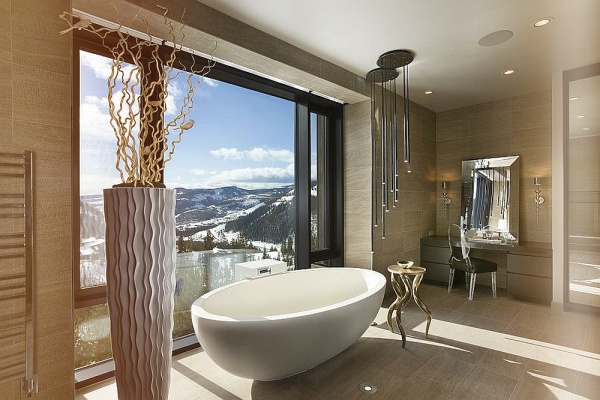 If you have been to top five-star skiing destinations like the Sierra Nevada in Spain, Aspen in Colorado, or Verbier in Switzerland, then you know that they nearly always entice discerning clients with outdoor hot tubs overlooking the snowy mountainside. One thing many of these establishments have in common is a penchant for integrating technology and nature. Thus, hot tubs are usually immersed into a wooden decked terrace and, rather than sporting common grey or blue hues, they are finished in natural wood so that the effect is more one of a natural pool than a futuristic whirlpool. Of course, hot tubs need to be resistant to heat, moisture, and sunlight. Linton's in the Garden recommends easily cleaned surfaces that can mimic natural materials but boast greater resistance against the elements.
Aquatic Connections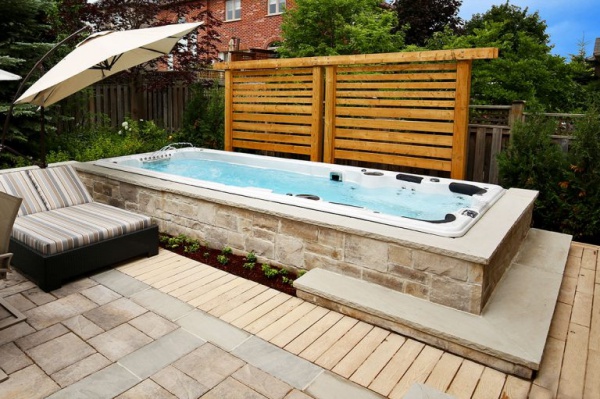 Gone are the days when the chicest spas stood upright, alone, on a terrace or outdoor garden. These days, it's all about the whole package, with Jacuzzis often integrated into larger aquatic features. For narrow, long gardens, for instance, a rectangular-shaped exercise pool can be joined to a smaller, square whirlpool via wood and ceramic features. Gentle grey, stone-effect ceramic can be used on the outside of the entire structure, for instance, while the main pool and Jacuzzi can be joined by wood-decked flooring. The result can be a contemporary yet Zen space that works beautifully alongside outdoor features such as rock-shaped outdoor showers and carefully manicured gardens that nevertheless pay homage to wild, lush foliage.
Looking through Glass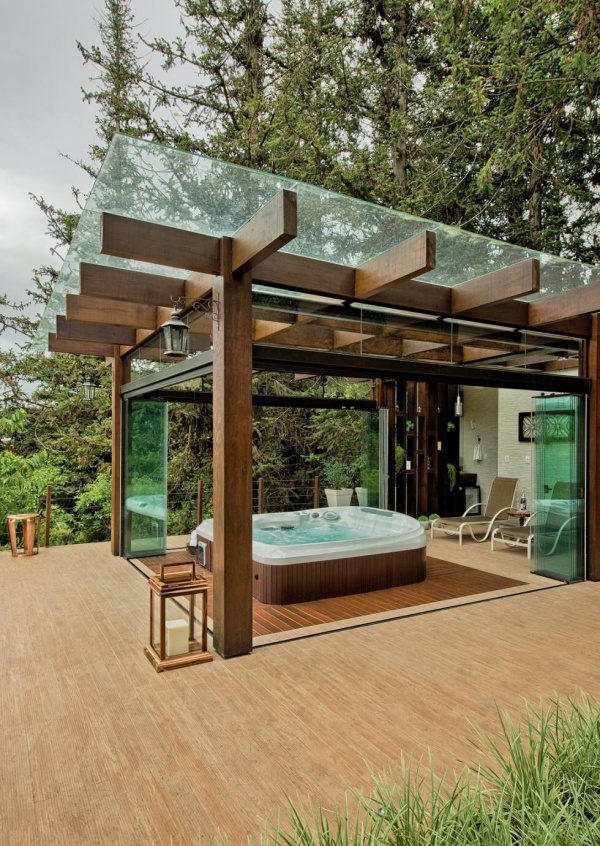 For immersed whirlpools embraced by wooden decking, one feature that is becoming increasingly popular is glass coverings, to keep leaves away and prevent evaporation. These stylish yet functional lids also have a functional purpose. They help keep the whirlpool safe for children and pets. Remember that the flatter the surface, the more accessible. If you opt for an immersed whirlpool, then stylish but the sturdy covering is essential.
Design Elements that Make the Difference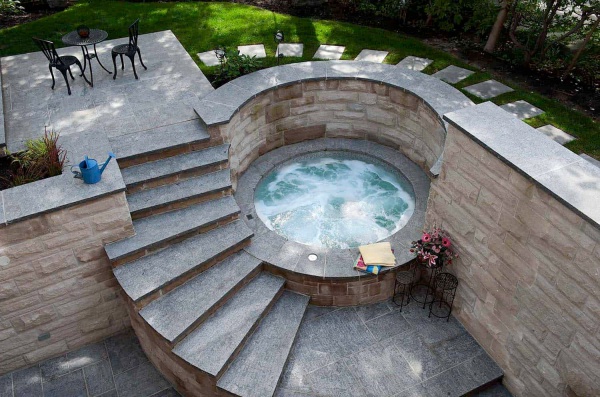 If you are into contemporary design, elements such as suspended metallic steps that descend into the whirlpool can add a splash of modernity into the equation. So can 'layering' your whirlpool space. If your pool fits four or more people, then you might like to create a small 'bench frame' within the water that functions both as a level transition and a resting spot for groups. Also ideal are incorporated 'beds' that curve up slightly at the head and contain massage jets for key areas like the neck, lower back, and calves.
Stone and Mosaics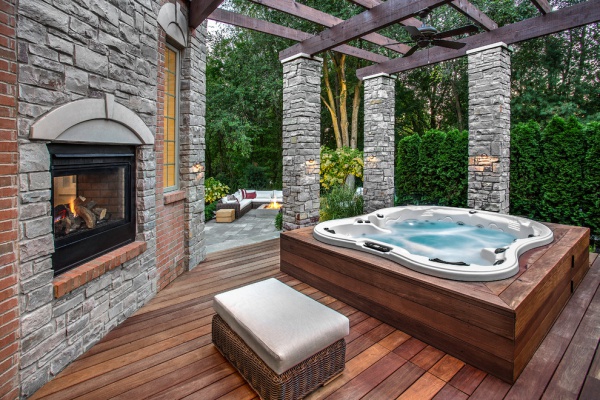 Another way to highlight the beauty of a spacious hot tub is through the use of mosaic tiles and water-resistant stone. The marriage of clear, transparent water to figurative or abstract impressionist tilework adds appeal to a whirlpool and transforms it into a subject of contemplation during crucial moments of the day – including the sunset. Clever designers are blending glass and tiles in new ways. If you opt for a round hot tub design, for instance, the part of the curvature that faces and 'meets' your swimming pool can comprise an imperceptible glass material, while the 'outer' portion of the tub can be decked out in delicate tiling.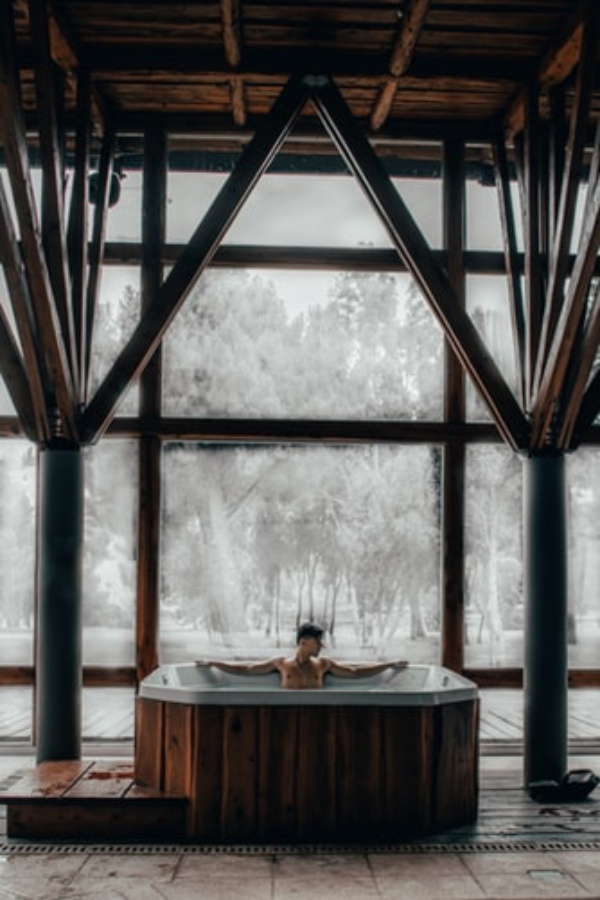 When it comes to hot tubs, the sky's the limit in terms of integration and design features. Mixed materials and circuit massage features enable you to boost your pool's appeal factor and make it the perfect spot to unwind after a hard day. From Zen-like, wood-filled tubs to ultra-modern geometric designs, there are many styles you can choose to express your personal idea of cutting-edge design.