Watercolor is commonly used in DIY projects and we know that it is a very versatile and flexible medium of coloring. But do you know that the medium of water coloring is also known as aquarelle? Actually, if you start painting with watercolors, you will slowly come to know about its qualities. It seems very easy but watercolor painting is a very tricky medium of painting. So to master that slowly, you will have to know about the ways to use watercolor. There are a lot of ways to use watercolors and here we have a list of some for you all.

There are a lot of ideas to work with and if you think more, you can make out a lot of ideas from your mind. Here we have included some of them. Drawing is not just putting paint on the paper or a canvas, instead, there are lot of things to learn. Go through these and try to think out more from your creative mind. You can give anything a new look just even with a watercolor. And you really can do it.
Ways to Use Watercolor
DIY Water Color Table Number: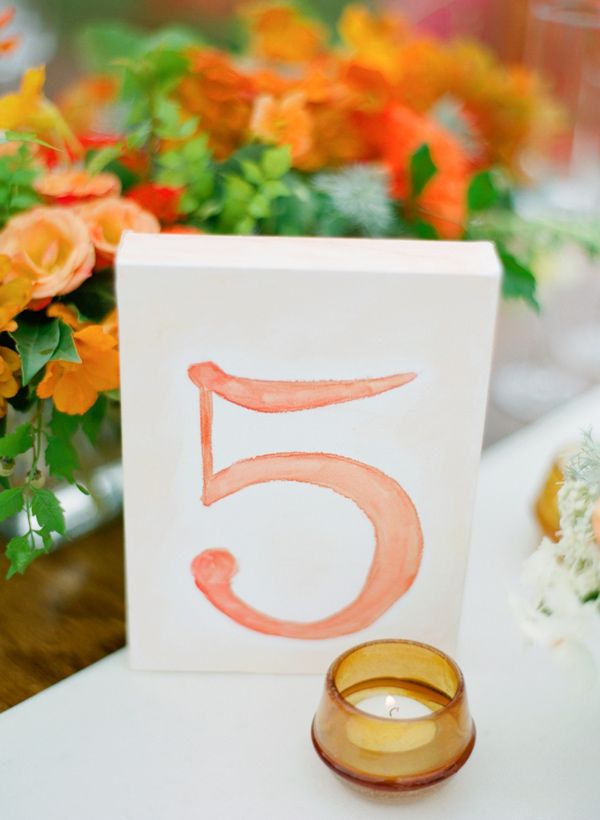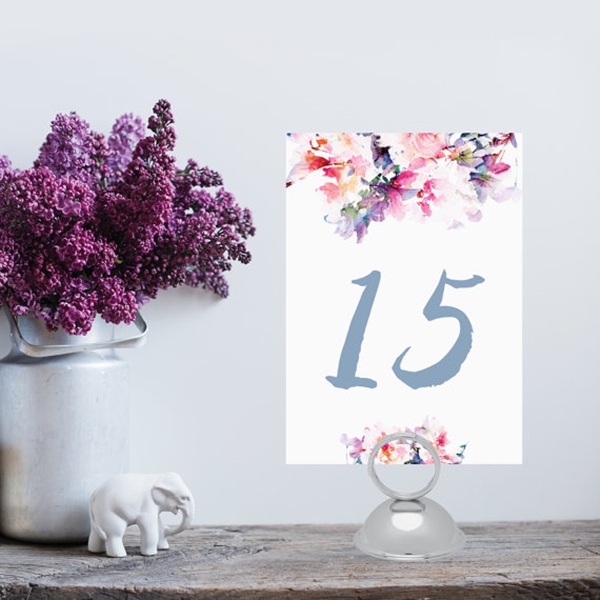 Do you have a wedding party invitation in which you are looking after the decoration department? Here's a lovely idea for you. You can create unique table numbers by making out effects from watercolor. It is really pretty.
Water Color Gift tags: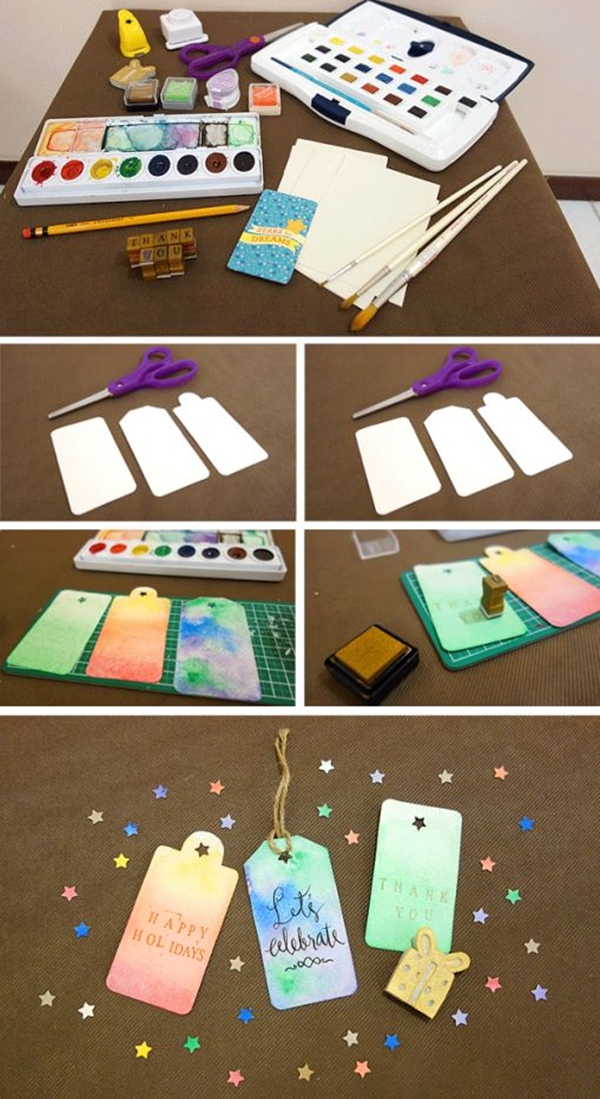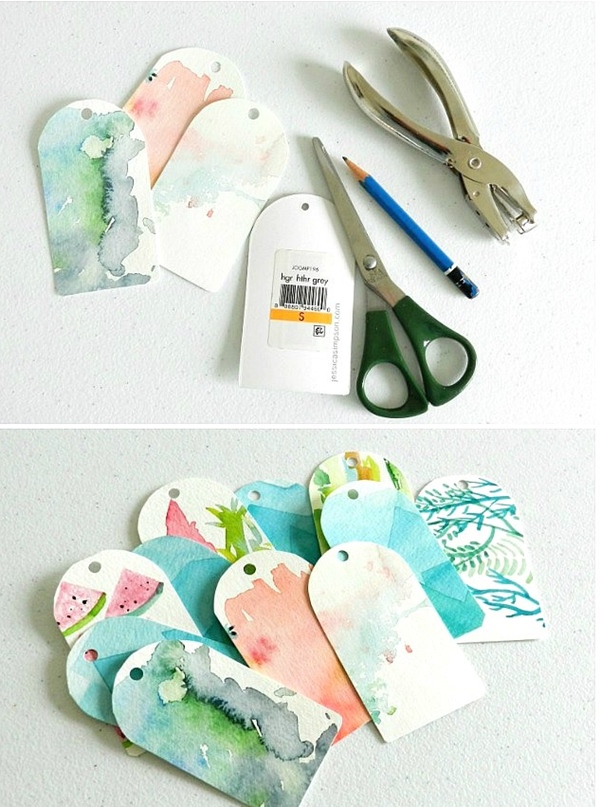 So are you planning to gift your friends this Christmas? Obviously, you will be making gift tags on your own? If so, you can have an idea of this beautiful and touchy watercolor gift tag ideas. Look out the tutorial for more details.
Water Color Business Cards: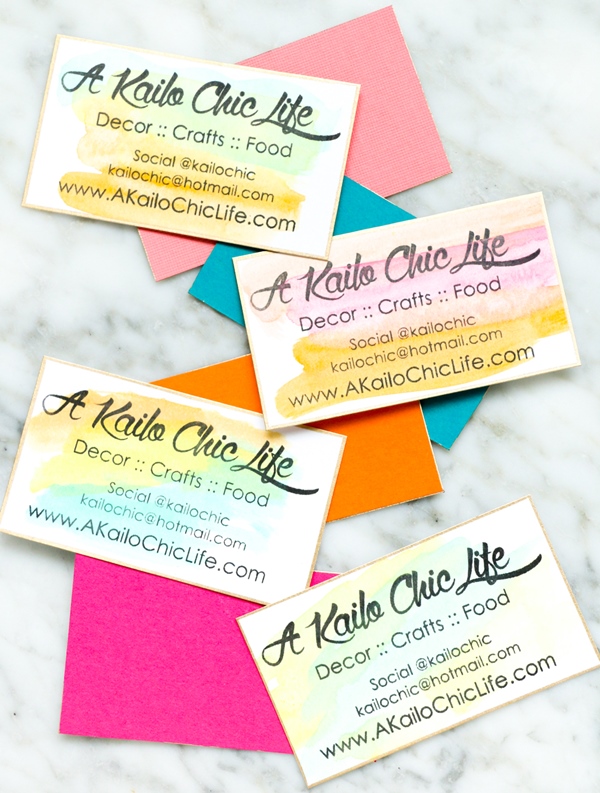 Mostly, we print our business cards from the printing shop, but if you want to make your own, you can try out this amazing process. It looks very simple and elegant. But yes this is strictly for the creative people around.
Watercolor Mugs: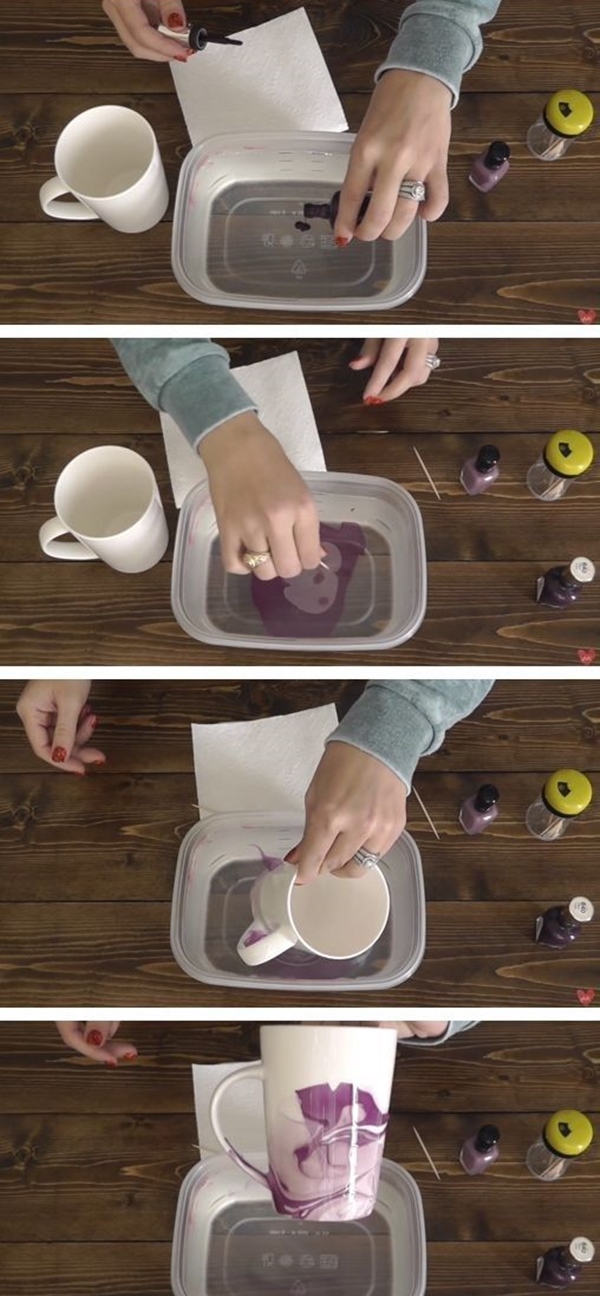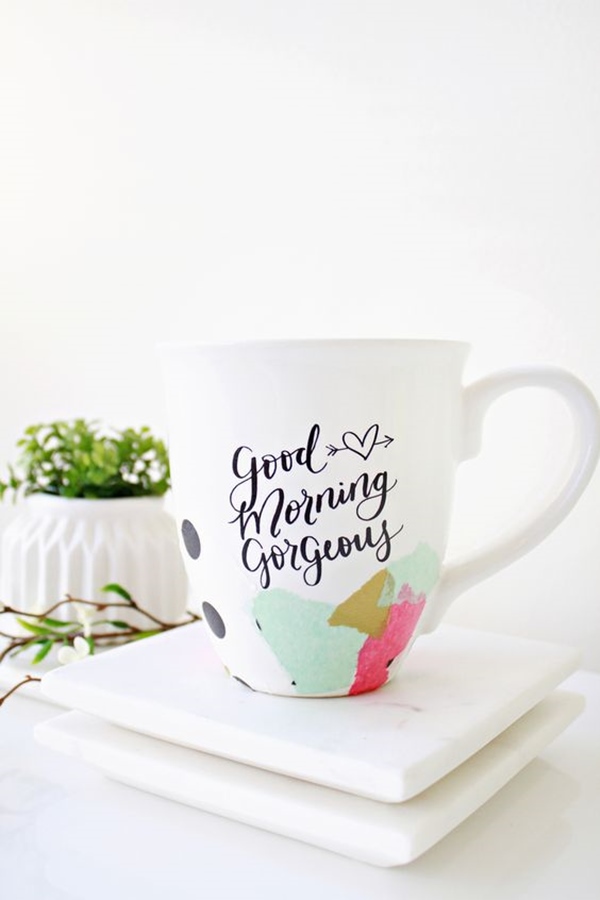 Now you can design your own mug at home and that also in a very short time. No, you don't have to be confused about your skills. It is very easy and even your kid can do that. Follow up this tutorial and you will find it very useful if you want to design your own coffee mug.
Water Color Triangle Wall Art: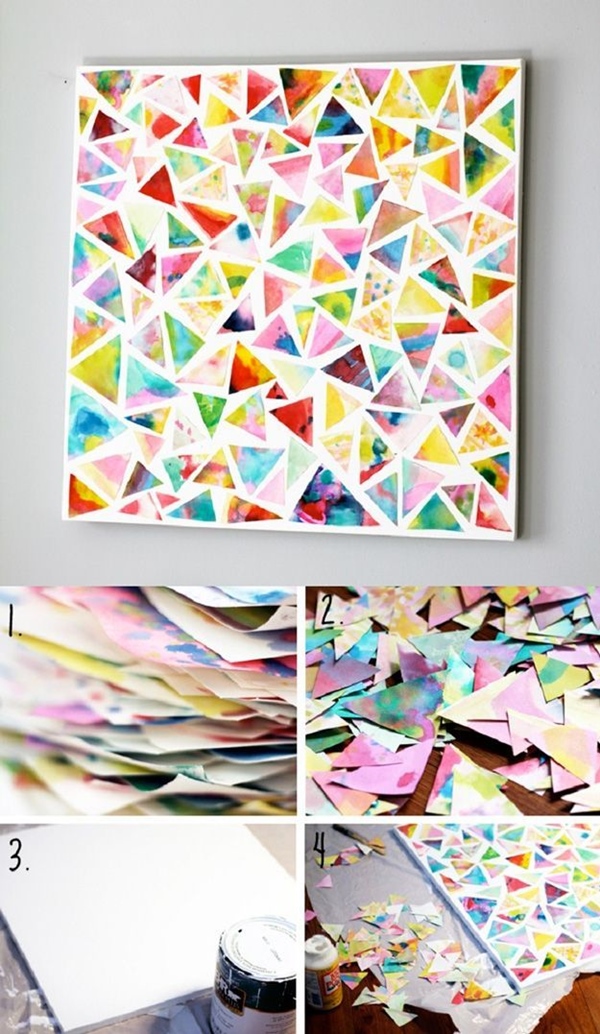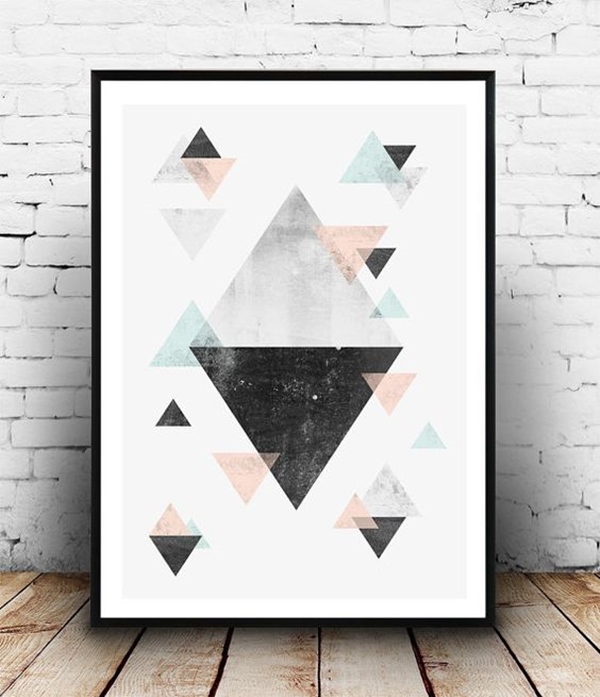 Some people have a great interest in interior decoration and they do it on their own creative skills. It is not possible for everyone to make out a beautiful painting but if you get the color, you can try out a lot of things. The color itself is very attractive but you have used it creatively. Check out this one.
Water Color Vase: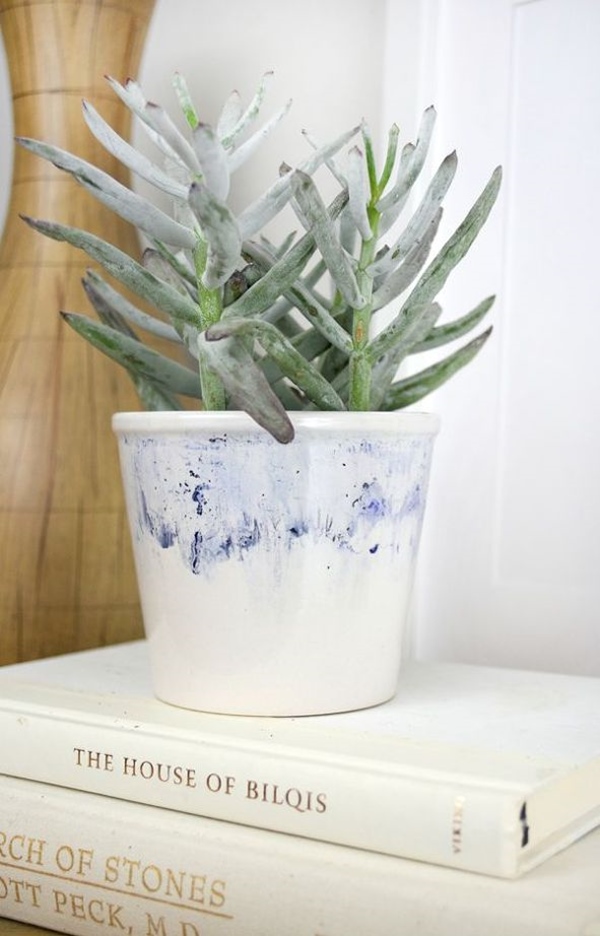 Who doesn't loves to keep the flower in their homes? It's hard to find who doesn't want, but, when you will be keeping flowers, you also need a beautiful vase. What if you can make that on your own? Yes, you can, don't worry.
Water Color Portraits: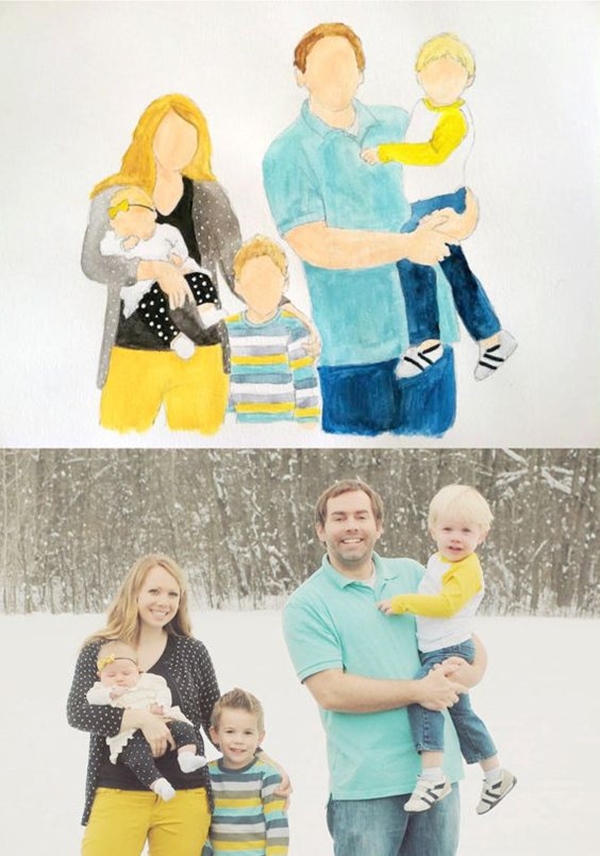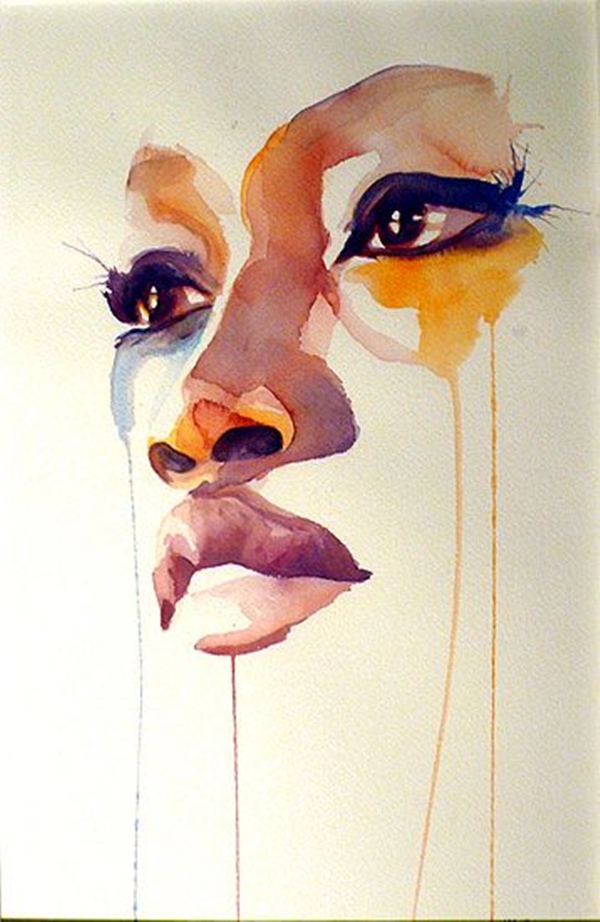 Do you dream of drawing a portrait? If yes, you can try out this one immediately. No, it's not that tough like the real one, You will just need a portrait photograph and you can make it in a very easy process you have ever thought of.
Water Color Printed Shirt: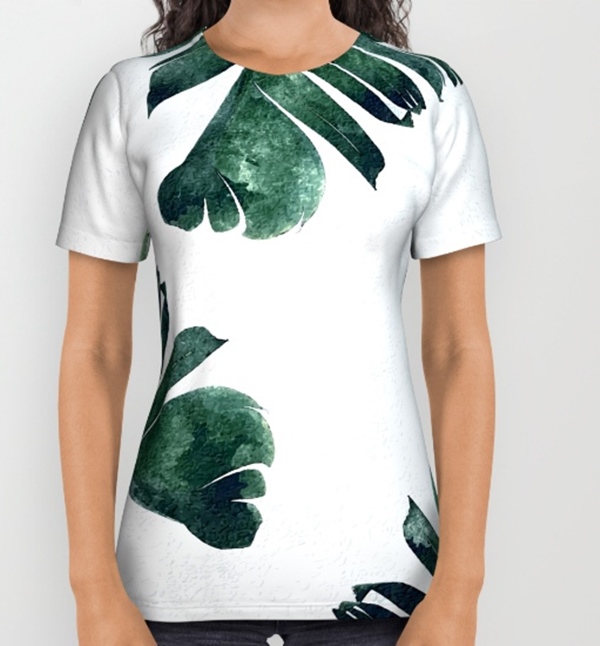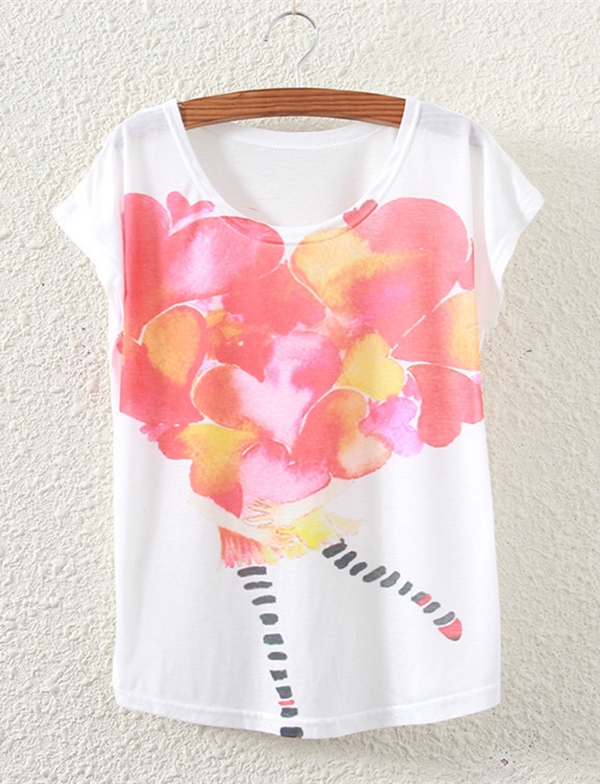 Yeah! it comes with a tagline, Damp-It! Mix It! and Paint It! It's really simple like its tagline. So now you can paint out your shirt at your home. Days are gone when you have to roam here and there to shop a creative t-shirt.
Tie Dye Swimsuit: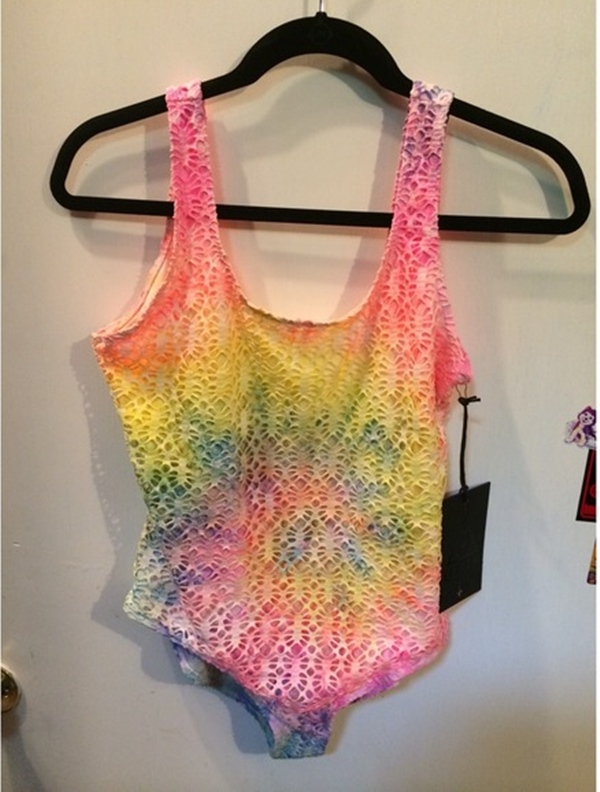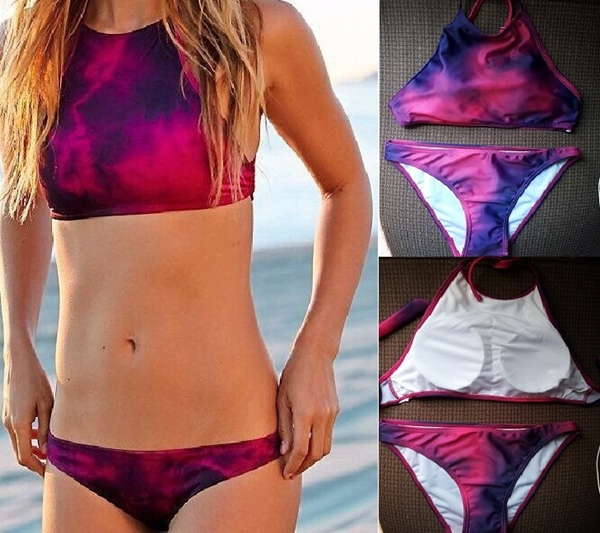 Making a swimsuit that also from your old t-shirt? It's really hard to believe. Now make your own swimsuit by reusing one of your old t-shirts. Give it a completely new look with watercolors. Have you ever thought of it? You can do everything if you want to.
Watercolor Cards: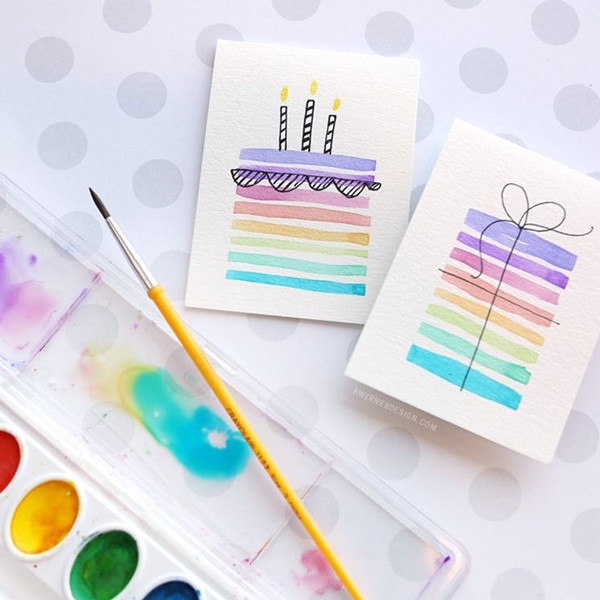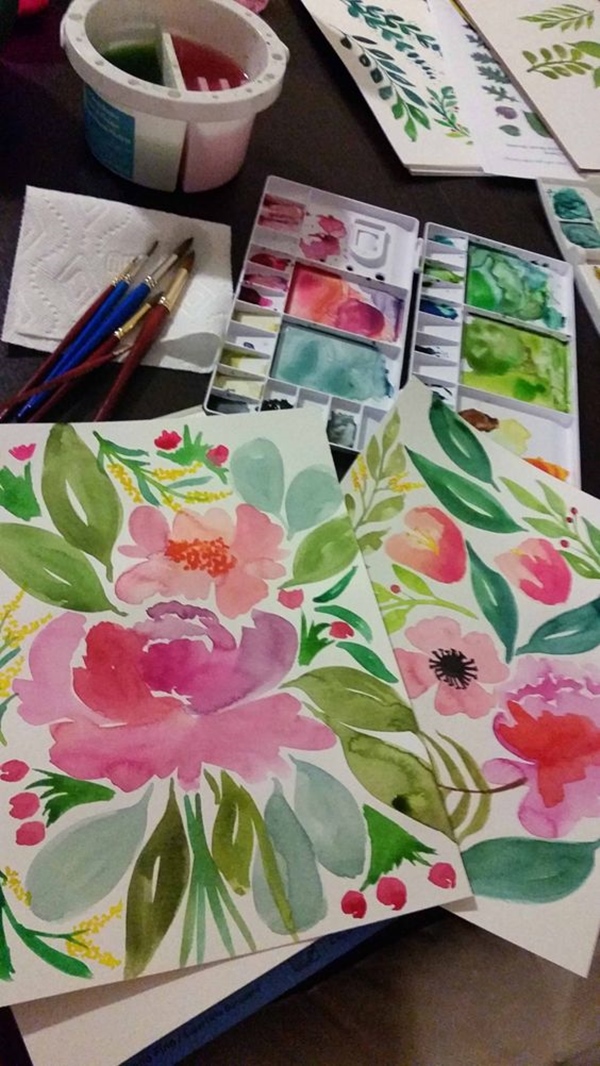 Inviting someone in a creative way is a very common practice among the creative people. For that, you will have to make a card on your own with the help of watercolor. What are you thinking of? Nothing can be better than this.
Water Color Pillows: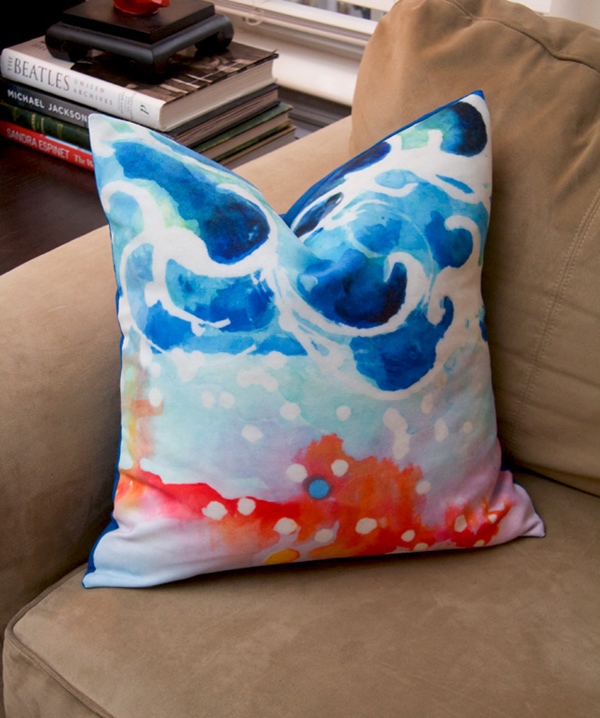 Now you can even decorate your pillows with watercolor. This tutorial will first show you how to paint watercolor on a fabric and then how to paint a pillow out of that process.
Watercolor Wall Quote: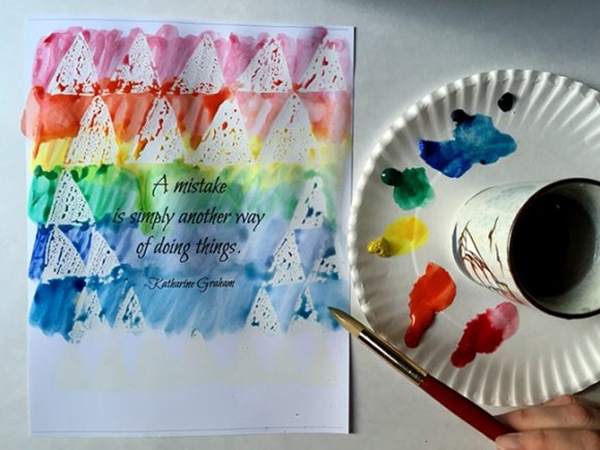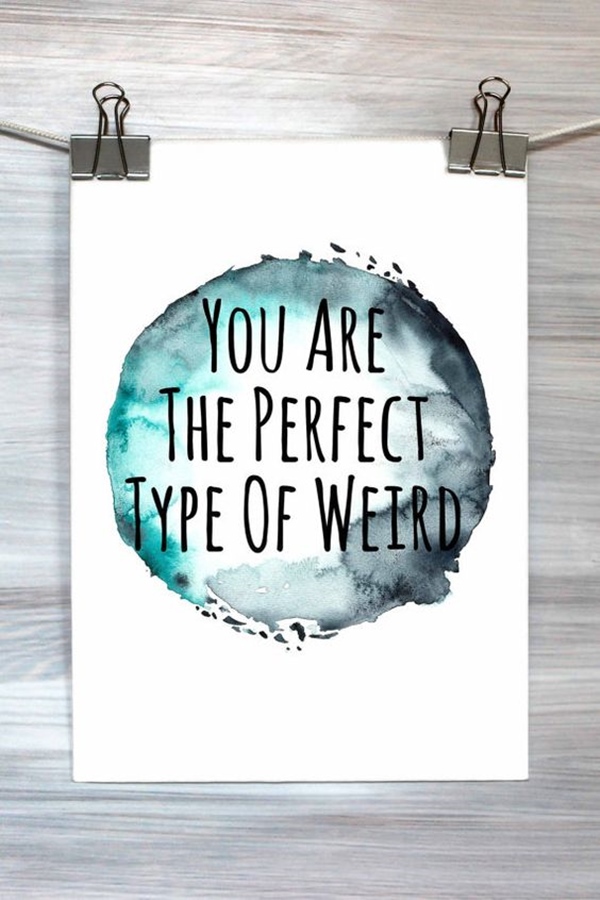 keeping an inspiring quote on top of your working desk is a very good idea. But how you can make such an attractive thing? Here's a guide for you. Go to this tutorial and here you can get an idea of making a watercolor wall quote for you.
Watercolor Notebook Idea: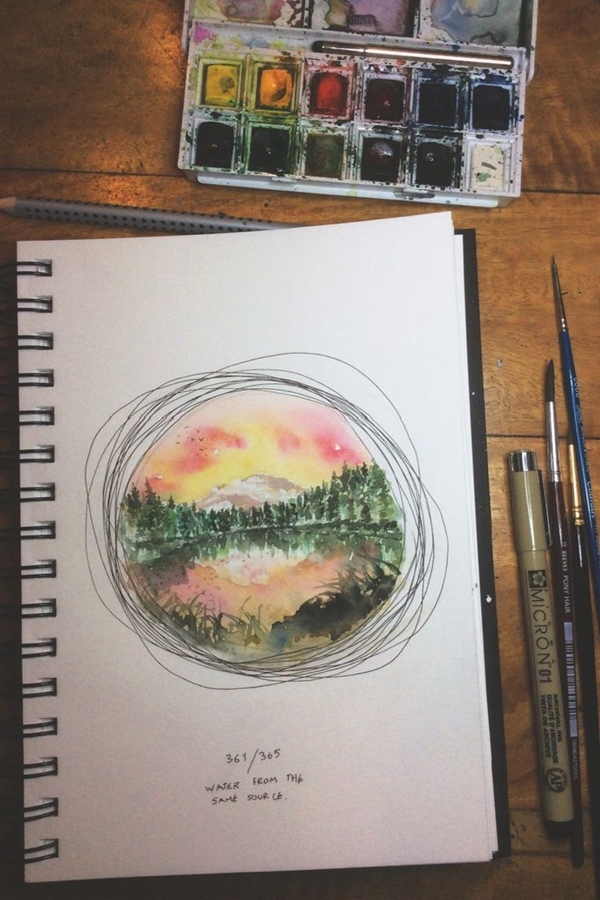 Do you really love your notebook? If yes, it is also your responsibility to decorate the notebook being a creative folk. No, we will not so you something very difficult, instead, we will show you something beautiful. So try out this.
Watercolor Frame Layouts: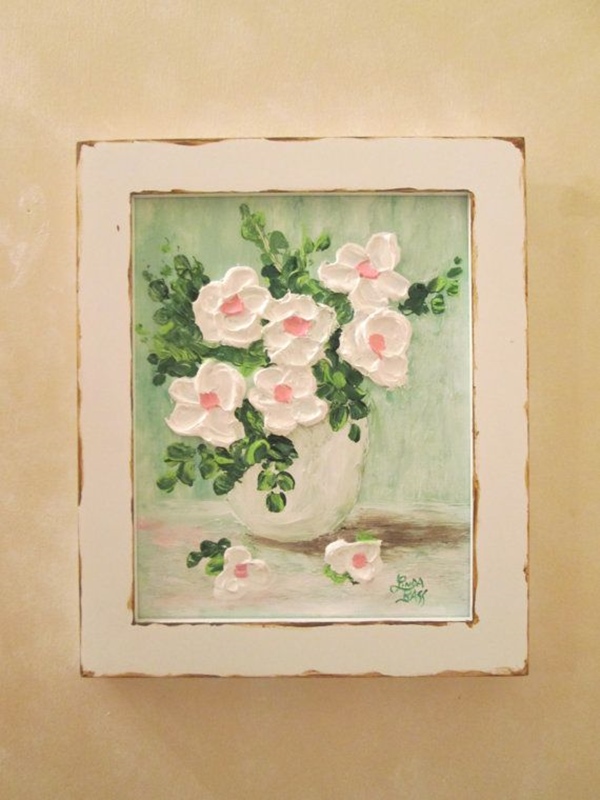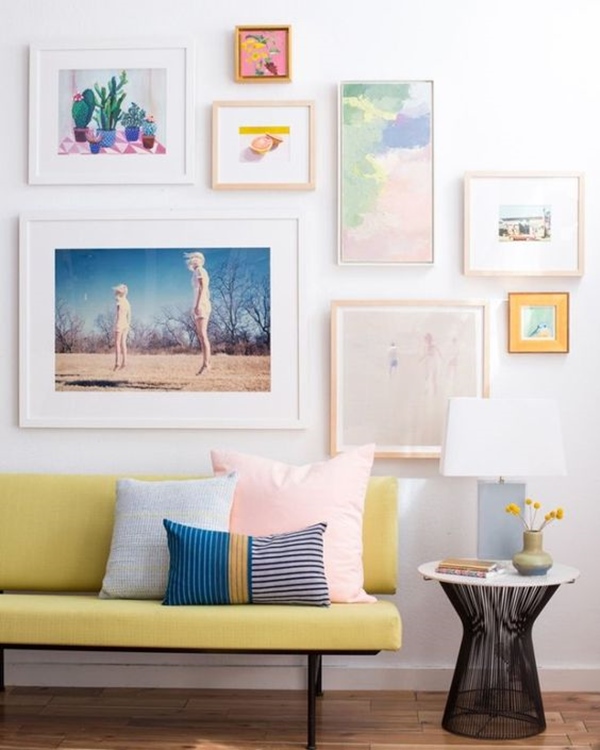 Are you looking for a frame layout idea? Yeah! maybe you need it for some wall art. Here you can make it on your own. Yes for that you will just need water color and brush. You can use it for photographs, art pieces, and even watercolor wall arts.
Working with watercolor is no more difficult for you. You can easily make out one way to use watercolor from this big list. All of them are very creative and are very easy for everyone. Try out each and everyone to increase your skill. You will be gathering a great experience. Good Bye!