Icon is an important thing in any type of design. Icons are the first thing that attracts people. Actually there is a scientific reason behind it. A specific brand name always needs a language to be written. And it is impossible for a human being to know each and every language in this planet. As a result this is the positive point of an Icon. It has no language nor any hurdles to identify. You can identify a brand with its Icon and it also doesn't need any literacy. So Icon should be such that it can be identified in just one look.
The same logic also happens in web designing. Actually it is hard to know the literacy level of all your visitors. And it is never possible that all your blog visitors have the same literacy level. So it is always recommended to use icons in your website menus. It creates user friendly experience for the visitors.
It is quiet easy to add an icon in your website. But displaying the Icon in the Content Management System like WordPress or Joomla is a little bit tough process. So here a simple of adding icon in the menus are given for the website owners who use WordPress as their platform. Go through the full process and you will be done with adding icon in your website. Surely if you are using wordpress as your platform, then we are assuming that you have the basic idea about wordpress operating. So the only thing you need is to install a plug-in.
Easy Ways to Display Icons in WordPress Menu:
Step-1:
First of all you have to install a word press plug-in named 'Menu Icons' in your blog. Now you have to activate the plug-in.

Step-2:
In this example we are using a very light and simple Word Press theme Twenty Twelve. Here, few created pages are added in the menu. You can create a menu from Appearance>Menu. But remember to assign a menu location; otherwise it will not appear in the website.
Step-3:
Now it's time for adding icons into the menu. So just select any icon to expand from the 'Select Icon' link. Then select any icon from the library. Actually there are three libraries Dashicons, Genericons and FontAwesome when we have written this article. We will suggest selecting all the icons from a single library as the size and style differs.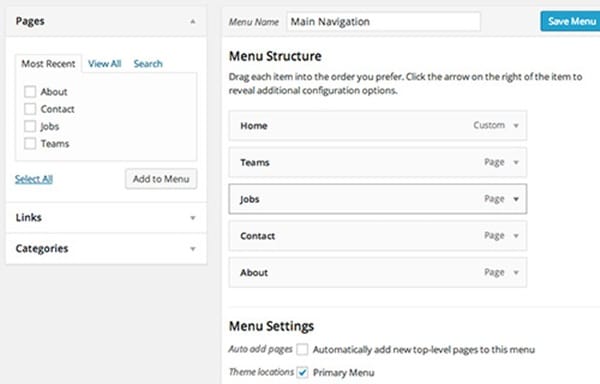 Step-4:
You will notice that the preview of the icon will be displayed in the left panel. And in the right panel you will get the options for adjustments of the icon. You will get adjustment options like placing the icon before or after the menu, controlling the font size and set the alignment. After the adjustment is completed click on 'select' to add the Icons.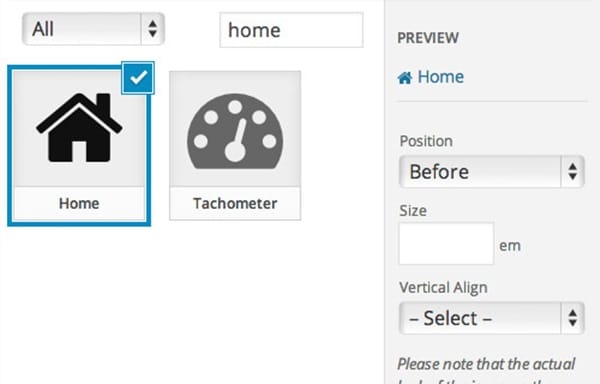 Congrats, now you are completely done with the process. Just think that it took alittle bit of your valuable time. And now the menu will look like the below screenshot.