Are you attending an event in London with your business and want to make sure it is a success? Events mean that you have the opportunity to interact with customers and other businesses. You have the chance to secure sales and deals, as well as raise brand awareness in the city.
But you are only going to be able to do this if you have an eye-catching stall that people want to come over to. A good way to do this is by investing in roller banners. You can design them to represent your business and have an impact. Here are some tips on how you create the best roller banner for an event in London.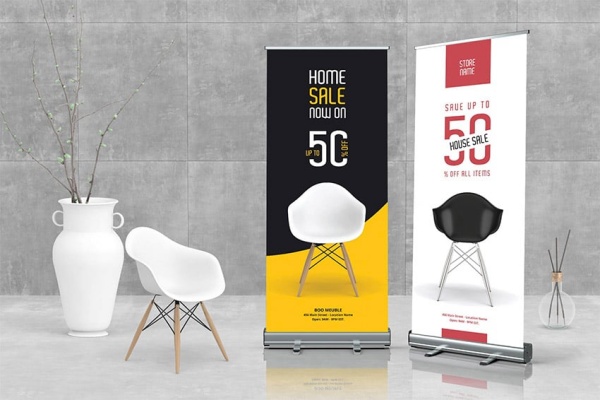 How to Design a Roller Banner for an Event in London
Always Include Your Logo
Something you cannot forget when you are designing your roller banner is to include your business logo. This is going to be essential so that customers learn who you are. Displays and stands will have maximum impact when customers understand your name and they can associate your logo with it. So, no matter what you want to include on the banner, ensure that your logo is visible somewhere.
There is a lot of surface area for a roller banner. So, you should make sure your logo is visible from a distance. After all, if it is small, it is not going to be recognised by customers in the future. You need to ensure it is on display and big enough to remember.
Have a Theme or Specific Message
If you are attending an event, you are going to have specific goals you want to achieve that day. This could be to promote certain products or to secure a certain number of sales. Either way, have these goals in mind when you are creating your roller banners. You can ensure they have a similar theme or promote a certain message to achieve your goals.
For example, say you want to sell a lot of a certain product. This can feature on your roller banner, as well as the deals you are running that day. You can promote its best qualities and show high-quality images of that product to gain attention. Make the banner exciting so that customers are intrigued and come over to talk to you.
Make Full Use of the Space
A benefit of choosing roller banners is that they are big. There is plenty of space to get your message across and have an impact on people at an event in London. So, you want to make the most of it. This means making use of all the space, whether that is including your logo, another image or text. Work on the placement so that everything is easy to see and understand from a distance.
One thing you do have to be careful of is that you do not make your banner too busy. Yes, use all of the space. But do not fill it with unnecessary information or a lot of text. This type of marketing should be quick and easy to understand.
Be Bold with Colours
If you are attending an event in London with your business, you want to stand out. Indeed, you are looking to attract customers and catch their eye. You are never going to do this if you use bland and dull colours. For example, when you see a design that only uses black, white and grey colours, this is not very exciting. In fact, it can come across as serious. Instead, think about how bold and bright colours stand out and make you look.
Therefore, be bold with colour on your roller banners. You do not have to be whacky and have a lot of different colours. But, a few bright ones can create good energy around your business and allow your brand to capture everyone's attention.
Feature High-Quality Images
Do you have an image you want to include on your roller banner? Something you will need to make sure of in advance is that this is a high-quality image. Think about it; it is going to be blown up on a large roller banner and seen close-up by customers. The last thing you want is for the image to look distorted or blurry. This is not going to reflect well on your brand and it can look unprofessional.
So, be very selective with the images you use. Ensure they are high-quality, sharp and colourful. This way, they are going to look good and impress passers-by. Plus, it makes your message easier to understand when you can see the image properly.