Winter is the season for blingy and Smokey eye makeup. Be it a wedding party or a cocktail party with friends, black Smokey eye is the game changer. It is chic, bold and eternal. Whatever outfit you are wearing, the perfect black Smokey eye can increase the glam quotient up to the optimum level. But often we get confused about how to flaunt a perfect black Smokey eye which is dramatic, beautiful yet simple. So today in this very article we will be presenting you with a bunch of lovely easy black Smokey eye tutorial from which you can easily pick up the style of your choice. So, without just talking much let's jump into the article.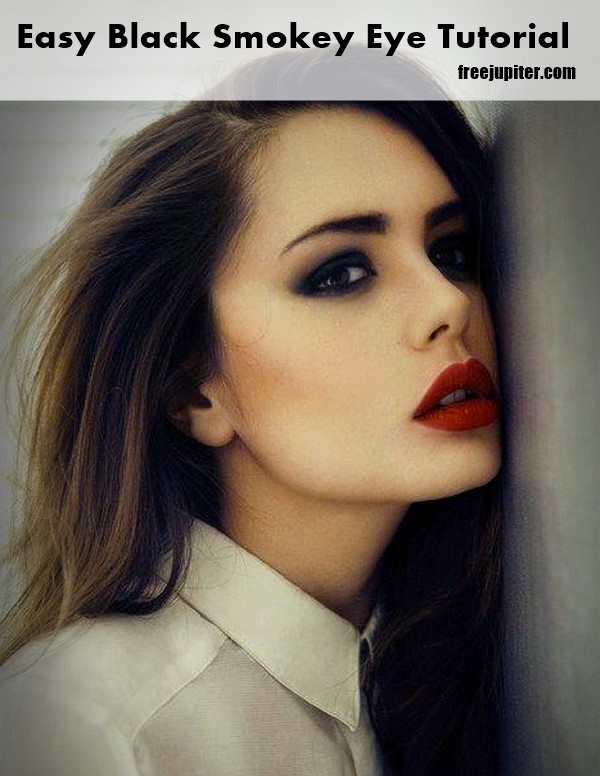 Easy Black Smokey Eye Tutorial
Simple Black everyday Smokey eye: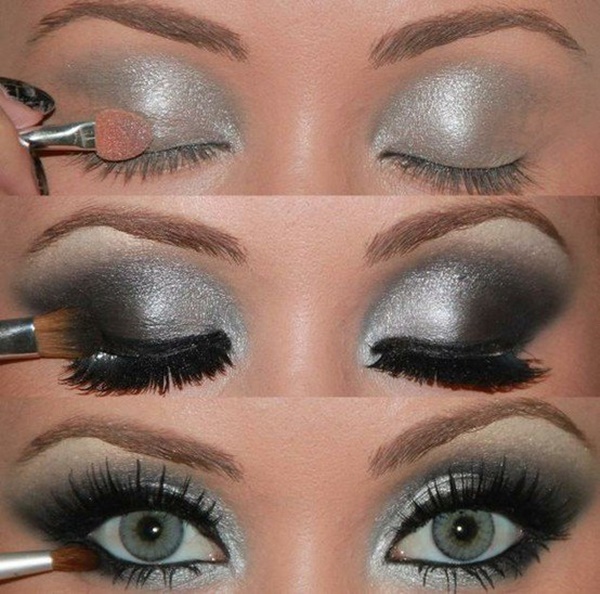 This simple Smokey eye is easily manageable and easy to apply on a daily basis. All you need is a good eyeshadow primer to make a good base. Use a good kohl pencil to tightline your upper and lower water line and end the look with black mascara. You are ready to turn out everybody's head.
The Dramatic Black eye: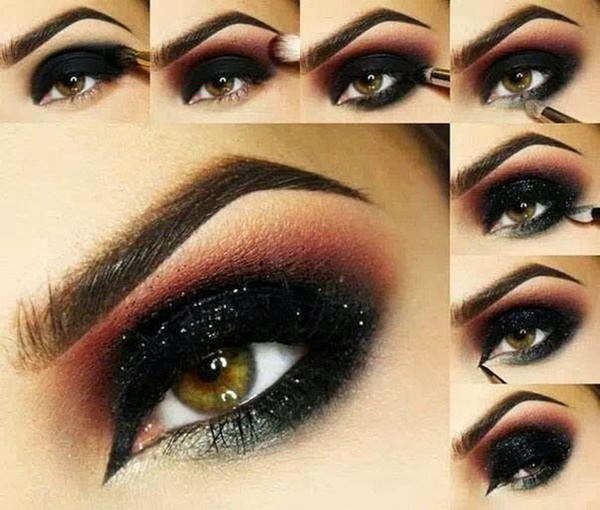 It's little bit heavy to use on a daily basis but for a wedding or a party this is the best make up to put on your eye. Apply good quality primer before applying eyeshadow so that your eyeshadow stays in place for a longer time. Use professional brush and apply two coats of mascara for a prominent finish.
The black eye with grey undertone: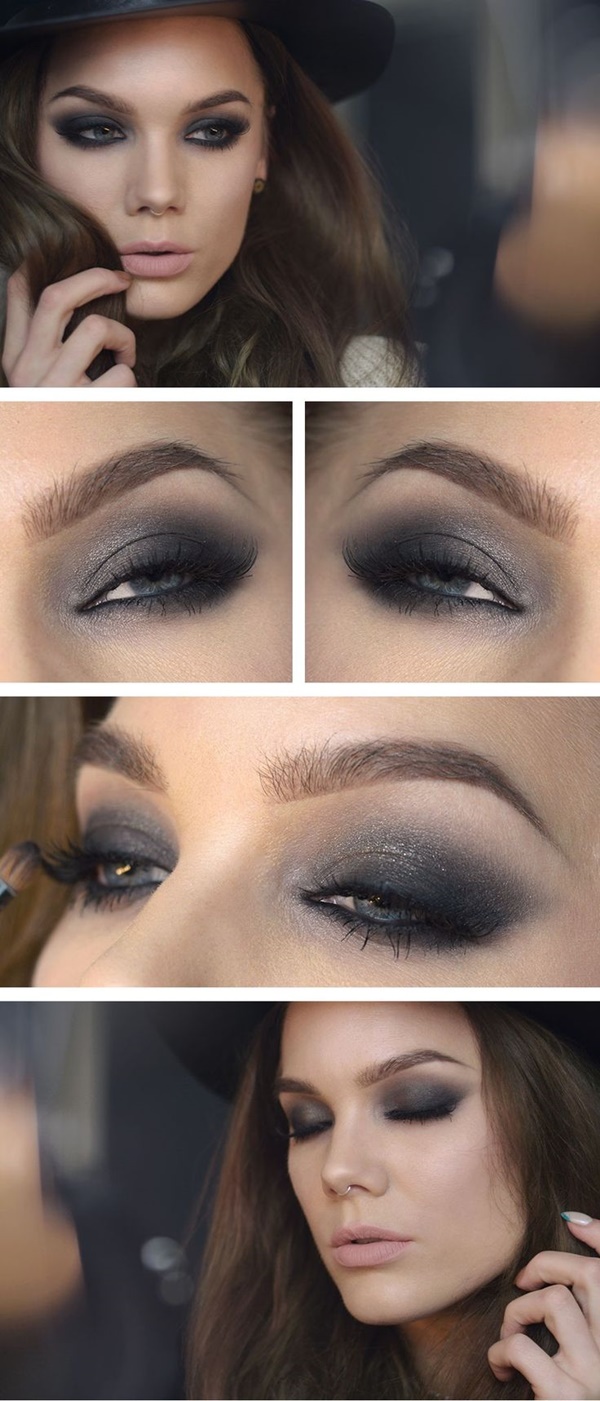 If you are looking for a sober yet eye-catching Smokey eye then this is your cup of tea, if you are planning for a night out then try this out with a neutral Lipper. A plain simple grey-black bodycon dress and a grey pump will take care of the rest.
Black eye for the busy bees: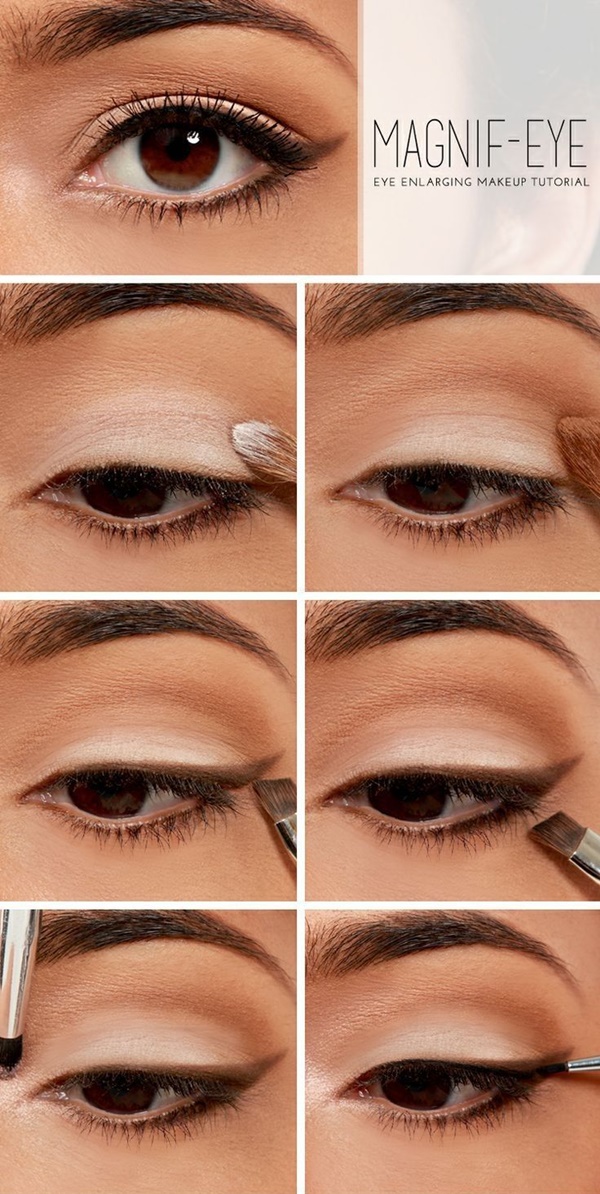 Are you always on your toes and don't get enough time to do a perfect eye makeup? This eye makeup will take minimum time and will be turning out with a fascinating result. Matter of one color and lots of blending.
Super black classic Smokey eye: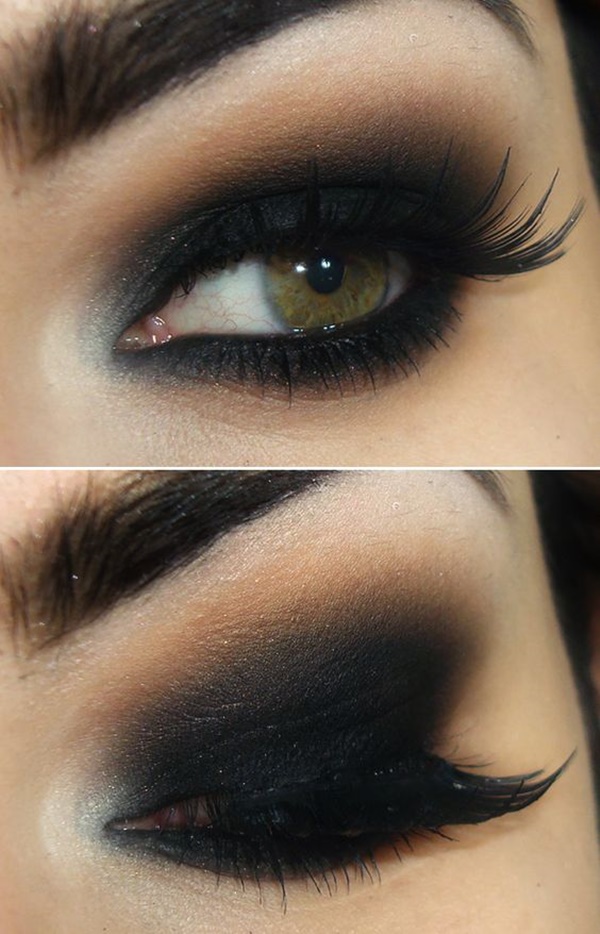 Classic look is the most desired look of all time. A super quality black eyeliner, a super-pigmented eyeshadow and a perfect blending brush will do the trick for you. With practice you will require lesser time to accomplish the look.
Kim Kardashian inspired Black Smokey eye: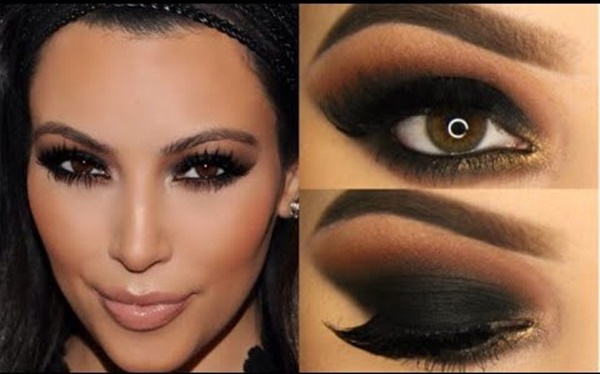 If you follow the celebrity make up regime religiously then here we come with this sexy black eye option. Use a good base and properly smudge the eyeshadow. A thinner brush should be used to apply the gel black eyeliner. For a fuller finish smudge the liner properly. Girl, you are ready to give Kardashian a tough competition.
Valentine's Day black out eye: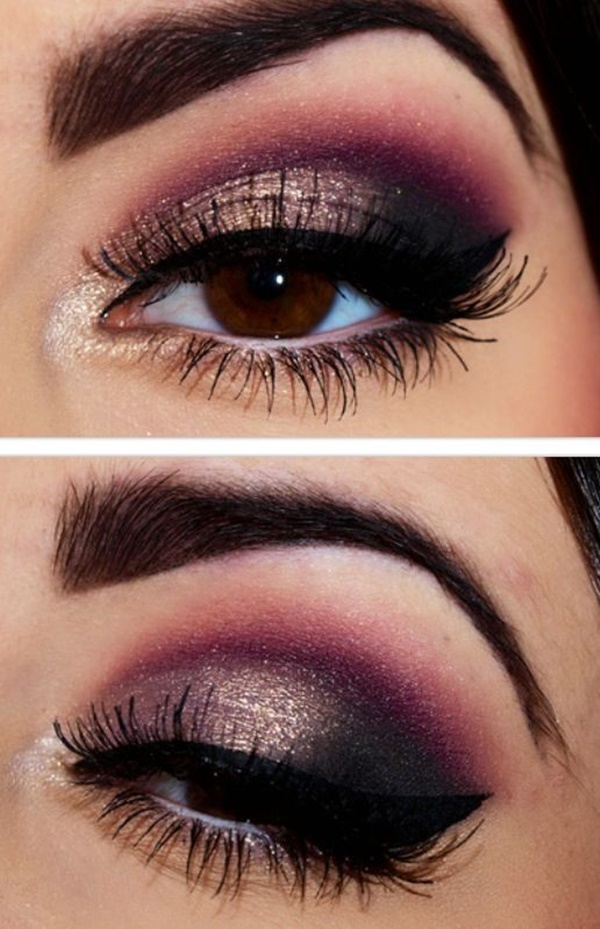 Valentine's Day is just coming up in few weeks. If you have already planned for a date on this V-day try out this all black intense eye makeup. You can use some tape on the sides of your eyes because in that way it is easy to apply the makeup without making any fuss. Use a high quality eyeshadow, intense black eye liner and you can try a winged liner if you want. Curl up your lashes and false lashes will do the rest, just overwhelm your partner by trying this eye look.
Black eye with a hint of pink: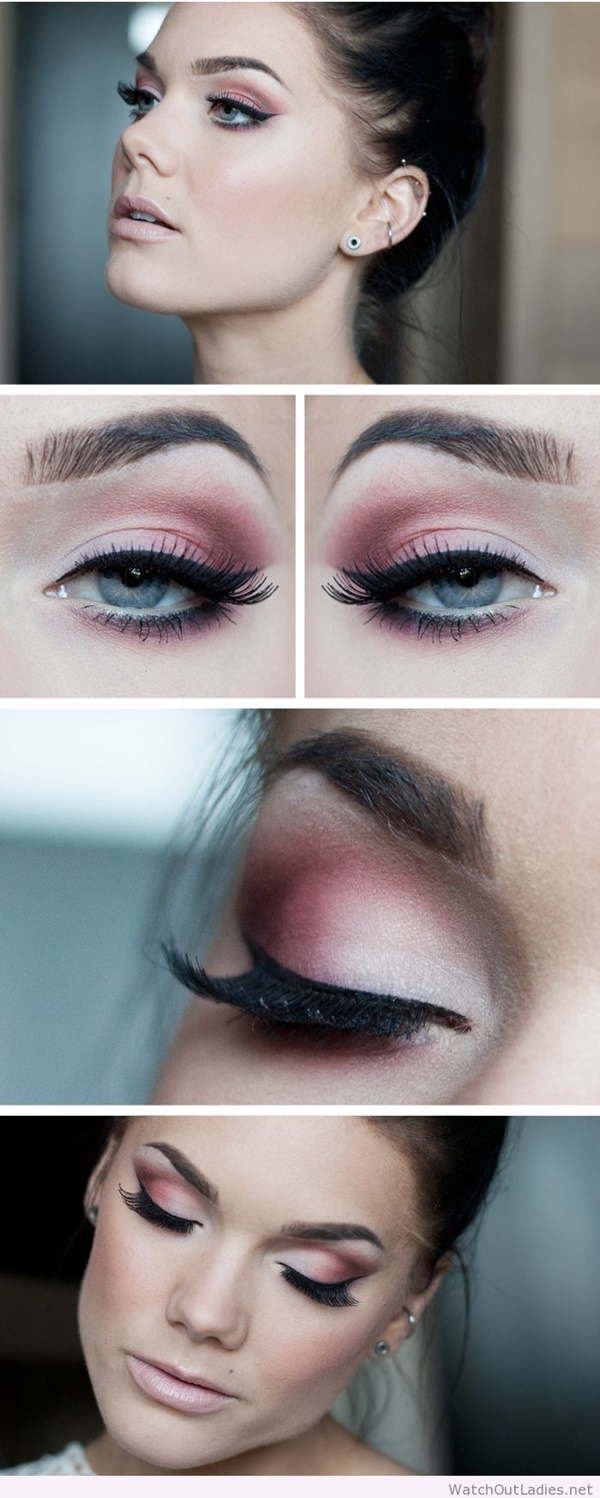 If you love your eyes to do all the talking for you and just can't do without a hint of pink and yet want a black Smokey eye to work then check this option out. Do a normal black Smokey eye and play with the pink eye shadow above the black eyeshadow. Let your eyes play the hide-n-seek.
Metallic Black Smokey eye: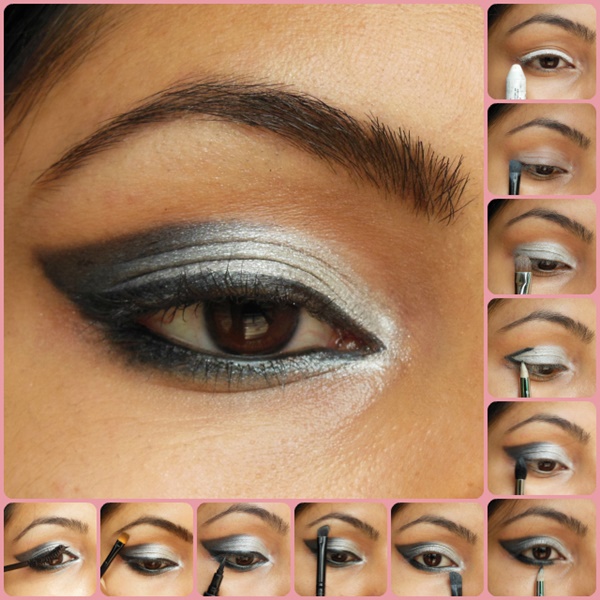 Add edge to your Smokey eye by applying a shimmery silver eyeshadow. This gorgeous look is perfect for a night party and the metallic effect is surely gonna give your eye more definition.
Fall friendly Smokey eye: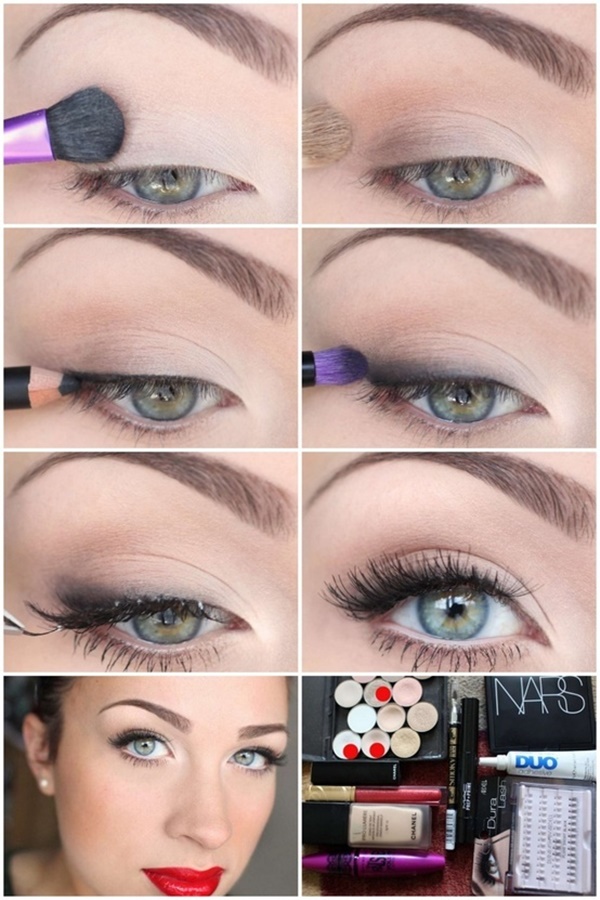 if you like soft yet sophisticated Smokey without any harsh edge and a subtle finish then this graceful option is all you need to try. You can easily wear it on a regular basis or on a winter day out.
Black is the color of passion and power. Your bold look is just incomplete without a perfect black Smokey eye. No matter whether you have big or small eyes a perfect Smokey eye can transform your entire way of looking. A perfect combination of good eyeliner, eyeshadow, mascara and kohl can make your eyes look more dramatic and talkative. Hope you can find the look according to your need from our black Smokey eye tutorial list.