Yes, it's always about nails, nails and nails! From confectionary to glittering and from simple to badass, designs are there to let you flaunt your femininity and class. You won't deny saying that you have been deadly-serious about your nail designs and nail art so are you here! And in order to assist you with that we got you some easy acrylic nail art designs so your attire matches up and raises your persona and the styling statement.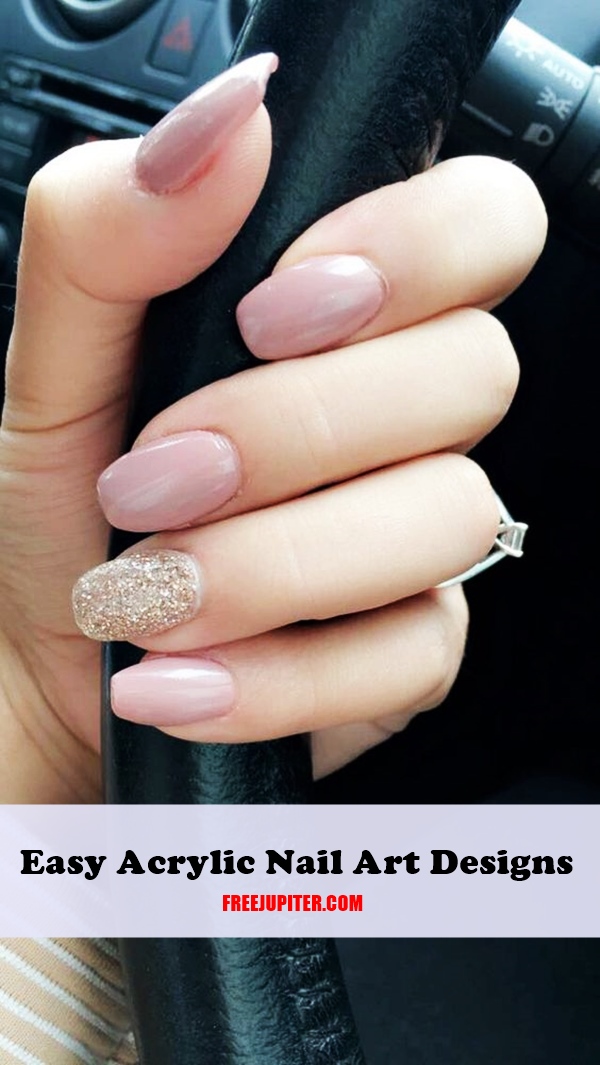 Nail art isn't so easy, is it? And not every girl love to spend so much time to get it done, though they love it! But don't worry honey; luckily, you can try some nail art designs, in case you find yourself lazy!
Easy Acrylic Nail Art Designs
Decent shades of grey :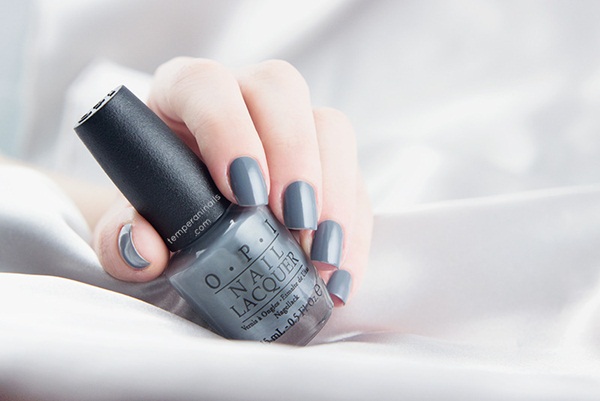 Shades of grey! It's kind of something intoxicating and pleasant! When it comes to grey, you better go from dark to light shades as you can vary the shade on different areas. Moreover, if you are truly fan of colors, then make sure to bring your nails a playful pattern with off-white shade.
Moss green and marble effect: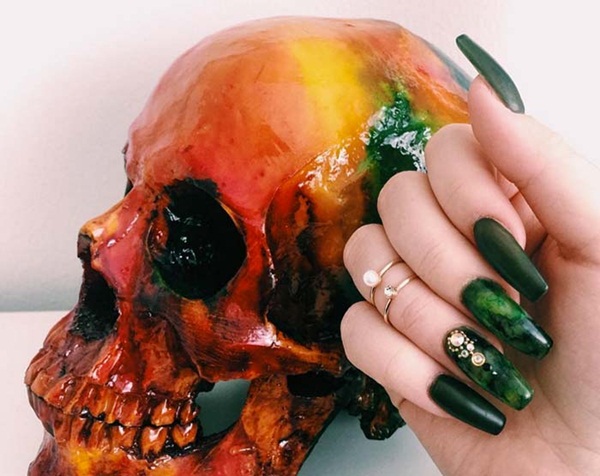 I bet you girl, once you got this design you will end with enticing and amusing scene on your hands. This moss green and marble effect combo can get you the inescapable party-going look. Just, have some nail plates with moss green while craft the marble effect on the rest of them.
Beach stone effect: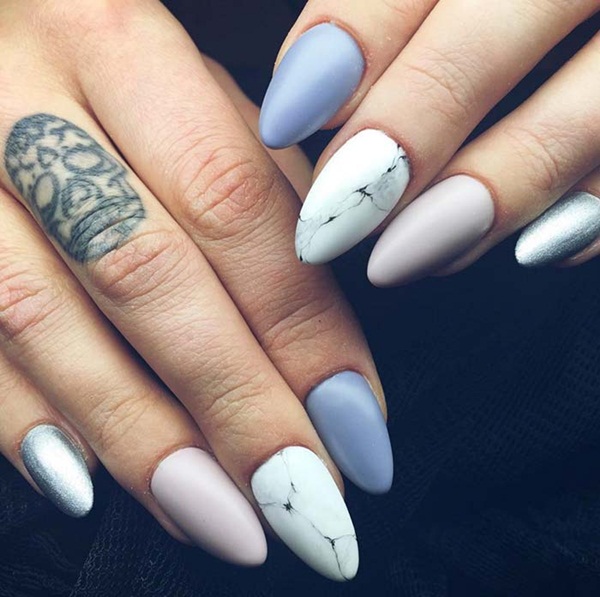 Ever thought of collecting those tiny and adorable beach stones while having fun on beach? Yes, let's call it beach stone inspired nail art design! Apply dusty pink shade and Carolina blue which you'd create the realistic beach stone effect to your nails.
Floral acrylic nails: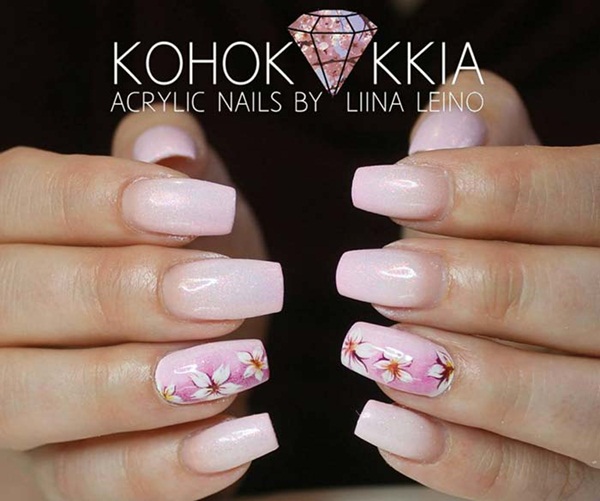 Wait! Grab yourself a floral or white dress and this insane and inviting floral acrylic nail design to rule the party and be the party queen. Apply daintiest pink shade onto your four nails and do the floral art work on ring fingernail.
Pusheen The cat: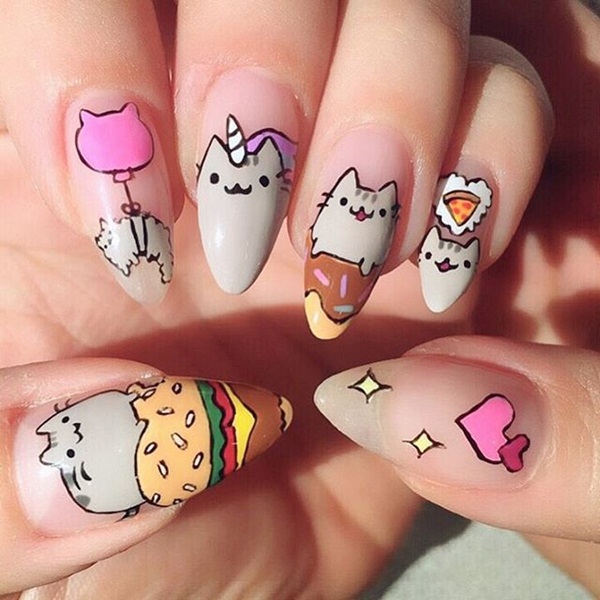 Oh-so-cute is this nail design! Coat one or two of your nail plates to bring the cat and apply the pink shades to make it look shiny. Now, for the rest of your nails, you can try something decent, as grey, for instance.
Ombre with glitter: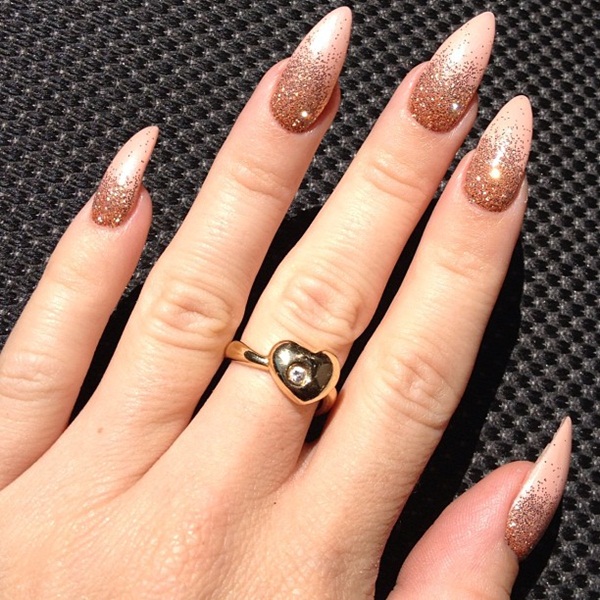 Be playful and pretty with this nail art idea! Just get the matte pink as a base color and thereby creating the glittery impressive effect to let them all jealous. Here, pink and light golden color combo creating the smoky effect to the nails.
Faded French acrylic nails: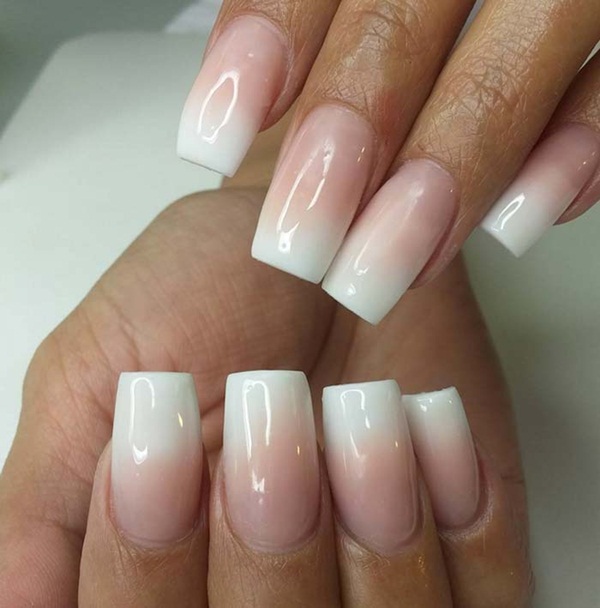 First, shape your nails in square! This design is dedicated to the all that just left their twenties and headed to marriage. Tip- with the white and nude pink shade you can décor the square shaped nails and keep them functional as well.
Golden texture design: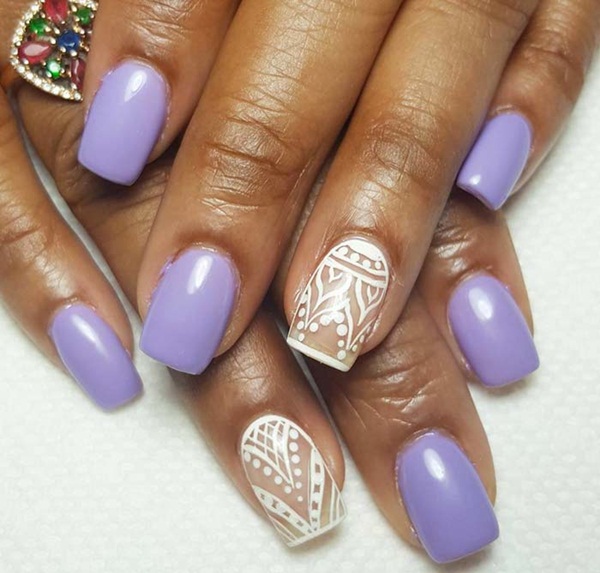 Now, this one is truly exotic! Apply transparent coat on four of your nails and use white for the one nail and now, use the golden-foil-texture method to win the game.
Lavender nails are sensational: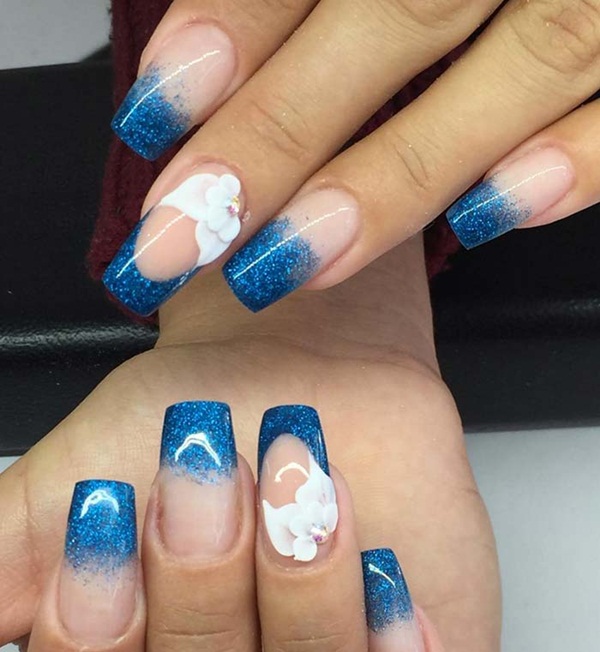 If you're looking for something seducing then here is your thing! Get it done with in no time by lavender shade and don't forget the botanical motifs to apply on one nail plate.
Aquamarine Acrylic nail art: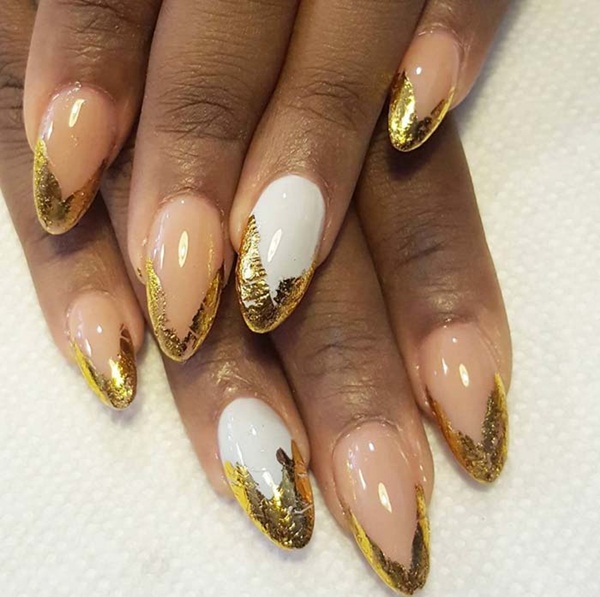 Sea inspired nail art design is the something that lets you free your mind and creativity and get you closer to the nature. Feel fresh with creating a flower on one nail tip while apply the sparkling blue shades on rest of all.
Now, you got easy acrylic nail art designs to try! And if you got something about nail art design, feel free to share with us in the comment section.