Everywhere we go to hang out, we get back with one or more plastic spoons. Parcels, too, come with their own packages. Back home, you cannot use plastic spoons more than one time; it is dangerous that way. But nobody ever said that you just cannot use them at all? If you have an artistic curve to your ideas and also, determination to fill your place with more and more creative concepts. One such concept is of using plastic spoons for artwork and home decor, here are DIY Plastic Spoon Craft Ideas.

Here you will also find some most approved CUTE AND EASY SEASHELL CRAFT AND DECOR IDEAS.
DIY Plastic Spoon Craft Ideas
Wall hangings and tabletop artwork-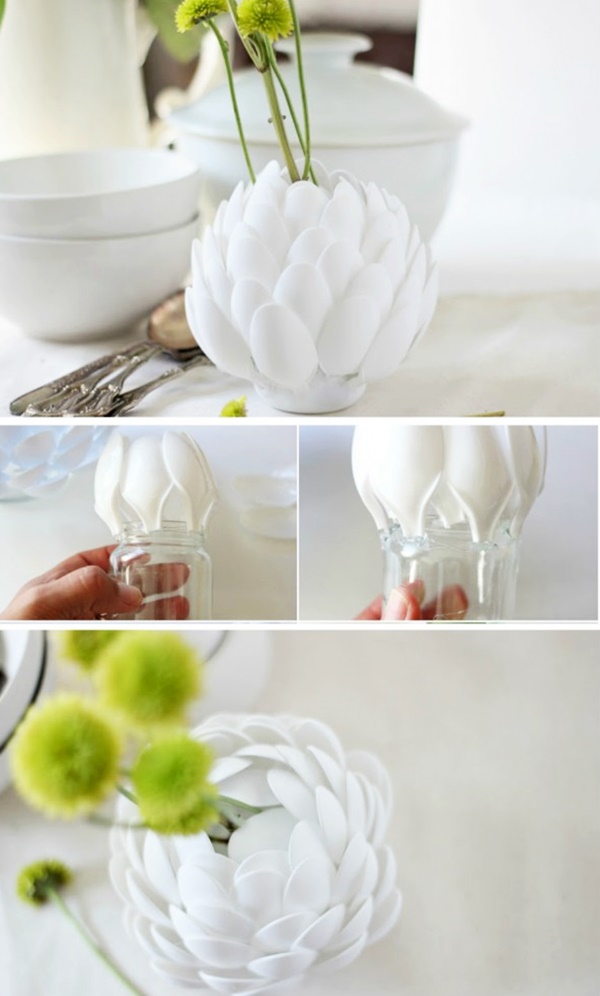 Use oil paints or acrylic paints to paint the spoons first. After having them already and looking artistic in every possible way, go ahead with deciding what you want to make. We thought a spoon spiralled mirror or wall hanging should be the best for the home decor. A small sized circular mirror should be sued, glue the spoons in a spiralled pattern. You can even use messages, instead of a mirror.
Workplace aesthetics

Workplace aesthetics is a term that many offices aren't yet aware of. If you are in the right position to make decisions for your place of work; go for these fantastic pen holders for the starters. Get hold of an old pen stand or even a plastic water cup. Cut the spoons into halves, and use only the heads for this purpose. Glue them around the mouth of the cup or the holder.
For the candle-light dinner: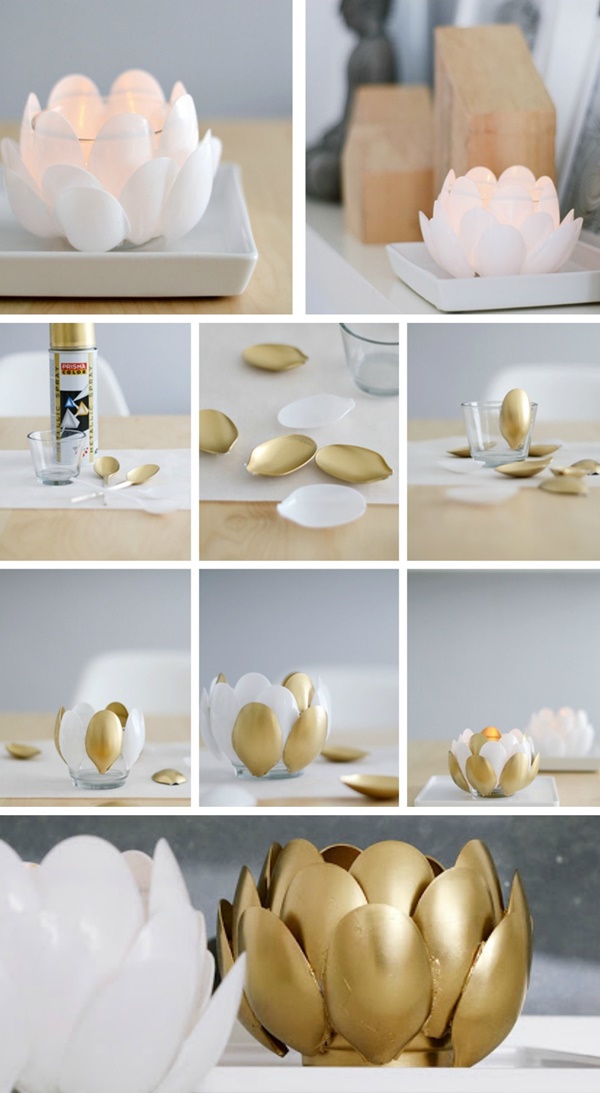 Candlelight dinners are pretty memorable and need to be worth all the time and energy on it. Well, if you plan a wonderful candlelight dinner, you also will be needing wonderful decor there. Rather than using simple LEDs or serial bulbs, go for the ones with plastic spoon's heads on it. They give a different vibe altogether and make you a pro in DIY Plastic Spoon Craft Ideas. Here you'll have a large number of marvellous thoughts after reading these QUICK AND SIMPLE BIRTHDAY DECORATION IDEAS!
Perfect Lighting for the Dining!
If you are planning on running a cafe or a dining place, do not settle for simple and plain lighting systems. Why do that when you can pretty much attempt a lot of things with the same. Plastic spoons atop the basic lanterns or lamps give more illuminated view than just the lamps on the tables. Cut the spoons for their heads, paint them with light shades to give more radiations; and glue them evenly and with designs, on the lantern to be used.
Not the mundane clock ticking greys.

We absolutely hate the mundane clock ticking greys. Why not decorate the clock with things that will make the clock less boring? Spoons with colourful and patterned prints on them, with the use of stencil painting, can never be boring. So if you have a round clock, you can decorate the same with spoons round it or even as suspended spoon designs off the pendulum.
Aesthetic wall art: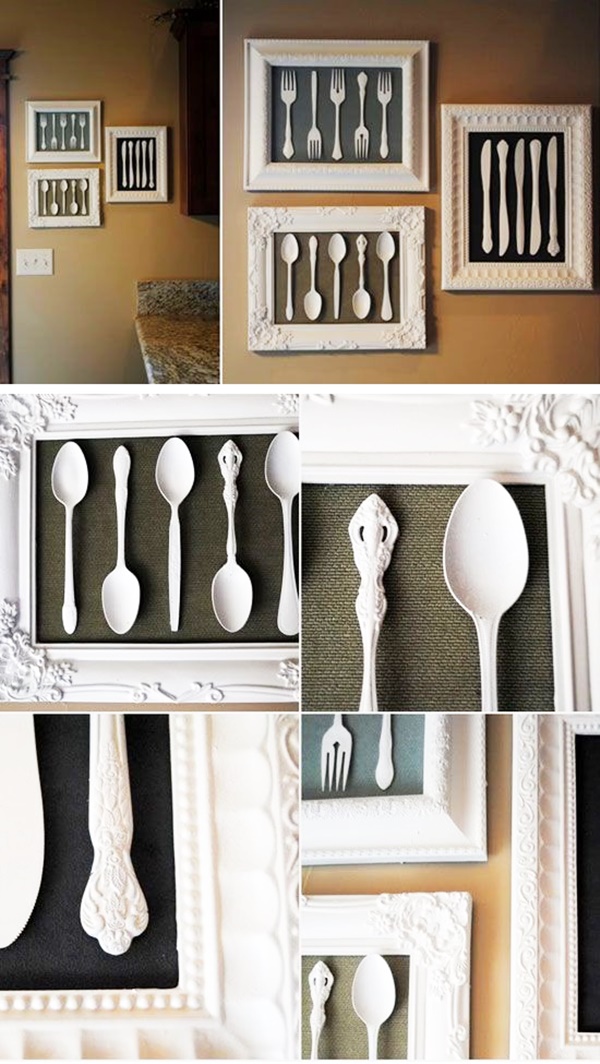 Wall art is quite different from the basic wall hangings and frameworks. Spoon art, if there's any term like that can be the new YES, to go to. Metal paint the spoons using acrylic paints, and also with wonderful patterns on it. Glue them with permanent glue on the wall you wish to decorate and Voila; your DIY Plastic Spoon Craft Ideas is ready to dazzle. You may also like these DIY paperweight art pieces.
Use the forks for artificial trees: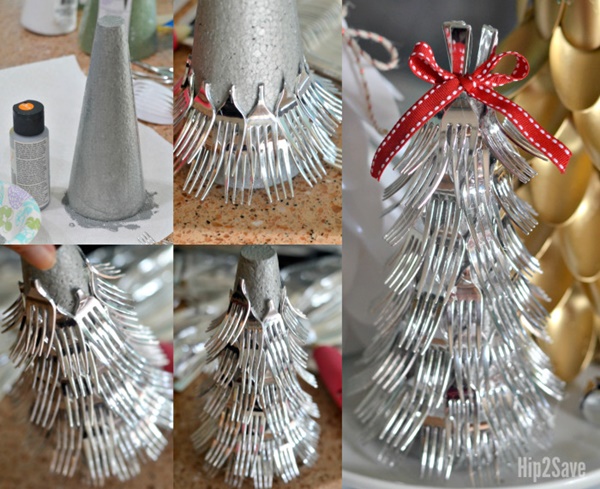 So you might not want to have actual trees around your room, but would love something like them? Well, then we have this idea. Get hold of enough plastic spoons and forks as well, paint them with all the shades of green. Start with the base first, and build up a pyramid of spoons. Keep the forks to suspend off the bases, so that it looks like a tree.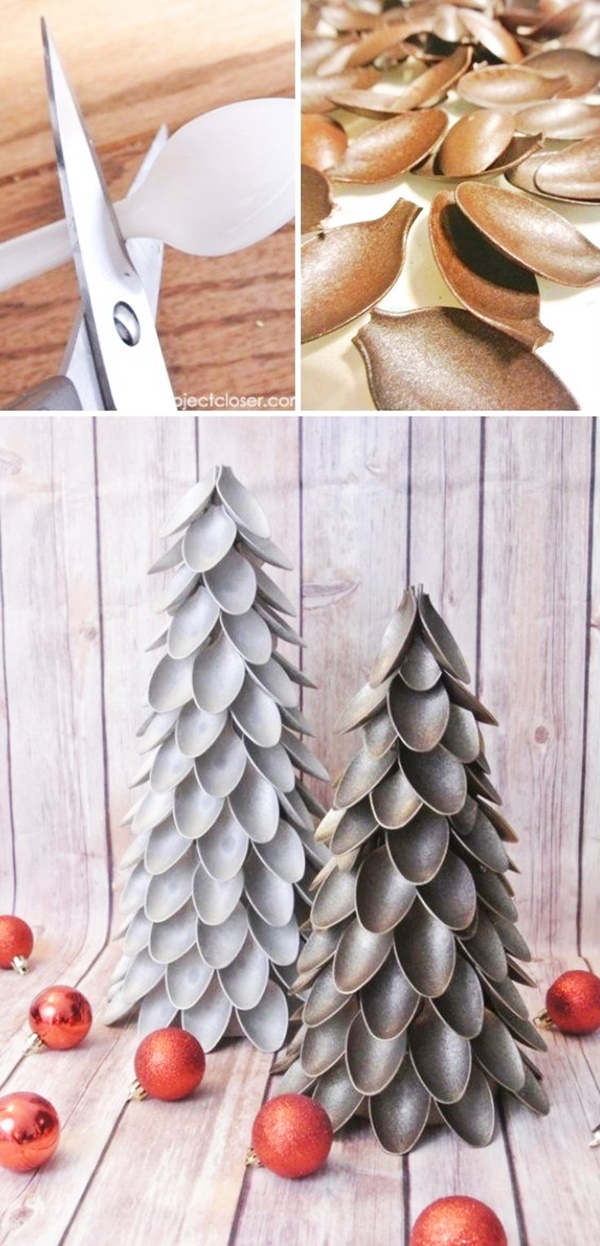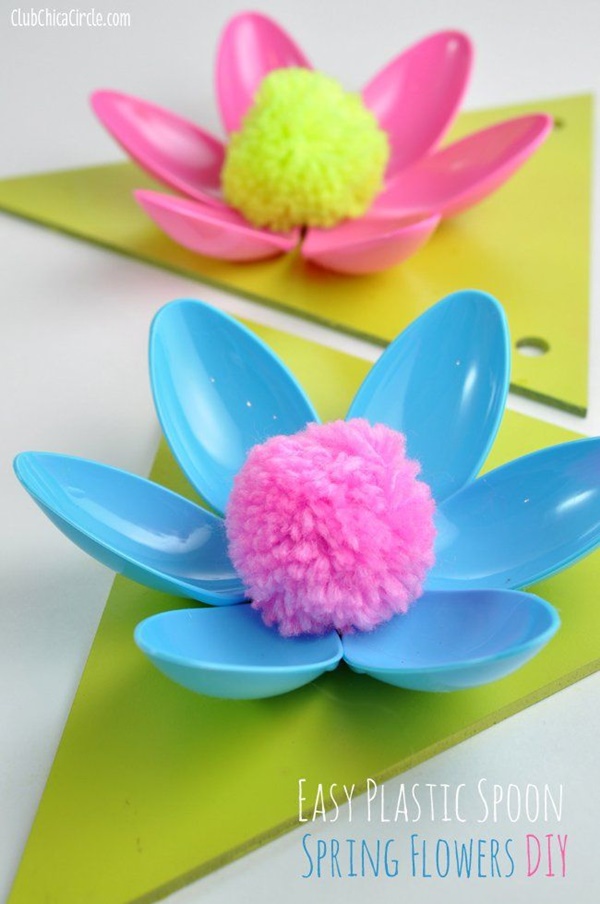 There's more than one purpose of using the plastic spoons and forks, and now that plastics have been banned to use; get those old and abundant spoons to work. These unique DIY Plastic Spoon Craft Ideas are just here for the creative heads of the house. Here there are some breathtaking WINE CORK CRAFTS IDEAS that you shouldn't miss at all.