There's a huge difference between pencil drawing and creative and simple color painting drawings ideas. Pencil drawings bring out the beautiful canvas from black and white only whereas when it comes to color pencil drawings, it's beyond realistic art. Moreover, it's been reportedly proved that working with a color pencil is easy as you'd not have to worry about sheets and mess around it just like in watercolors or crayons. Gather all your artistic imagination and color pencil box if you're equipped with tremendous skill in color pencil drawing and start with these creative and simple color pencil drawings ideas.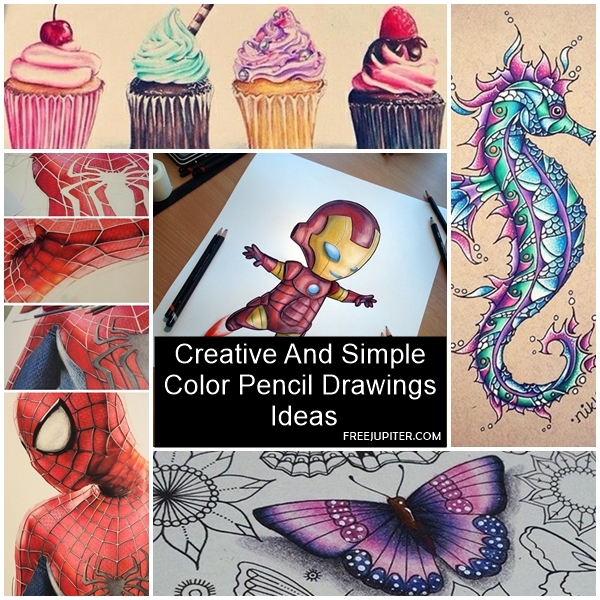 Whether it's about choosing the right shade of color or detailing the object you want to craft on the sheet, blending colors is really a worth learning thing for all artists. And if not, then you better start with the basics and easy pencil drawings.
Creative And Simple Color Pencil Drawings Ideas
Color shading drawing
Candle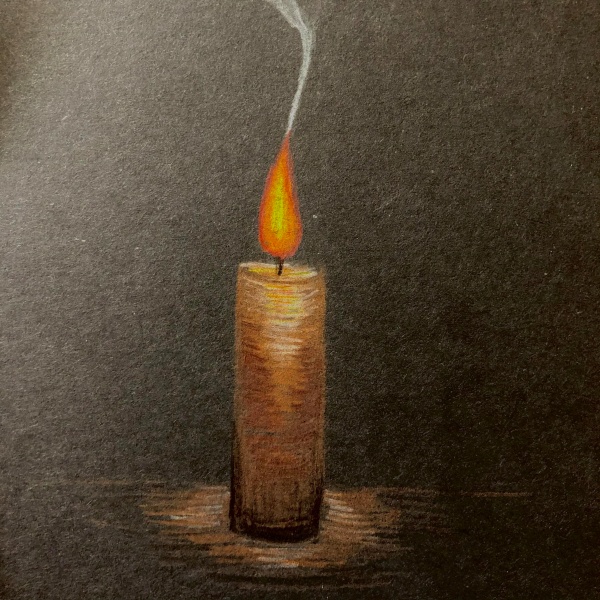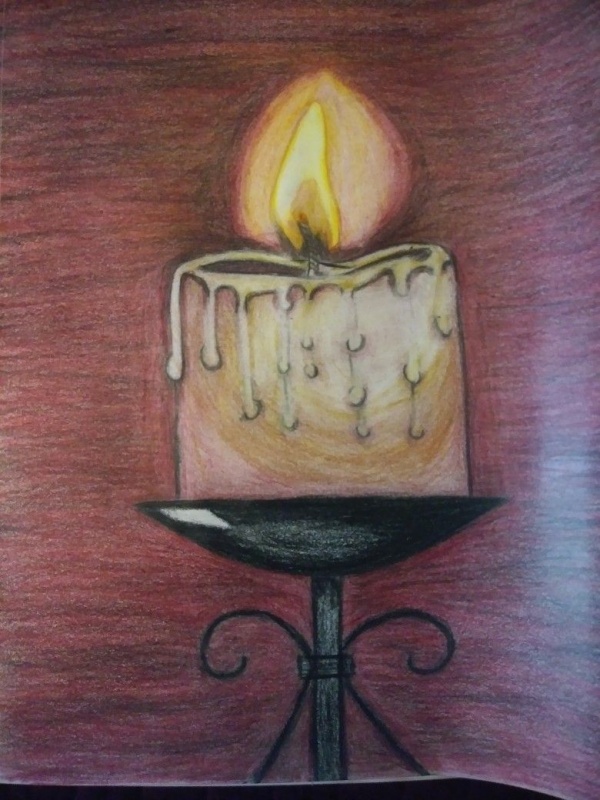 Candles are some of the easiest pencil drawings to start with as a beginner. Follow these steps:
Another easy color shading drawing for beginner artists is a candle. To get started, draw the main ring of your candle and the lip around the edge to form the base.
Draw light guidelines that can be erased later as you complete your pencil outline.
Lightly sketch in the inner circle, flame, and wick. Don't press too hard with your pencil as most of these lines will be erased once you start working with your coloring pencils.
Keeping to only two or three colors helps to keep your color pencil drawing easy, letting you build your confidence as you draw. Start with your lightest shades and work to the darkest as you copy the color patterns of your reference photo to create your final piece.
Realistic color pencil drawing
Flowers, Plants & Fruit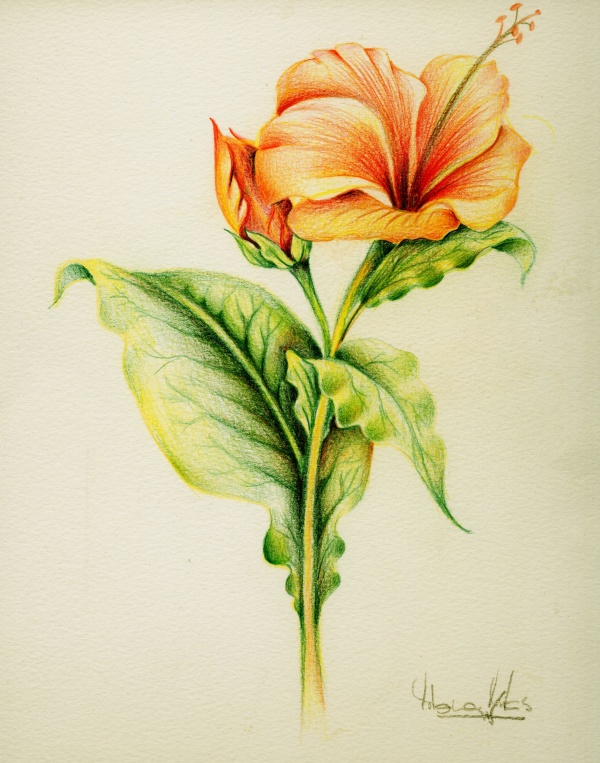 Image Source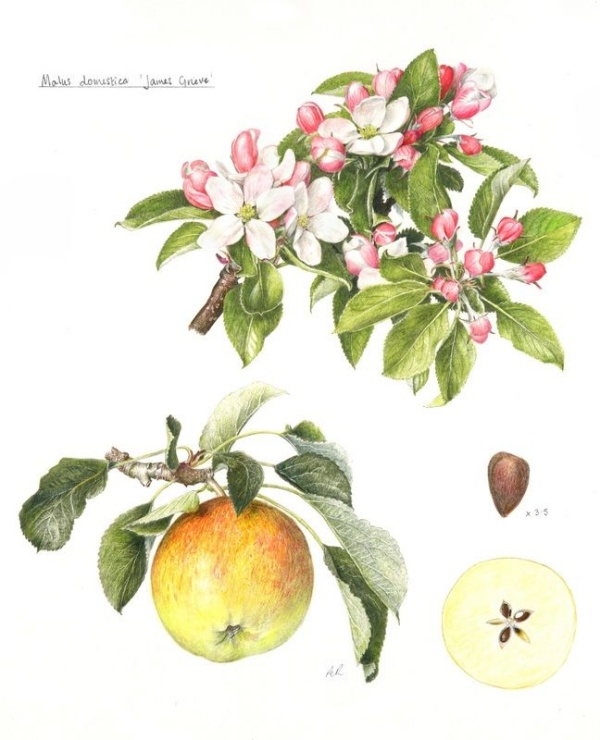 Many artists learn the basics of their craft by drawing or painting flowers and fruit. If you are a beginner, start with something Realistic color pencil drawing you already have at home. Moreover, you can easily rotate your flower, plant, or fruit and draw it from several angles to get a good grasp of perspective. Some drawing ideas include apple, banana, sunflower, cactus, rose, and snake plant.
Snacks & Cookies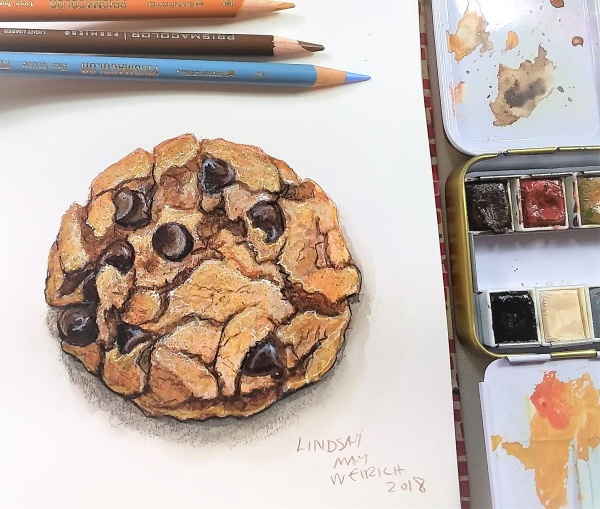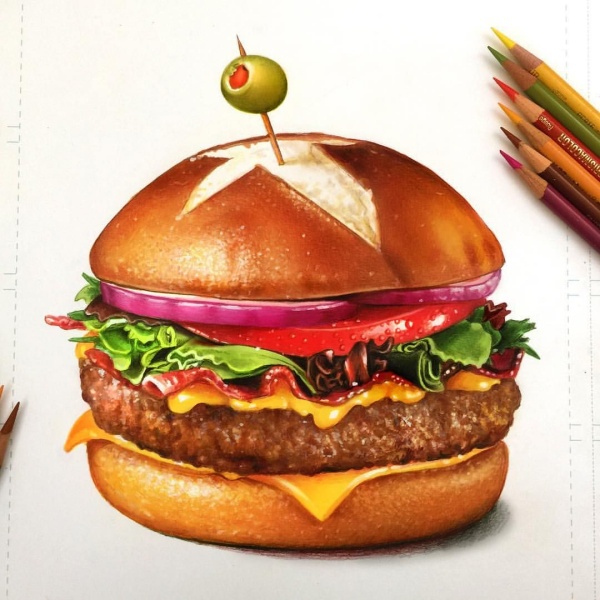 If you have a sweet tooth, you might want to draw some of your favorite snacks or cookies. Drawing a sand cookie is easier than drawing an Orea cookie. So choose something appropriate for your level. If you are a beginner, why not draw a cartoon version? Some drawing ideas include cookies, cupcakes, ice cream, lollipops, chocolate bars, cake & pie.
Peacock drawing with colored pencils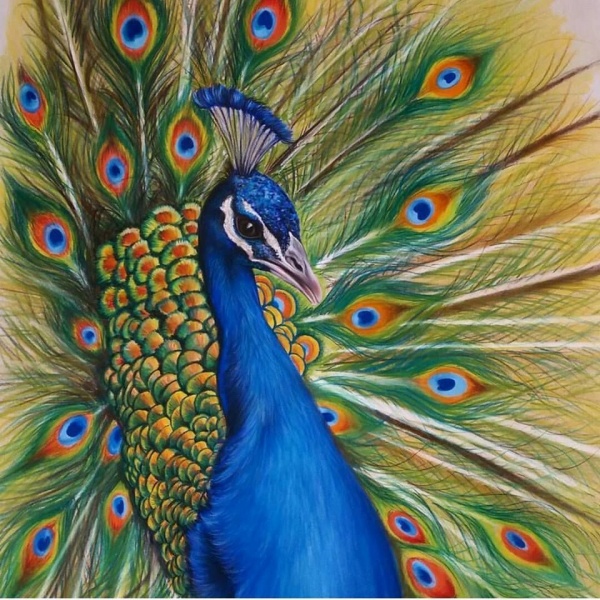 First, we draw a curve line in the center of this page and make the head of the peacock. Now we are drawing a small circle and giving it an oval shape and some shading to make an eye. Draw upper and lower mandible with a small curve line. Now draw primaries with a simple curve line.
Now, we are drawing some little curve lines of primaries. Draw some ocelli shape of a peacock.
In the third step, we are drawing to give some pencil shading to male rectrices. Learn more about different line drawing animals.
In the fourth step, we are drawing a branch of a tree and the legs of a peacock. First, we draw a curve line right here and give some shading. Now draw the leg of a peacock.
In this final step, we are trying to complete the peacock drawing with a pencil. Now remaining is ocelli shape to give some prominent with pencil shading.
Colored pencil illustration
Cute Animals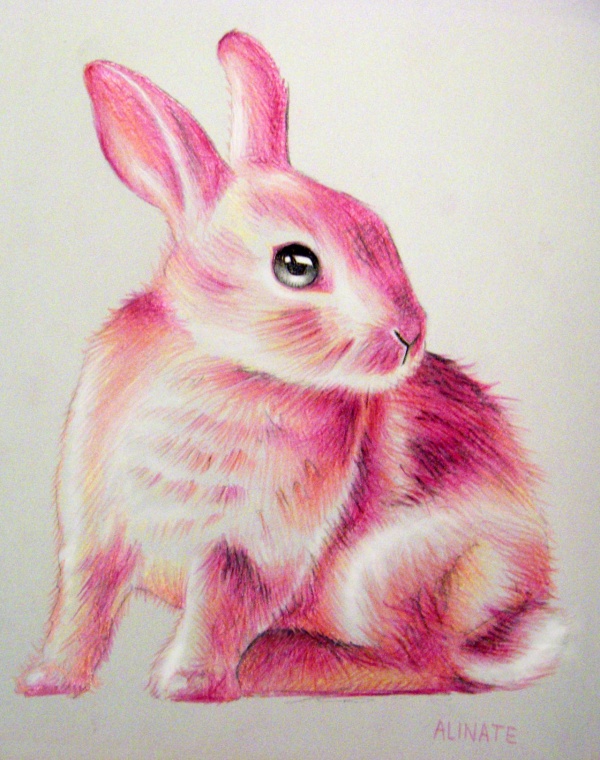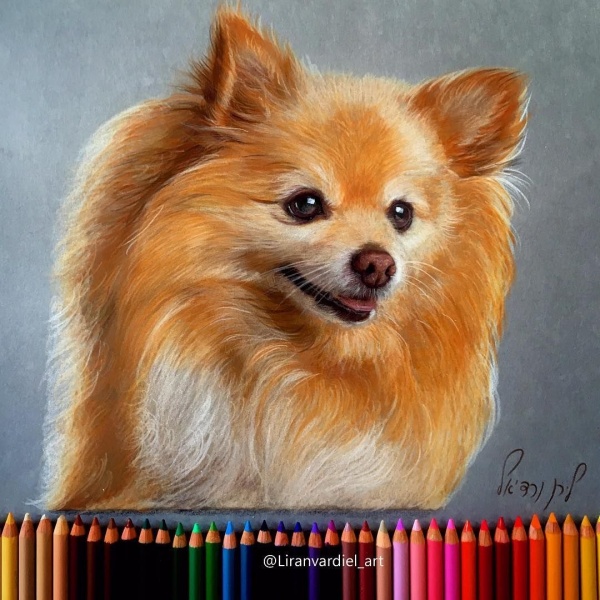 We all love our fluffy companions; whether it's a cat, dog, bunny, or anything else. Drawing a simple cartoon dog or cat is simple enough for any beginner. Alternatively, you can also start by drawing Colored pencil illustration animals that don't have any hair such as turtles or snakes. Some simple drawing ideas include: dogs, cats, turtles, monkeys, birds, pandas, elephants, and lions
Feathers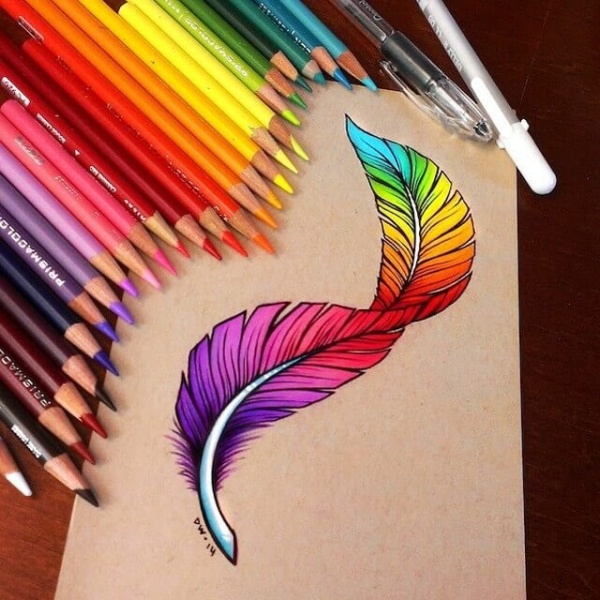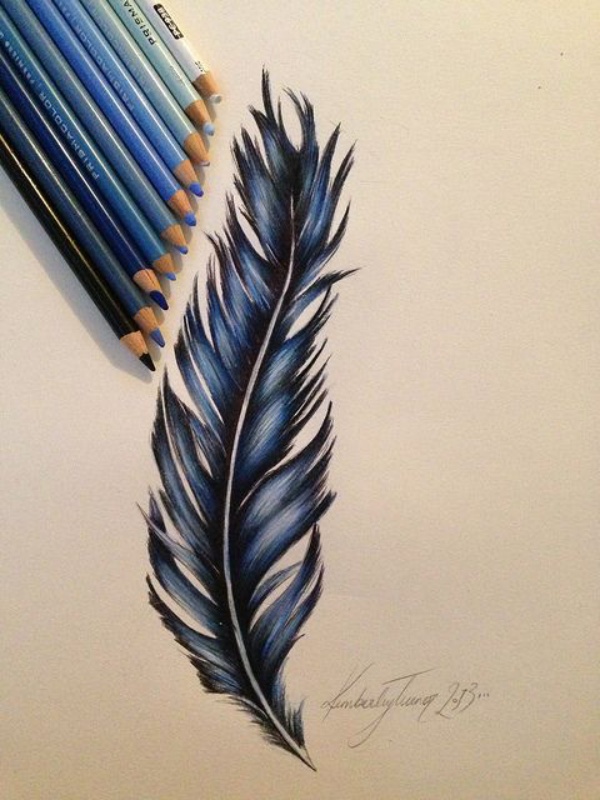 The great thing about them is that by just learning a few basic concepts, you can draw almost an infinite amount of feathers. You can play around with the shape, the colors, the pattern, etc. Here are a few drawing ideas: Dove feathers, Peacock feathers, Golden pheasant feathers, Lyrebird feathers, and others.
Butterfly drawing with colored pencils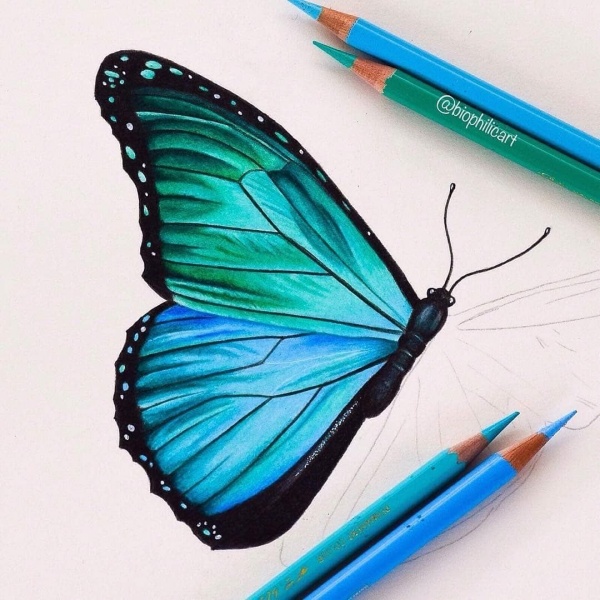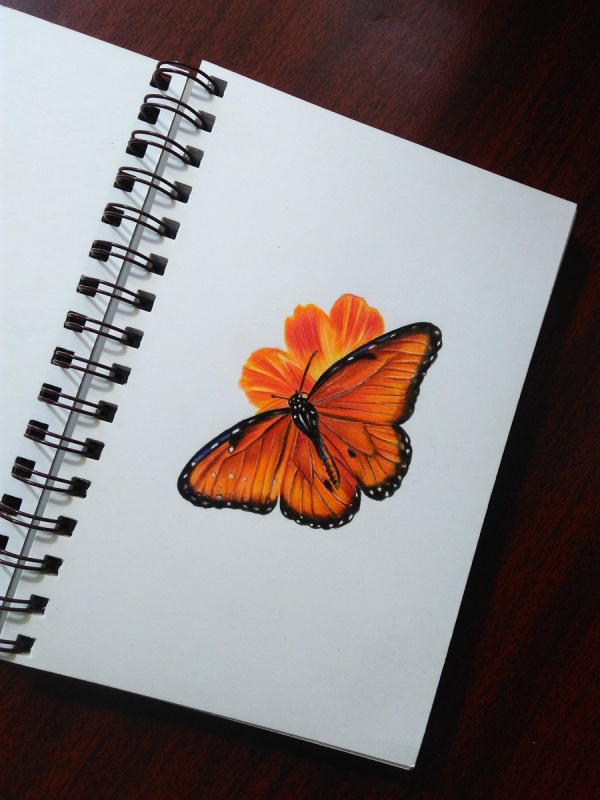 Our butterfly drawing begins with a simple line sketch of the insect's body. This has three main sections: the head and antennae; the thorax (middle section) and the abdomen (lower section). If you start your underlying sketch with a graphite pencil, your colors will become soiled as you blend them.
Now you should try to establish any details of the skeletal structure in the wings.
Next, you can outline the colors and patterns on the wings.
As butterfly wings appear symmetrical you can trace and transfer the wings across to the other side of the body in order to form the second set of wings.
At this stage, you should continue to use the purple pencil as other colors will comfortably blend over it.
Analyze the colors you wish to create by breaking them down into their basic hues i.e. the colors you would use to mix them. Apply these in layers of pure color starting with the lightest color of the mixture.
Finally, the drawing is completed by adding the darkest colors. Brown is applied to transform the darker areas of tone which concentrate in a dense black around the skeletal form and patterns on the wings.
Colored pencil sunset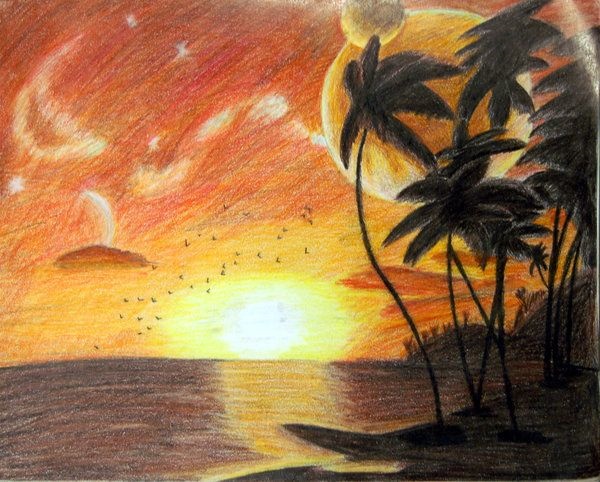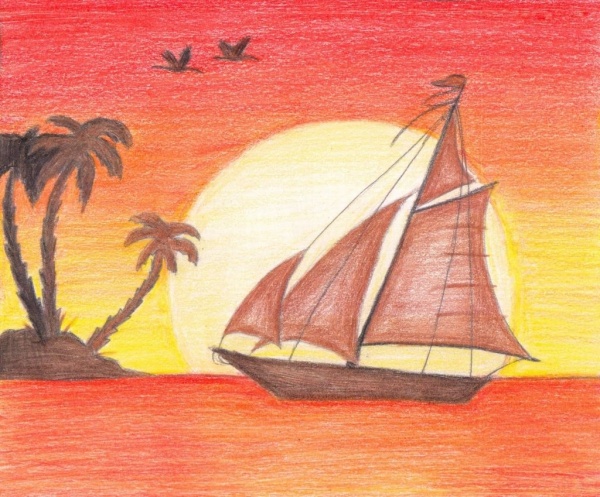 Begin your sunset picture using lighter colors (yellow, then orange) where the sun is at, either above or below the horizon.
Use a horizontal movement with a colored pencil. Layer a darker yellow on top of a lighter yellow without being precise about covering the layers 100%.
Reach outwards with the yellow. By outwards, I mean horizontally and vertically, but be sure to keep your pencil stroke moving in the same horizontal movement as in Step 2.
At the horizon line, add a few scribbled layers of darker orange, keeping the same horizontal pencil stroke. Work this layer up to the top of the page slightly.
Now let's switch to the top of the page. Add your chosen dark colors at the top of the page, such as dark blue or grey.
In the center of your sunset, where it's still yellow, start adding some orange to the top of the page in a very non-precise way. Slowly taper the orange color down towards the horizon, and with a very light touch, blend it up into the darker color.
Just like you did with the orange, now begin adding red. Don't feel the need to touch the orange areas, but gently add the color downward and upward. Add a few orange and yellow layers in areas where you want the color to appear darker and richer; keep the layer simple and light in the areas where you want the lighter sunshine to be located.
Add just a little yellow in the space at the bottom of the page to the right and left.
Add shades of grey or lightly use black in the bottom areas to create dark shadows.
Add in any colors and gaps into your sunset as needed by layering colors on top of one another.
Colored pencil on black paper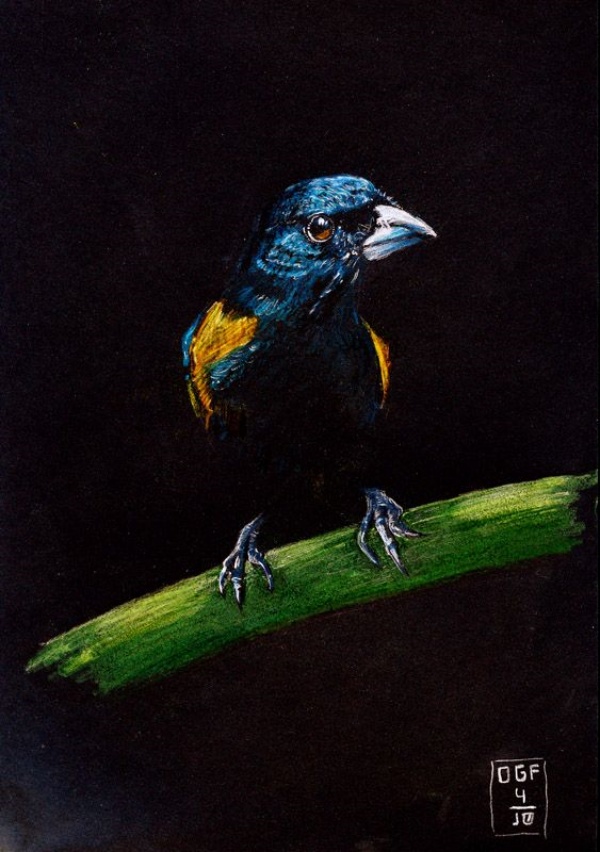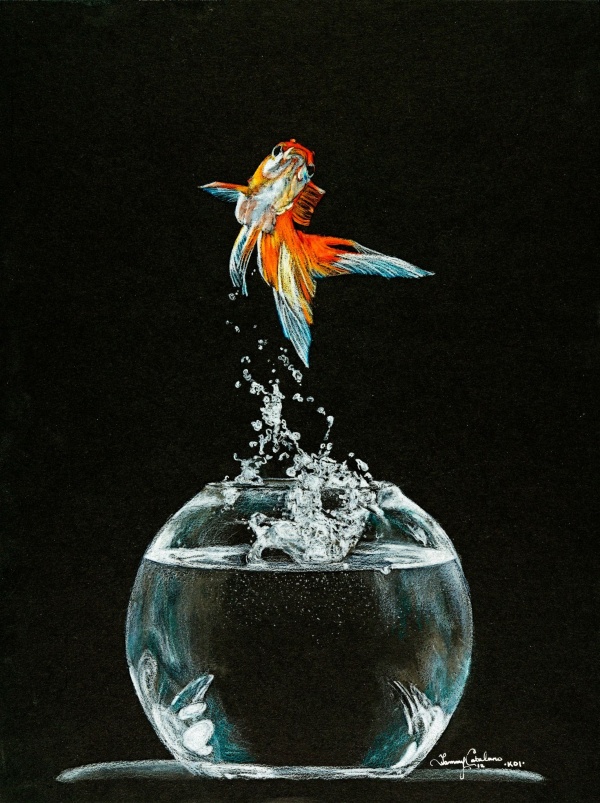 Before you start putting pencil to paper, spend some time carefully observing your chosen subject matter. You then can begin to draw the outline of the subject matter as well as identify the shapes of the highlights and shadow areas.
Here we draw the outline of a parrot's head in lead pencil. A bonus of working with colored pencils on black paper is that pencil marks aren't easily seen, you can easily erase them and you can work over them with the color pencil.
Use your white pencil to define the lighter and brighter areas of your subject matter. In the lightest areas of your subject matter, you can use several layers of white pencil to make it even more opaque. Leave your darkest areas black.
You can then start layering your next lightest color onto the white areas.
Here apply yellow onto the beak and the chest. You can work in small circular motions if you want a smoother effect, or use cross-hatching or hatching for a more textured appearance.
Move on to your next color. Work on your drawing from the side opposite to your dominant hand. So, if you are right-handed, work from the top left-hand corner, and move down towards your right-hand side. Color your final areas and add detail.
Draw Dory: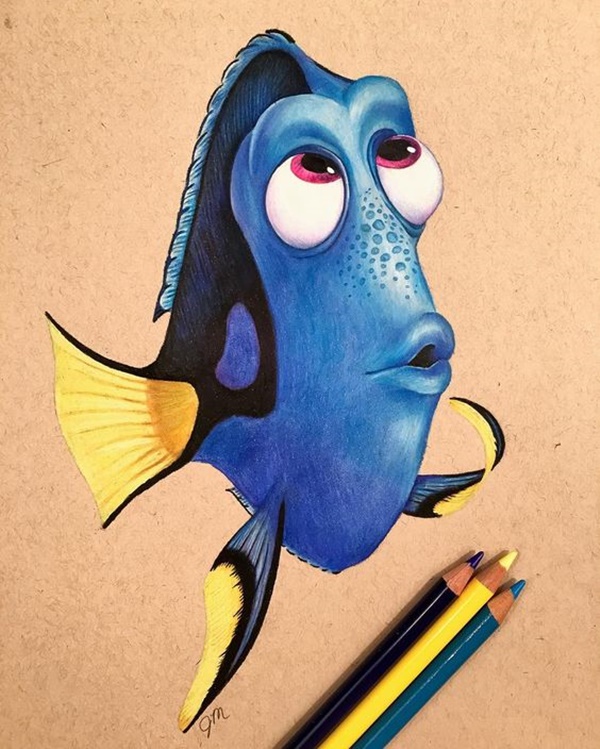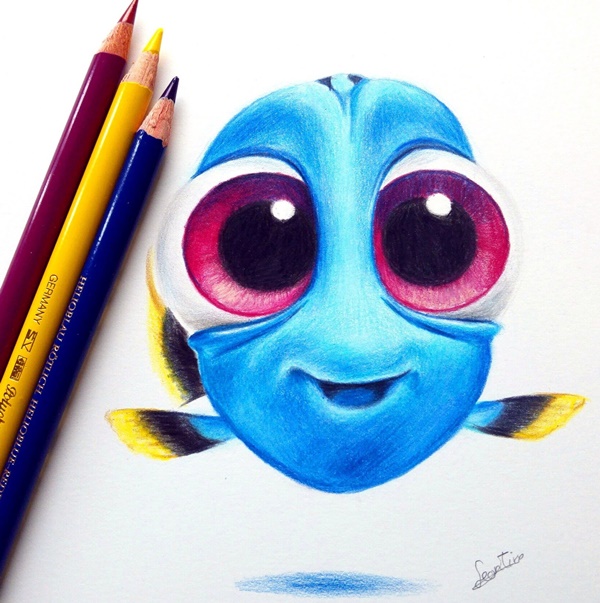 If you're a die-hard fan of animated movies then you'd have seen 'Finding Nemo' movie. And now you got this character named 'Dory'. This color pencil drawing is simple and creative itself as it just needs a blue, black, and yellow color to craft a realistic fish with color pencil. Don't forget to add the detailing.
Spiderman: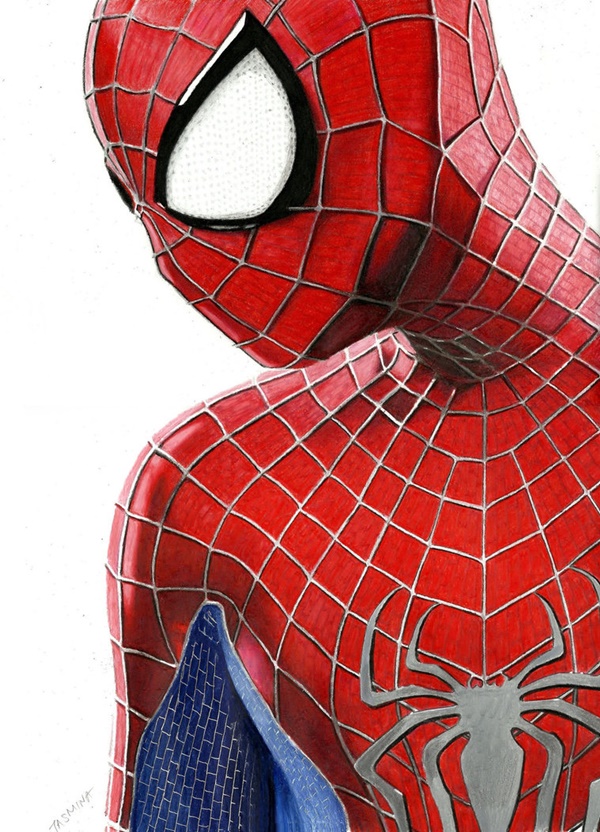 When it comes to creative and simple color pencil drawing ideas, consider spider-man your thing as it'd demand you to use many colors and complex designs just like the spider-man's web. First, draw the rough sketch of his attire and then color it with blood red and royal blue pencil color by following the DIY image.
Girl with umbrella: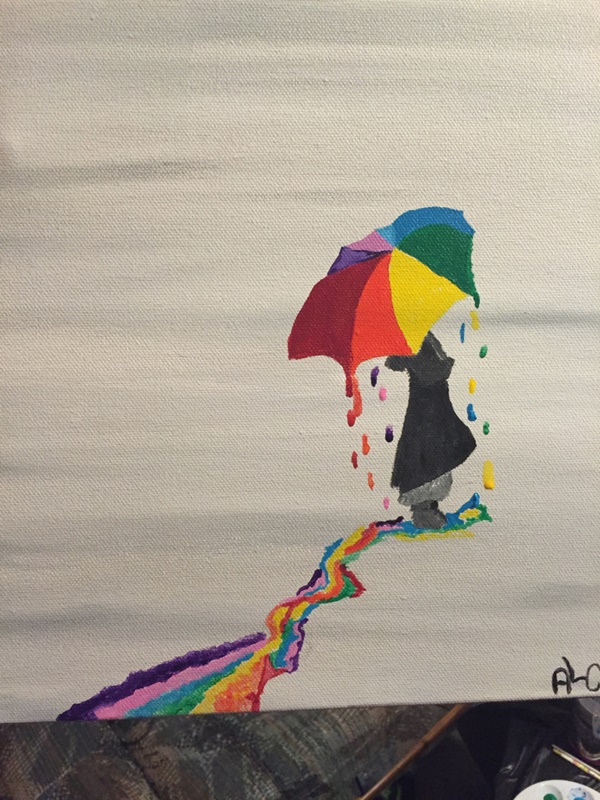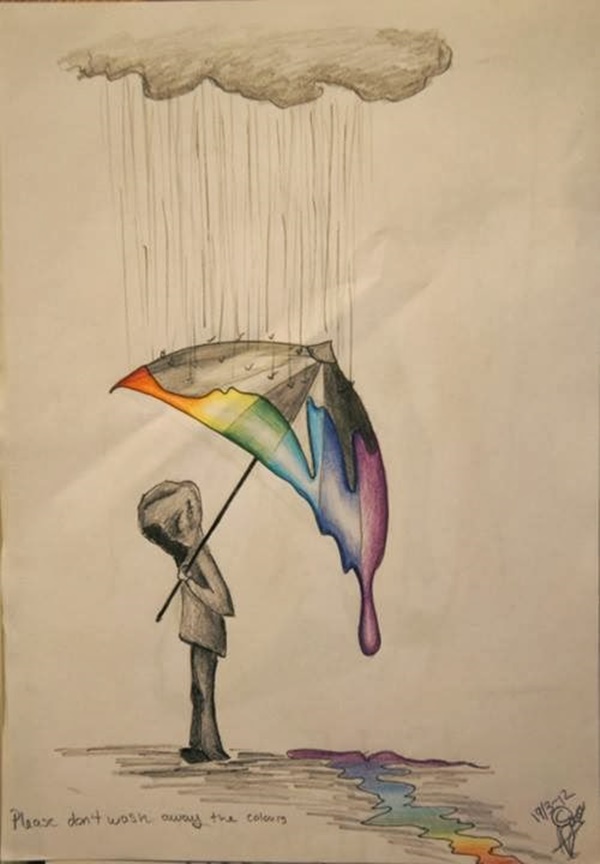 Drawing something thoughtful is a commendable thing for all drawing artists. And if it's about simple and easy color pencils, you better try your hands on this masterpiece. This drawing doesn't demand depth or variation in the shape of the design and is considerable in abstract art as well. Symbolize the girl with black color and the rest is for the vibrant and delighted umbrella.
Baby Groot: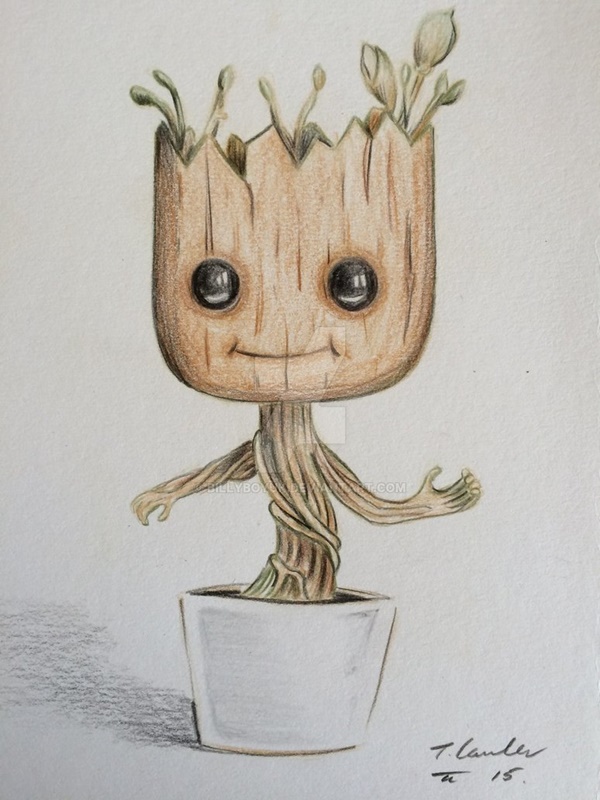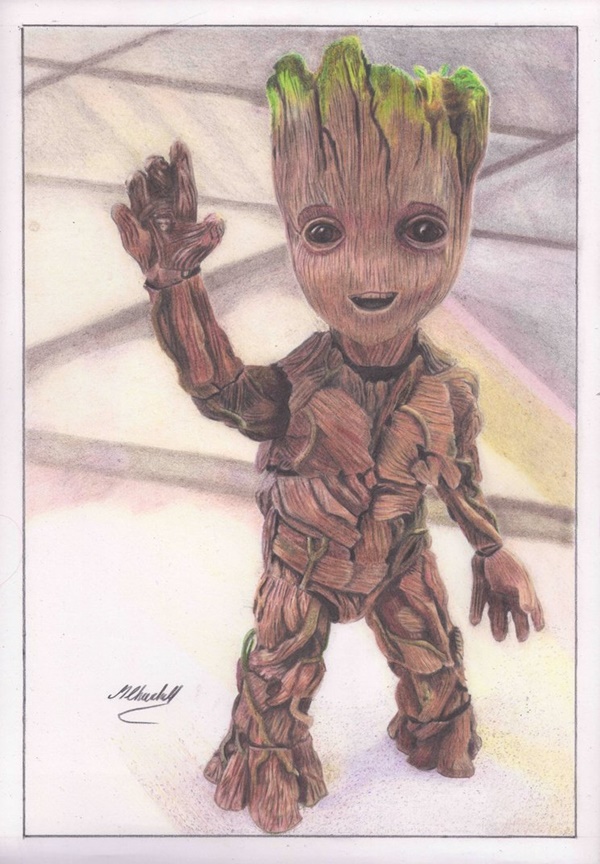 This character is unique and an excellent thought creator with the insane power of flexibility. And consider this as one of the best creative and simple color pencil drawing ideas. All you need to draw is a baby tree with spiral lines and make his face with a 'U' shape. The light shade of brown highlights its body and brings a smile to his face with a dark shade of it by making a sweet and small curve.
Colored Yin-Yang: