It can be difficult as an artist to find inspiration and continue working in a world that sets out to distract us. Between social media, streaming services, and other forms of entertainment it seems as though there's enough interesting material out there to keep us from accomplishing anything.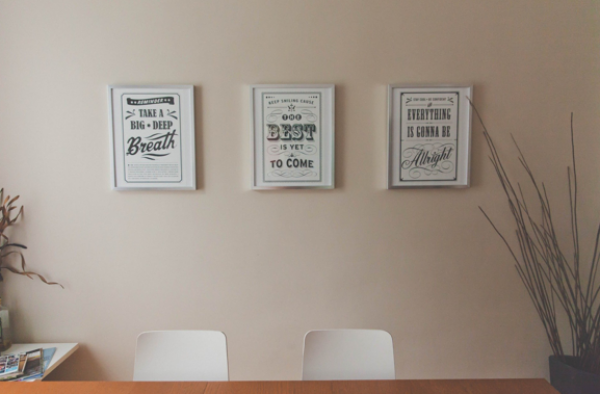 But whether you're a professional artist or art is more of a hobby of yours, nothing feels as satisfying as those bursts of creative genius. Those moments where the artistic juices are flowing and you feel invincible, like everything you touch is turning to gold, can be difficult to come by sometimes. 
If you feel like you're in a creative rut, there isn't a lot that can help summon up your talent again. But there are some things you can do to help get that spark back, including having an inspiration wall of your own to remind you of what you're capable of. But what should be included? Here are a few tips for purchasing art and designing an inspiring wall in your home or studio.
Creating an Inspiring Art Wall to Make You a Better Artist
Location, Location, Location
Where are you going to work most often? If it's your office or a home studio, then that's where your inspiration wall should go. Why should you put your inspiring items where you won't even see them? If at all possible, let your inspiring wall help you grow in creativity by putting it where you'll be working. 
If you think that your inspiration wall may be distracting, consider putting it on the wall behind your desk's chair. That way, when you need to, you can bask in the environment you need but it won't serve as a visual distraction while you're trying to work. 
But at the same time, putting your dream wall in your living room behind your couch where you'll never really look at it doesn't serve the same purpose either. Out of sight, out of mind rings true when it comes to inspiration. Don't spend the time developing the perfect wall of inspiration and ignore it! 
What's Your Favorite Color? 
It may seem silly to start with something as basic as asking your favorite color, but having the background of your inspiring wall painted in a hue that is satisfying to you can be the recipe for success. White walls can be boring, so kick it up a notch with a can of paint. If you aren't sure what color you prefer, spend some time with paint samples. 
While yellow has historically been the color that inspires creativity if that's not the hue you love, feel free to choose differently. Every color has some hidden meaning to it, so don't worry too much about the color you pick for your space. Whether it be an accent wall or you end up painting the whole room with a fresh coat of inspiration, colors are a way of expressing your personality. 
Don't forget if you love lots of colors you can bring in other colors with the works of art you hang up and even with the frames you use. Small pops of colors can be mixed in in other ways besides the color you paint your wall! Try contrasting colors to let your favorite works stand out. 
If you're more of a neutral tones fan, try creating a wall that speaks to that aesthetic. Your inspiration wall should be a reflection of what will persuade you to keep working and trying to create your own work. Clean lines or total free-for-all, it's all a win on a vision wall. 
What to Include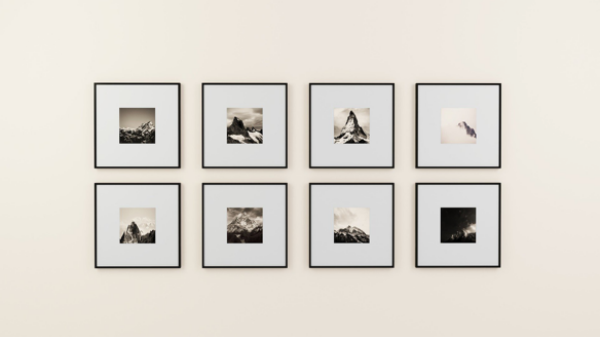 Your wall should inspire you, not your Aunt Bessie or your significant other. That means that each and every inspiration wall is going to look different and reflect the creator. Focus on pieces of art that you've always loved, made by the people who inspire you. Remember, it's okay to keep it simple. You don't need 92 inspiring images unless that is actually inspiring to you. 
Don't be afraid to hang some of your own work too, if you can see it on the wall in your office next to famous works, what's stopping your work from eventually hanging next to masterpieces in a museum one day. Perhaps, having your art co-mingled with your idol's work can inspire you to work a little harder and push past those moments where you feel in a slump. 
Do you have a quote that keeps you motivated or brings joy to your heart? There's no need to hang up tropes like "live, laugh, love" or "dance like no one is watching" but if you can find words that inspire you, feel free to use them in conjunction with visual images. If you have a word of the year or phrase you keep coming back to, that can positively affect your creative output. 
Visualize Your Goals
Have you ever taken a vacation that inspired you? The kind of trip that was so lovely that when you returned everything you created was wonderful. Hang up photographs and souvenirs from your travels to bring you back to those moments of greatness. Or if being on a beach is relaxing to you and can help shift your mindset, hang up a large picture to spark your imagination. 
Your inspirational wall needn't be a gallery wall or a mishmash of different things. If less visual clutter is more your speed, that's okay and even encouraging. Because an inspiration wall is going to be personalized to you, you get to decide what will motivate you to push through your artistic block to keep going. 
Don't be afraid of one oversized piece that keeps you inspired. Bigger can be better and finding large pieces isn't necessarily that difficult to do. Gallery walls aren't for everyone, but don't let that stop you from having an inspiration wall. A measly 8×10 print isn't going to keep your focus when you glance up from your work however, go big in your creative space! 
A Last Thought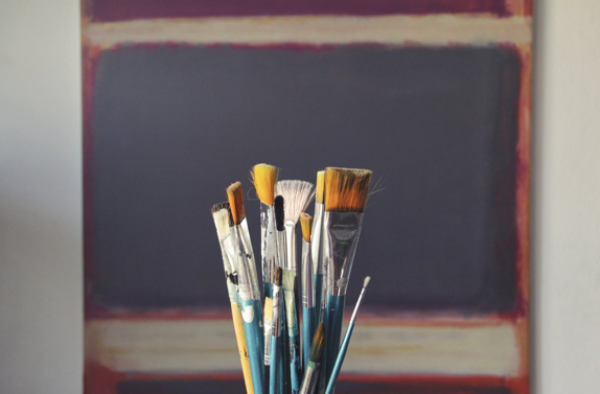 No matter how perfect of an inspirational art wall you create, it's not actually going to make you a better artist. Only time, practice, and maybe some refresher art classes can help your skills and fundamentals improve to a place where you see your talent improve. However, an art wall can help you keep motivated to keep trying. 
Sometimes, having visual inspiration can be all an artist needs to remind them of why they're creating in the first place. Don't give up on your artistic expression through visual art, keep creating and trying. Spend time putting together a wall that keeps your focus and attention cast towards creativity.