Winter is here, and it's about to get colder in the coming days. According to weather forecasts, the US may be hit by an Arctic cold outbreak throughout the whole country, while those who live in Canadian prairies are about to experience their very first blizzard of the 2022-23 winter season. Since the cold weather can increase the likelihood of getting sick, it's important to keep your home as warm as possible to stay healthy and happy throughout the snowy months. Here's how you can create a warm, beautiful, and cozy home for all this winter.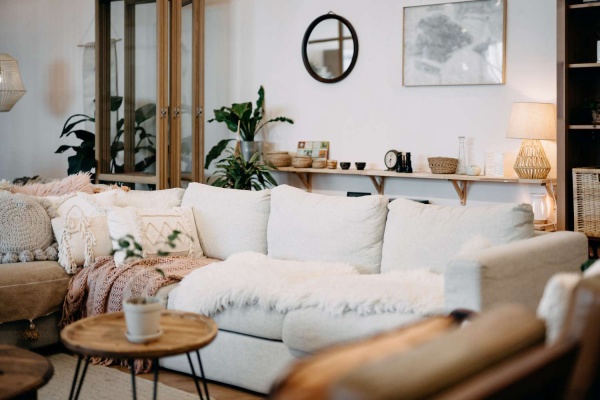 Creating A Warm And Cozy Home This Winter
 Layer Your Rugs
Placing rugs on the floor can instantly make your home a lot cozier, especially if your flooring is made out of materials that don't absorb warmth, such as marble. Consider layering rugs to add color, texture, and warmth. But don't just pile them on top of each other without giving it some thought. The key is to choose and layer rugs strategically to create warmth without sacrificing aesthetics. 
First, pick the right size–the top rug should be about 2/3 the size of the rug underneath it. Next, make sure that the bigger rug is in a neutral color, such as beige or taupe, then pick a patterned rug in warm colors or jewel tones for the top rug. You can also play with textures to make the look more interesting. For instance, the bottom rug could be a sisal or jute rug, while the top rug could be made of faux sheepskin or cowhide. When layering, you can place the top rug right in the center of the bottom rug, or place it at a 45-degree angle. Experiment and change the orientation until you're satisfied with the look. To keep young children and the elderly safe, affix nonslip rug pads on the underside of rugs with double-sided tape. You may also apply puff paint or anti-slip spray as an alternative.  
Add Some Throw Blankets
For households with fur babies, it's also important to keep pets healthy when temperatures drop since they will need help adjusting to the cold weather without getting sick. Apart from dressing them in pet sweaters, make sure that they have a warm place where they can rest at night. An insulated dog or cat bed packed with warm blankets can be a valuable addition to your living room. 
Speaking of blankets, winter is the right time to invest in a few throw blankets. Your couch and bed may already have a lot of throw pillows, but adding throw blankets to the mix can instantly add warmth and a cozy feel. Instead of florals or patterns, choose knits and fleeces in colors that will complement your decor. A throw blanket should be no more than 50 x 60 inches so that it can be used as decor or to keep warm while watching TV or hanging out with family and friends. Anything larger than that would overwhelm a couch, so try to choose throw blankets that are around that size. Drape it over the back of the couch or on one of the arms of your sofa. You can also place some extra blankets in a large wicker basket, then place the basket near the couch so everyone can get a blanket if they need one.
Use Scents That Will Give Your Home a Warmer Feel
Certain scents can give your home a warm and cozy vibe, so plan on adding a few aromatherapy products to your decor this winter. Scented candles are a good pick since they can add a warm glow to any room, while oil or reed diffusers are ideal alternatives for those who'd rather not have open flames within easy reach of children or pets. Amber, cinnamon, vanilla, and sandalwood scents are perfect for the cold weather, as well as vetiver and cedarwood. To naturally add fragrance to your home, try adding some cinnamon sticks, cloves, a few drops of orange oil, and nutmeg to a small pot of water, and let the whole mixture simmer for about 30 minutes to fill your house with a warm and delightful scent.  
The winter season can be harsh and unforgiving, but your home can be a warm refuge in the cold weather. Consider these tips to make your home warm, cozy, and inviting this winter.