They say that a woman is silent only till her nail paint is wet. Why not live by that quote and make your nail art as interesting as you are? Checks are the new trend on mixtrade and do not seclude your nails from it too. Check out our 13 beautiful checkered nail art designs list down below-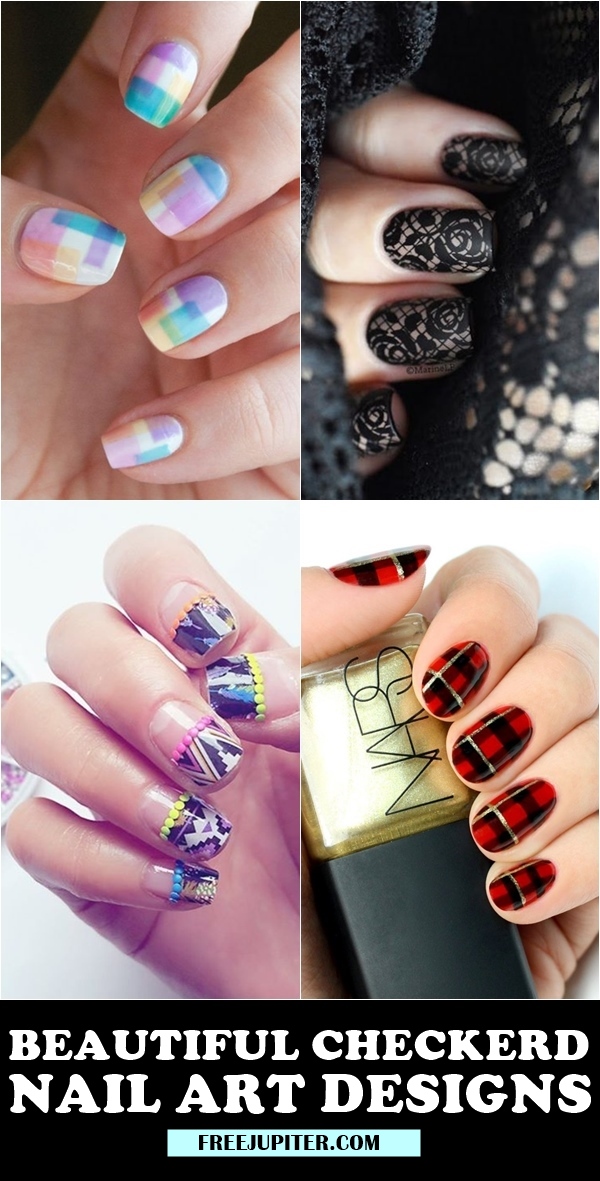 Beautiful Checkered Nail Art Designs
Chess board nail art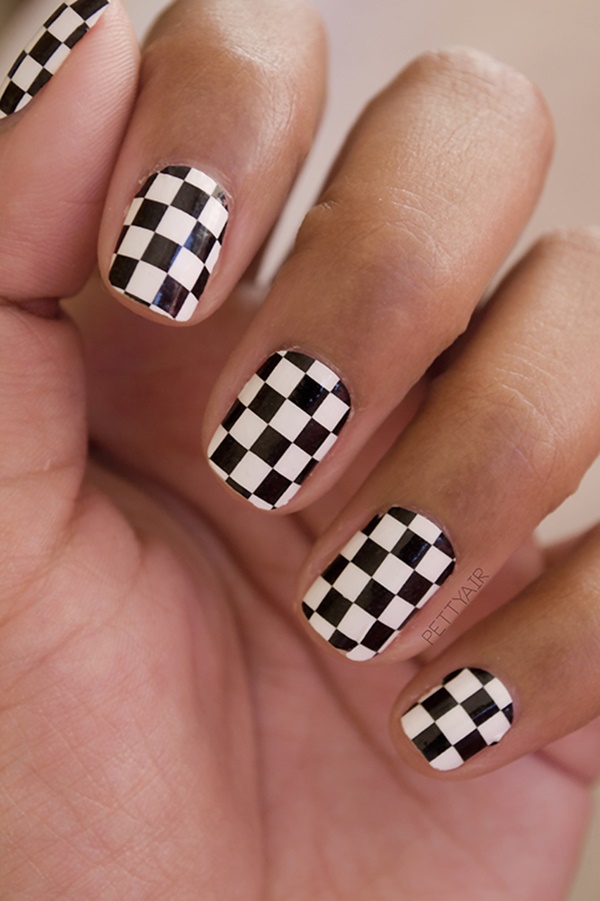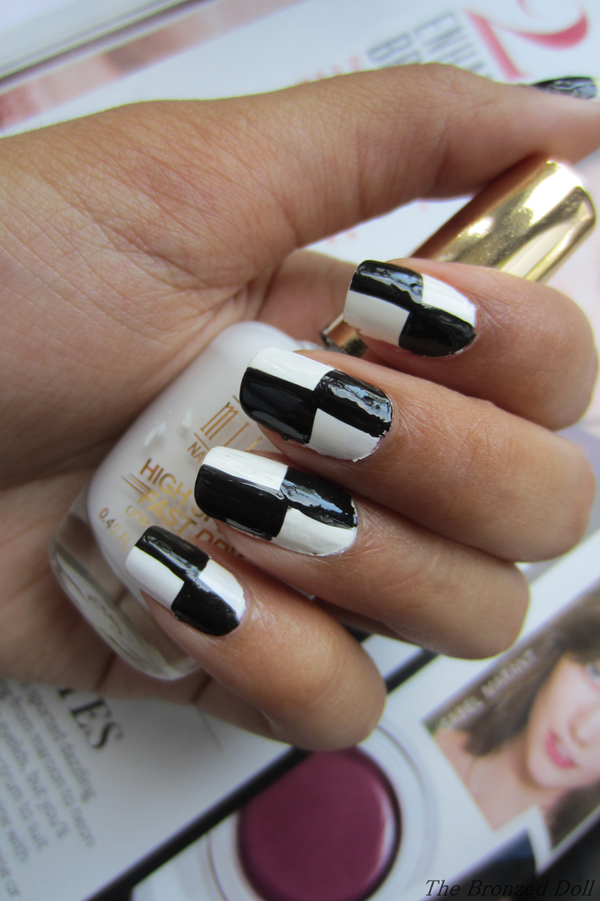 This is by far the trendiest and beautiful nail art design. To make this, all you need is a steady hand to work with a marker while creating the pattern on white coated nail paint. After drawing lines and filling it, let them dry and apply gloss paint on them.
Matte square beautiful checker nail art design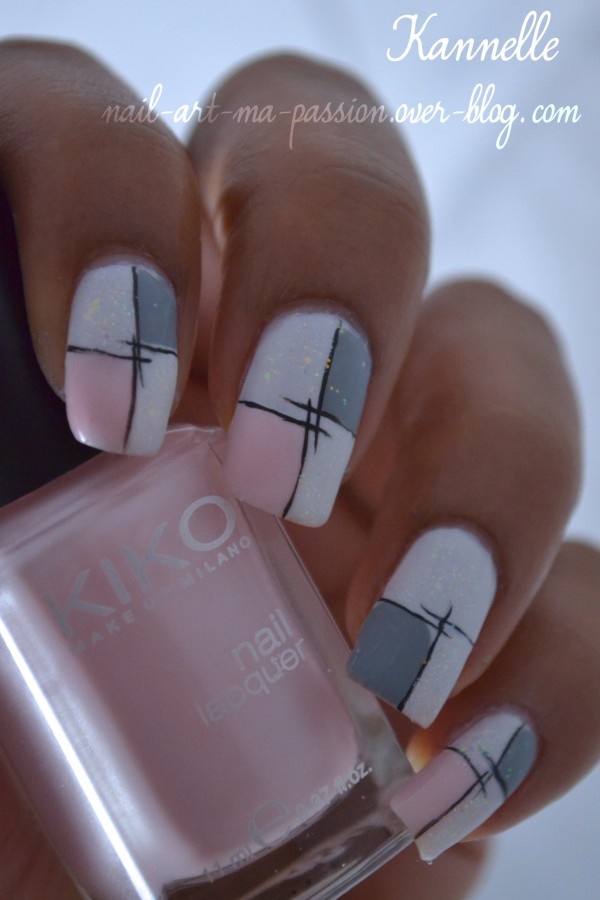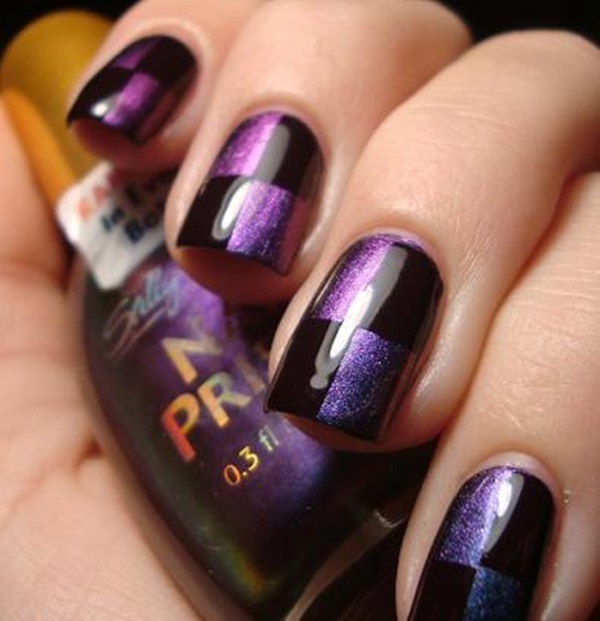 This is easiest one. Cut the scotch tape in two square parts. Make sure the tape in big, stick either ends on your nail so that empty spaces make a square shape. Fill those squares. Let it dry.
Checked roses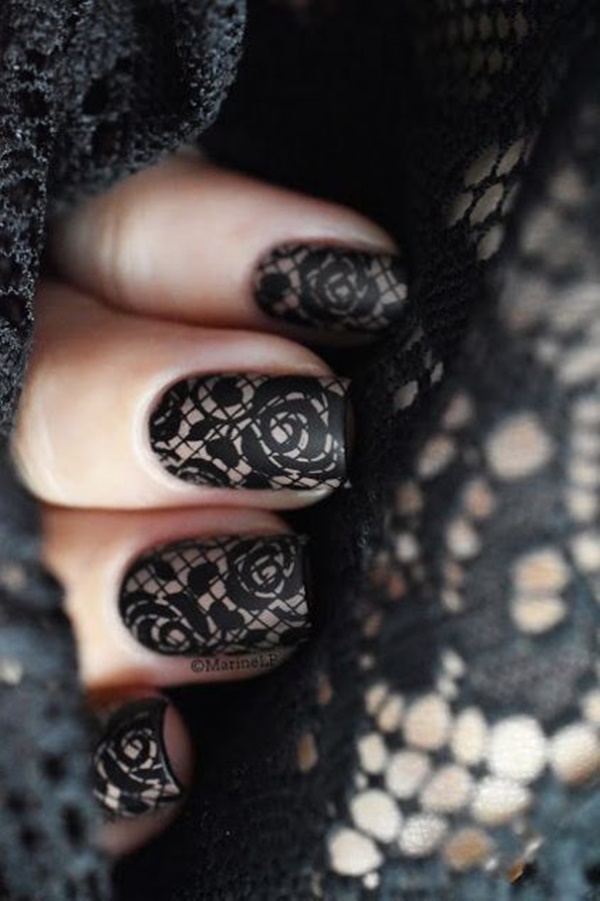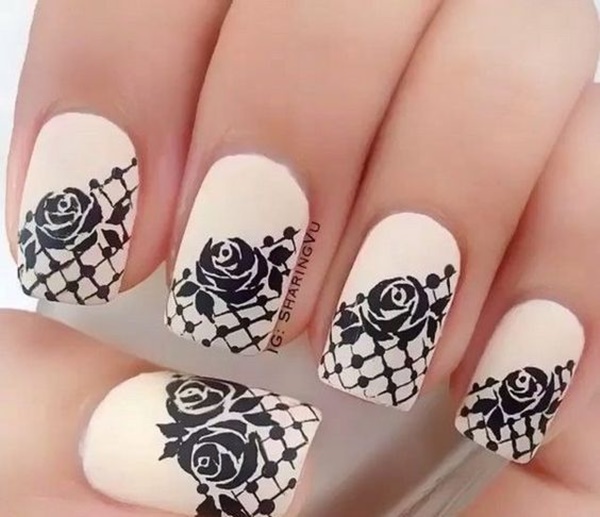 This design let you experiment with colours and your imagination. Only make the chess board pattern, let it dry. Then on the one side of the nail make a blob with a colour, now apply the second colour on it and try to create flowers. Make sure you make it while the paint is wet and make sure it looks like a flower.
Chevron nail art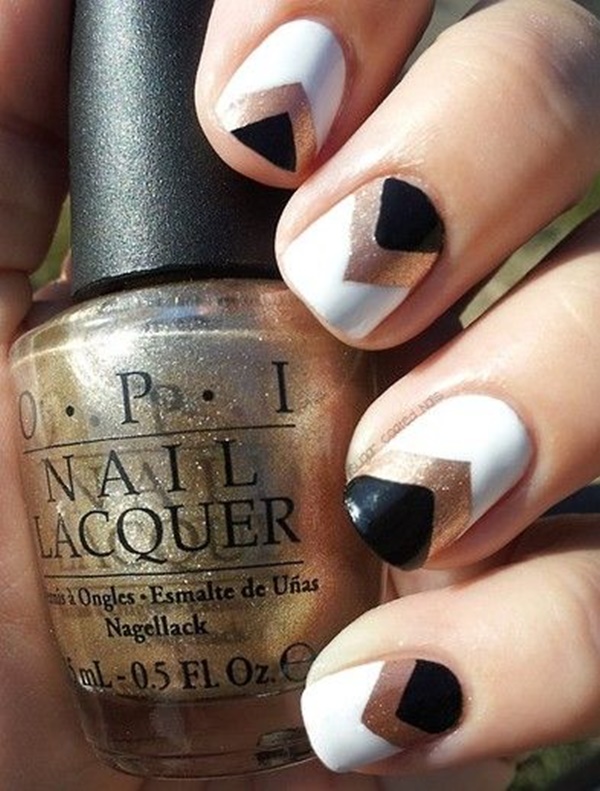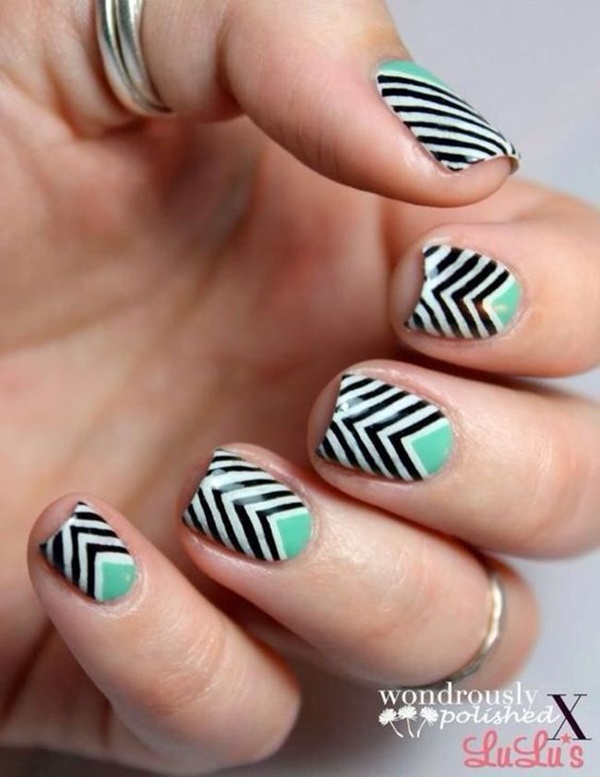 Make two parallel lines on your nail, make your desired wave pattern and fill them with two different colours. In case you fill it wrong, correct it by applying the right colour to it before removing it all.
Colourful chess board pattern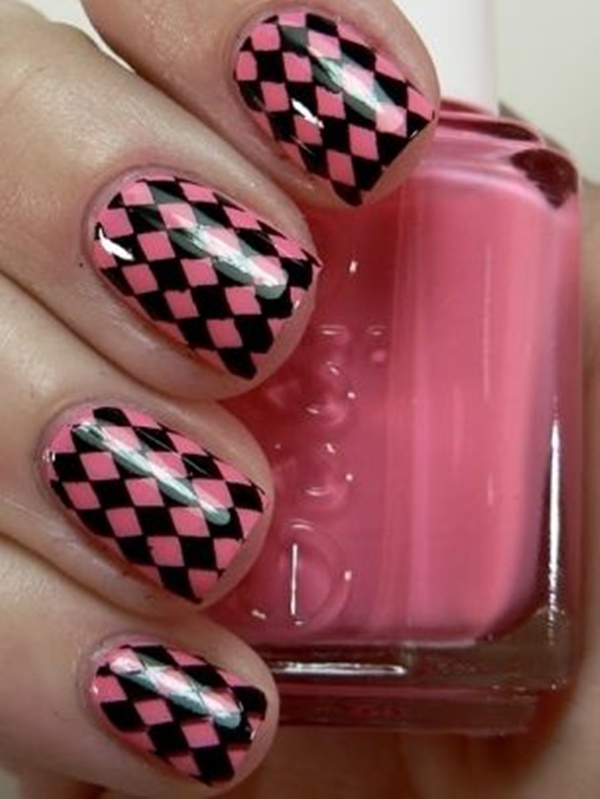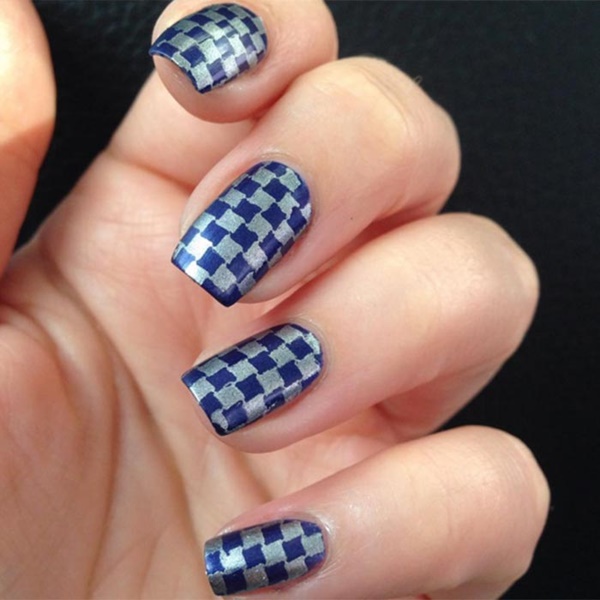 It is same as the first one in a list, just fill the squares with different colours.
Water colour gradient nails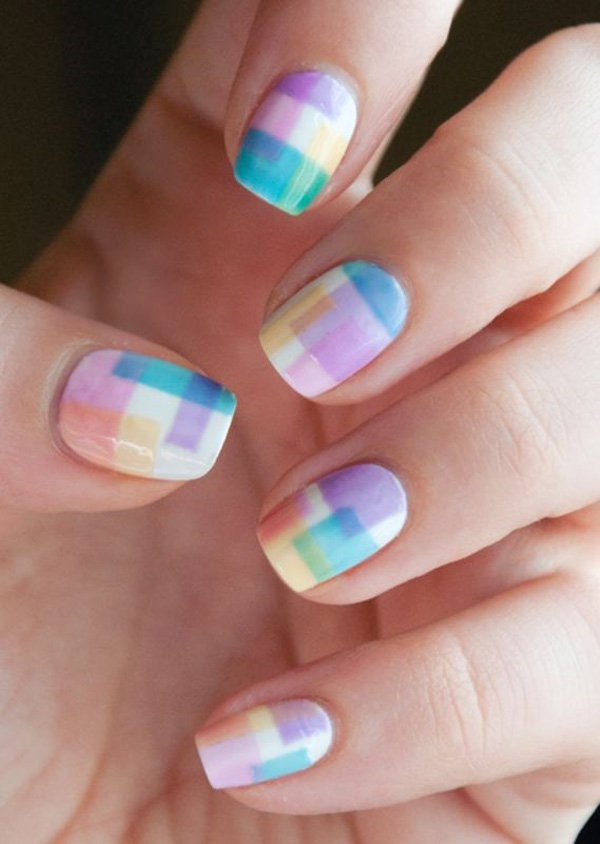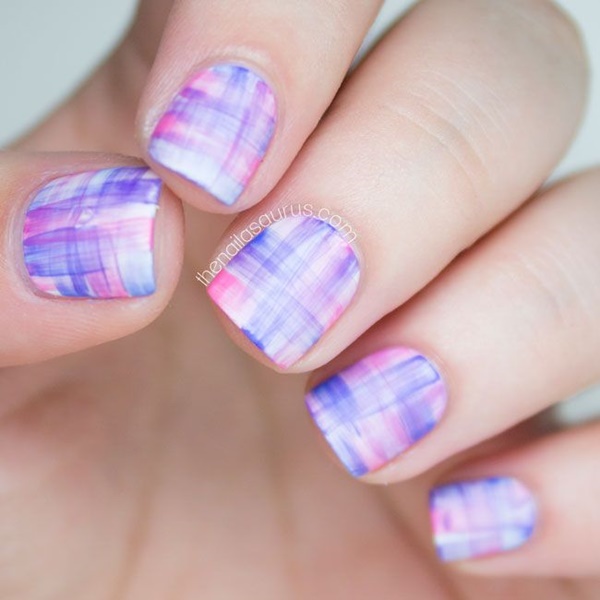 This is the most artistic one by far, just give light strokes like watercolour, and it's done.
Grid style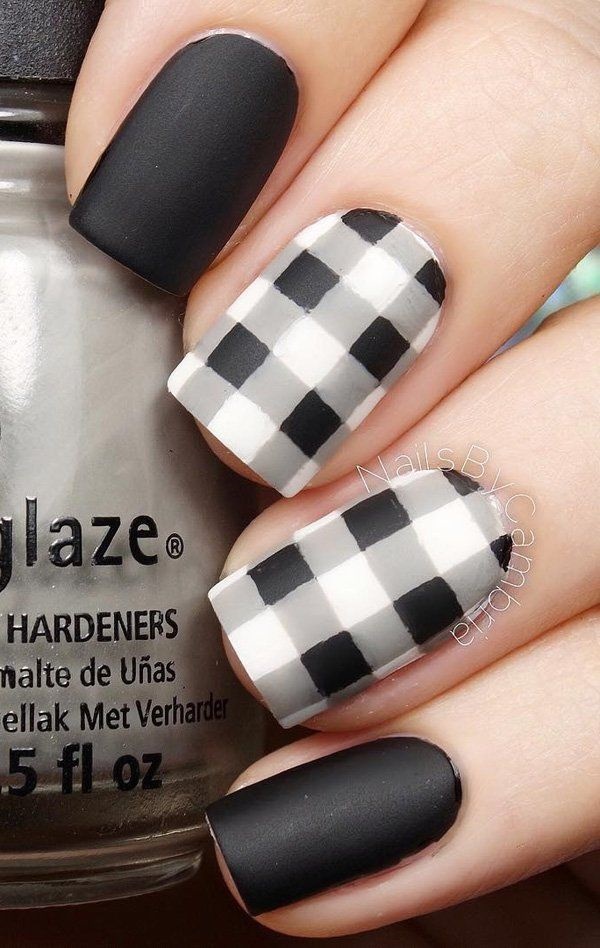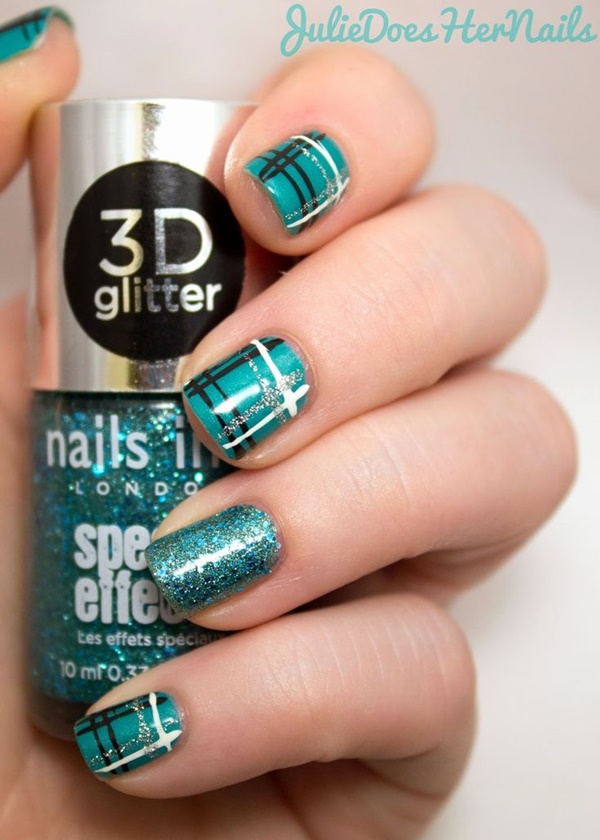 Keep your hands steady all the while. Experiment with colours and don't make it messy. Using all the colours will not be a good idea. Keep it pleasing for the eyes.
Fabric checkered nail art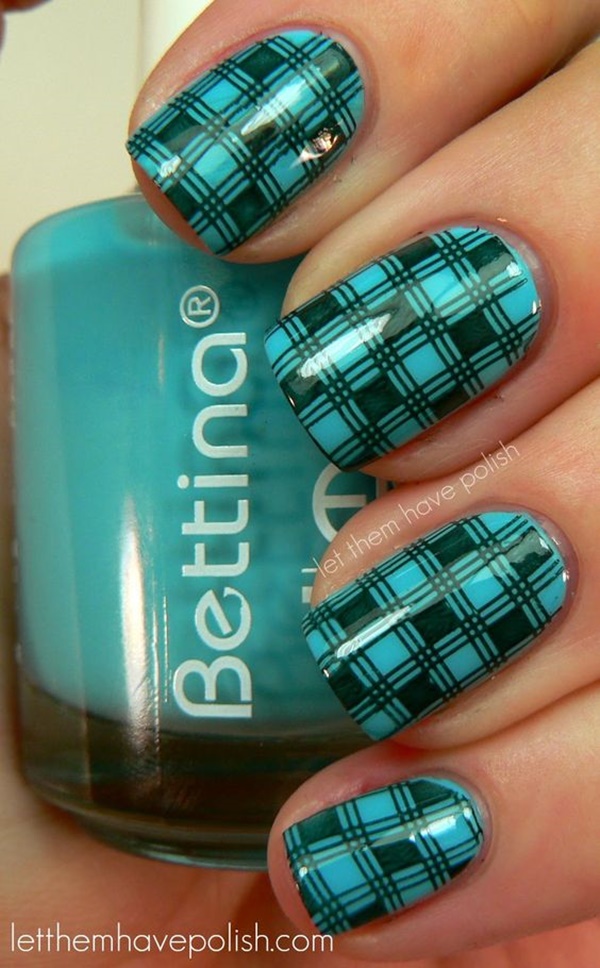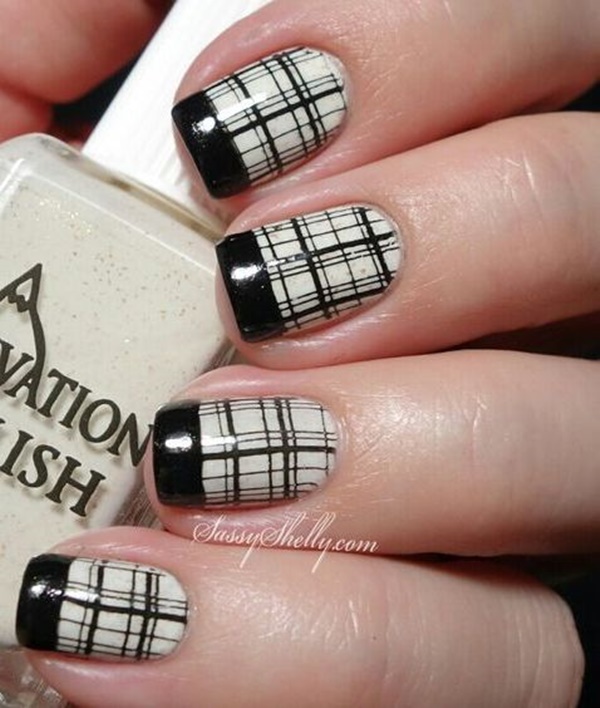 This design is exactly like the ones we see on fabric. The colours most suitable for this one are mostly red and black. Red is dominant whereas black works for detailing.
Striped tape nail art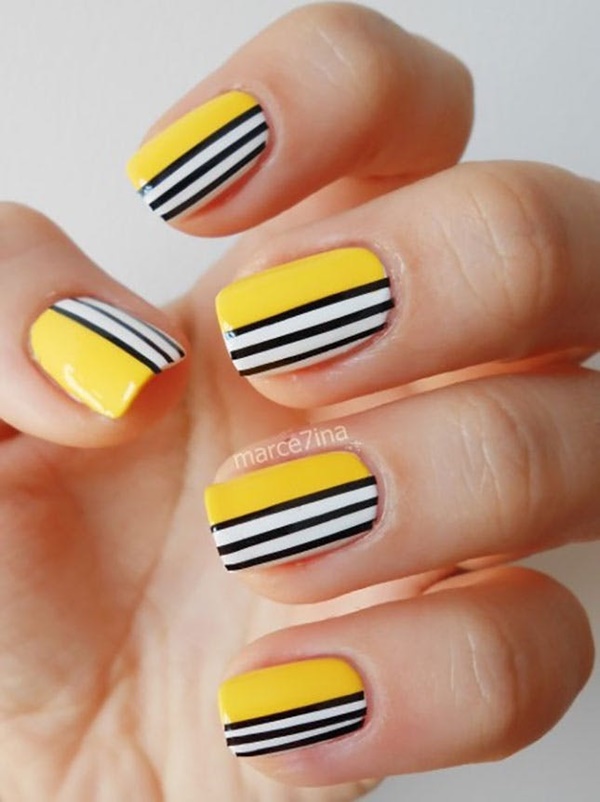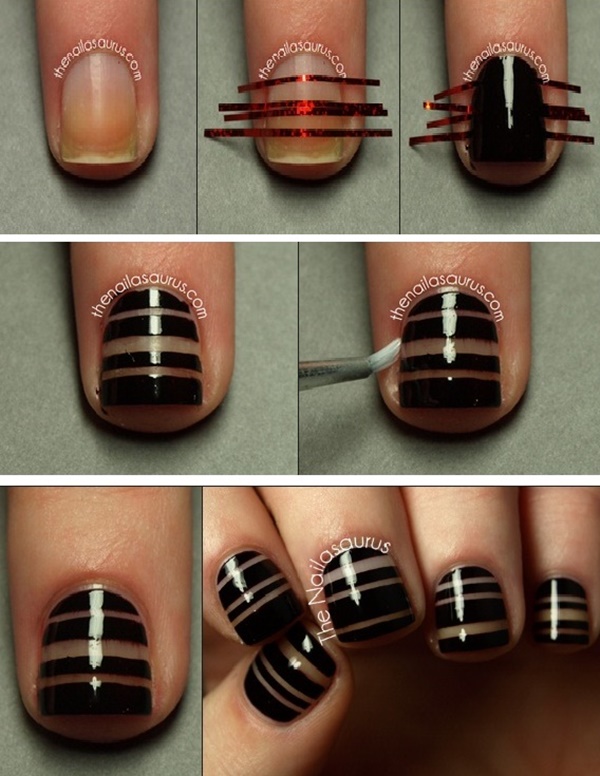 Cut the scotch tape into small parallel lines and stick them on your nail according to the pattern you need. Fill the empty spaces with polish and once it is dry, remove the tape gently.
Ombre gradient nail art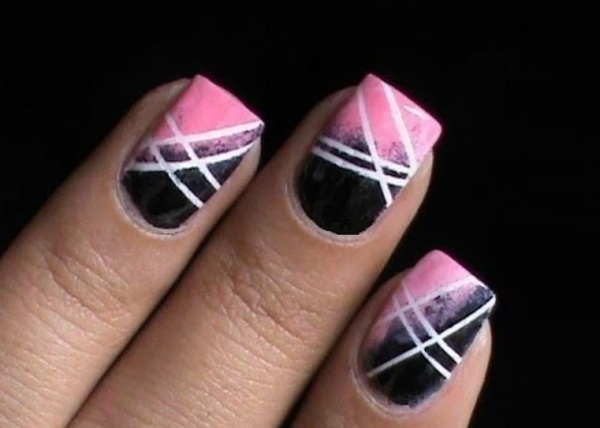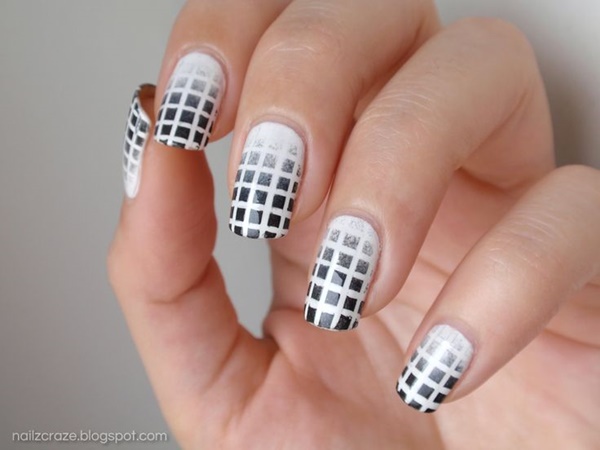 This exactly as grid style just try to keep the square big in shape. Fill them with shades that make it look ombre. However it is quite difficult, but regular practice will make it right.
School nail art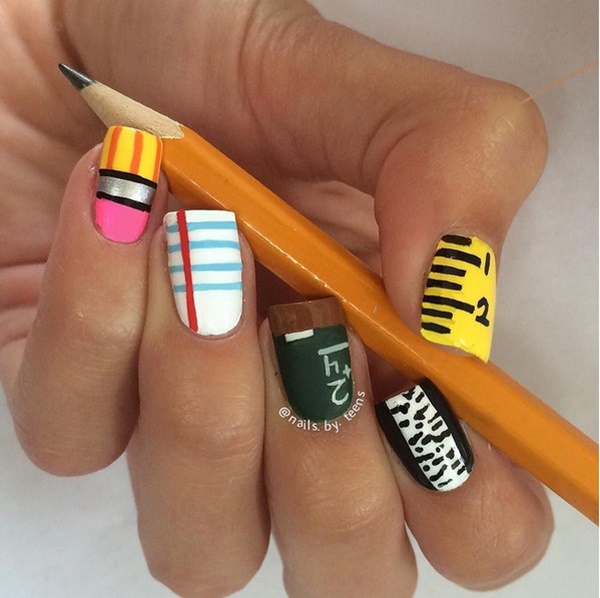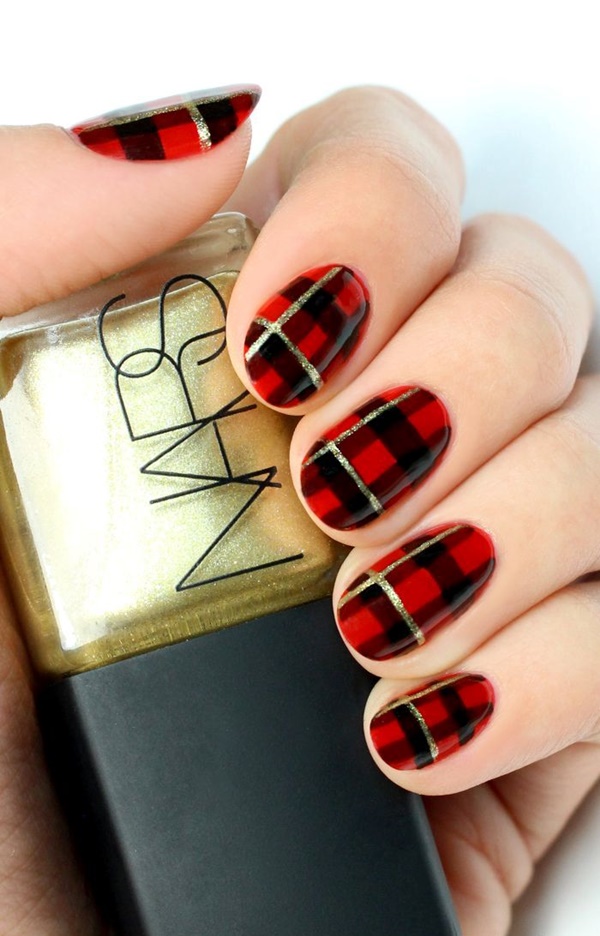 Colour you nail black and then with the help of white marker make two parallel horizontal and vertical lines. Apply the shiner, and you're done.
Checkered flag nail art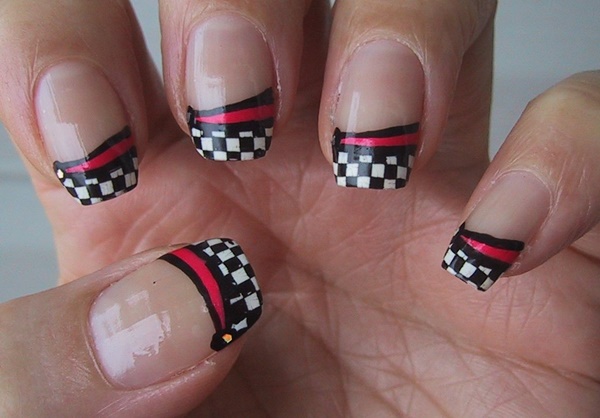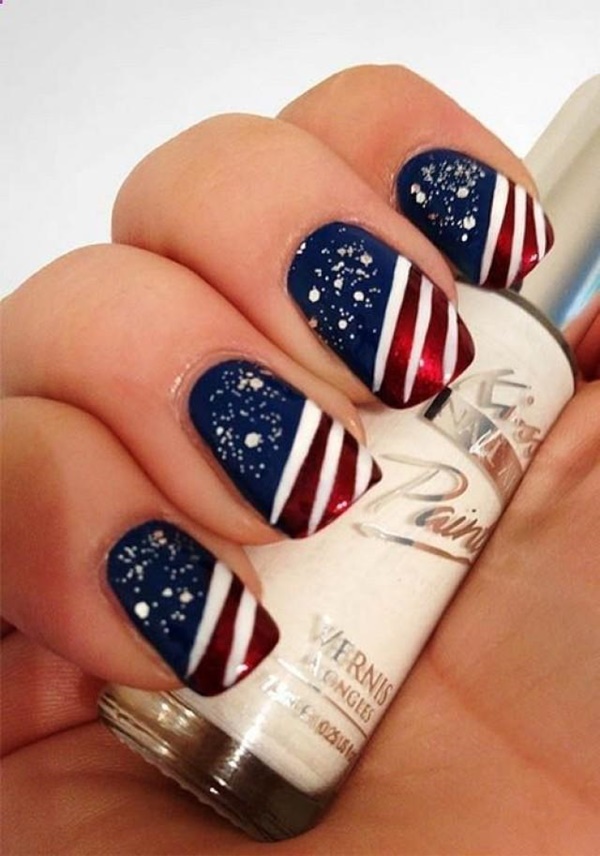 This is done on developed part of nails only. Apply single colour on your nail till the part where it grows out. Make chess board pattern on the outer area with black and white.
Checks with polka dots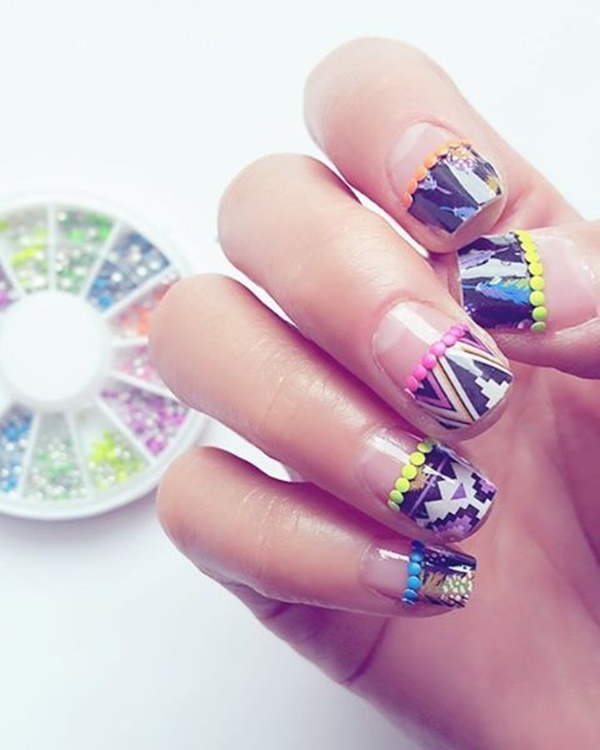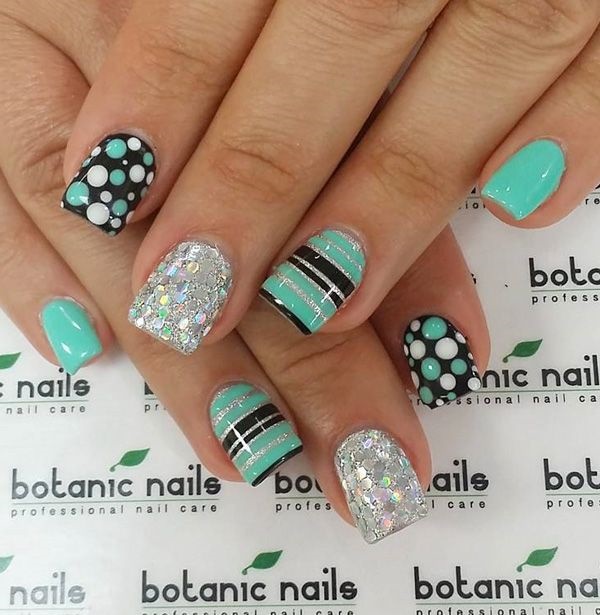 This is best with grown nails. While you put some funky polka dots on the grown nails with basic checks on the other part
5 different checkeredpattersn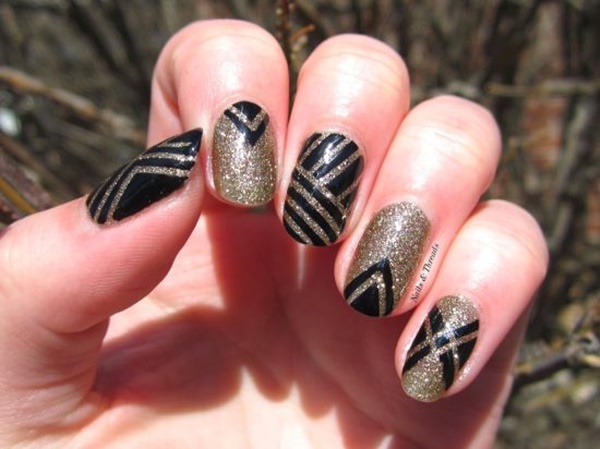 If you are bored of trying each pattern, why not 5 different checkered patterns on each nail?
Golden checkered nail art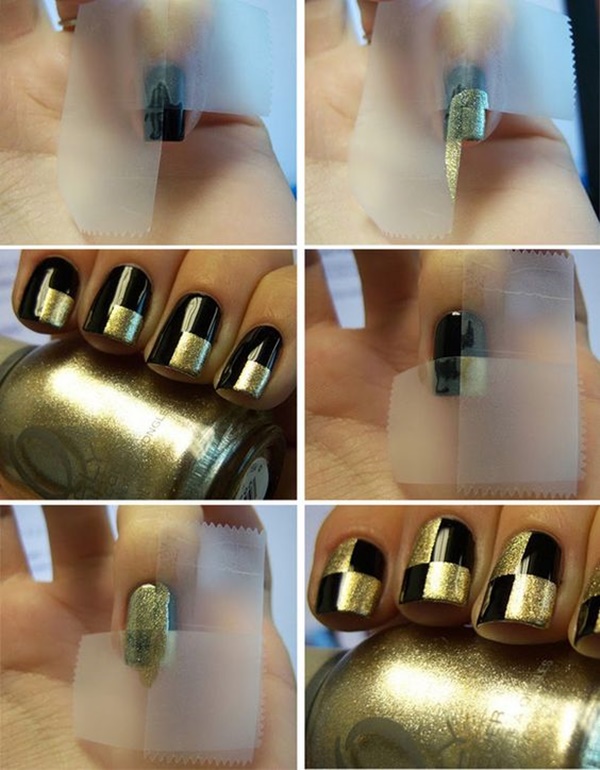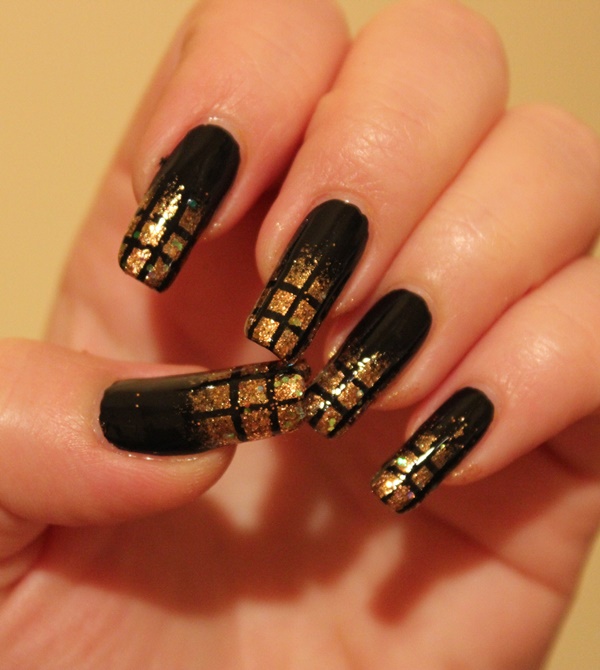 Replace the classic normal matte colors with this shiny nail paints and you are all set to rock the party with the stylish golden and shiny checks.
These were our 15 beautiful checkered nail art designs, if you have any more, do not forget to share with us.